Grey Duck Garlic
Due to personal circumstances Grey Duck Garlic will not be selling garlic in 2016. We apologize to all our wonderful consumers. We enjoyed our interactions with all of you and don't like to disappoint you.
We hope that you continue to enjoy all the information on our website about garlic! We will continue to update our site with the latest information on our favorite herb, garlic.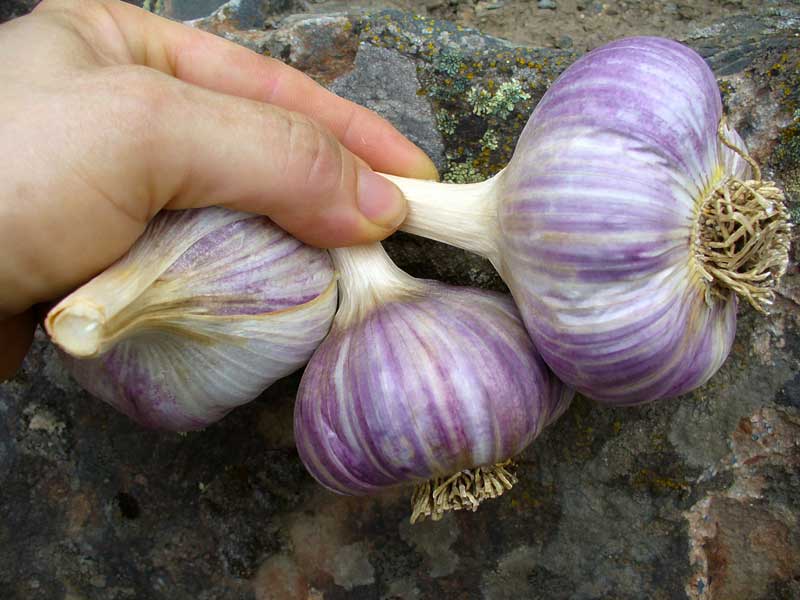 Picture: Grow large, delicious Bogatyr garlic bulbs like these.
At Grey Duck Garlic growing and cooking gourmet organic garlic is our passion. Our seed garlic varieties are great tasting and easy to grow for the home gardener, commercial grower, and chef. Gourmet garlic has a much wider range of flavor than supermarket garlic. We only grow seed varieties that have been extensively tested and tasted by our family so we can offer you great tasting healthy garlic.
We only sell garlic that has been hand grown by our family on our organic farm. Grey Duck Garlic doesn't sell garlic from anyone else. We want to be able to personally vouch for the quality of our seed garlic. Our garlic has been tested and is certified free of garlic bloat nematode (Ditylenchus dispsaci). To ensure that you are happy with your purchase we offer our No Quack Guarantee: if you are not satisfied we will cheerfully refund your money or replace your garlic.
We hand grow organic seed garlic using sustainable farming practices:
Grey Duck Garlic is a family farm that lovingly grows certified organic garlic (WSDA Organic Certification #1883). Growing organically is better for us, the land, and the flavor of our garlic. Our organic garlic is carefully planted, cultivated, harvested, cleaned and inspected by hand.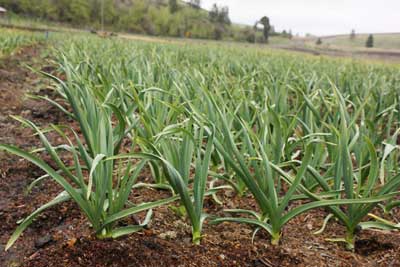 Picture: Rows of garlic grow on our organic farm. People often stop to ask what crop is growing out in the field. They usually guess onions.
We use sustainable growing practices. Since we live in a dry climate with limited water reserves, we grow dryland organic seed garlic. We believe that the best tasting garlic comes from thoughtful and respectful production.
We want you to have fun growing and eating gorgeous garlic. Our informative website is organized into sections for your reading pleasure:
Buying garlic: Sadly we are not selling garlic in 2016. However, our garlic descriptions, and photos can help you decide what types of garlic are best for you! 
Grey Duck Garlic also answers common garlic questions. Feel free to contact us if you have any other questions. All garlic is guaranteed to make you happy under our No Quack Guarantee.
FAQ: Do you have burning questions about garlic? Check here for the answers to our most common allium queries.
Growing garlic:  These pages offers information for the home gardener and for commercial growers. For new garlic growers and gardeners we offer our First Time Garlic Grower's Guide. There is a page just for Southern growers newly updated for 2016. Check out our garlic planting chart for when to put those cloves in the ground.
We have tips for growing the biggest garlic bulbs, raising the smallest garlic bulbs, and handy tips for garlic storage once you grow those bulbs.  Learn how to grow green garlic and garlic bulbils. If you are really interested in garlic you can read about our garlic breeding program and how we overhaul garlic varieties.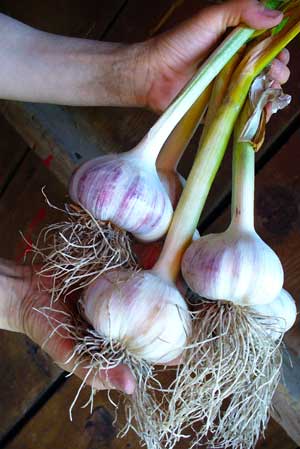 Picture: Want huge bulbs? See our Grow Big Garlic page for how to grow giant garlic bulbs like the ones at right!
Farmer's Market and CSA Garlic Growers: We have information on selecting garlic varieties and seed clove quantities, why buying cloves can help your bottom line, and why buying seed garlic can be a good move.
Garlic Cookbook:  Discover the range of flavors our garlic can offer!  Our cooking pages offer flavor sketches and gourmet recipes to suit each garlic variety.  See out tips for what garlic varieties compliment different ethnic dishes. We offer Cook's Specials that are designed to enhance your culinary experiments. Check out our garlic cooking tips and find out why our garlic tastes so good.
Garlic marketing: Check out our marketing tips and learn about green garlic. If you are thinking about growing garlic for sale see our tips on navigating the local farmer's market. We also give some tips for women growers.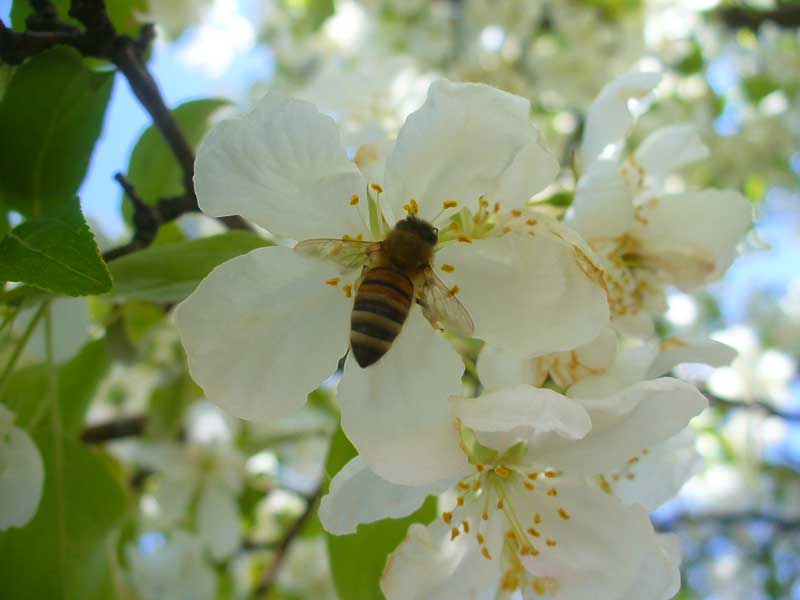 All About Bees: Do you like honey? How about fruits and vegetables? Our bee section has been expanded to let you know more about the plight of the bees and how you can help plant pollinators. Pollinators are a vital part of the ecosystem. Learn about bee families, why you should never call a bee a wasp, and how pesticide exposure can cause bees to lose their way, stop dancing, and become couch potatoes. Not fond of wasps? Learn how to control wasps organically.
Why garlic can make you healthier: There has been an explosion of great new research in the last few years showing why eating garlic is health. See our mini-scientific articles on how garlic can reduce skin aging and wrinkles, how eating garlic and onions prevents hip osteoarthritis, how garlic can change your genes, and why garlic inhibits inflammation and helps with arthritic symptoms.
Worried about cardiovascular disease? Check out our sections garlic helps firefighter's heart health, how garlic lowers blood pressure, and why garlic lowers blood sugar and reduces cholesterol.
We have garlic references and facts about garlic and good health and garlic's historical use in medicine.
Garlic ability to kill germs is getting its own section. So if you are interested in how garlic can fight off infections and invading microbes see our pages on using garlic to cure MRSA, how garlic obliterates food poisoning bacteria, why garlic inhibits TB, and how garlic may be used to protect baby formula from pathogen contamination.
Garlic enhances nutrition: Garlic helps you get more nutrition from food by regulating iron metabolism and letting you absorb more zinc and iron from grains and lentils.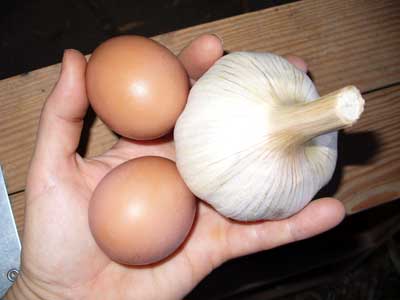 Picture: German Red garlic bulb with two of Ollie's delicious free range chicken eggs.
About us: Curious about what type of people would grow and write about garlic? Here are pictures and stories about us: how we got our name and our volunteer community projects.
Sustainable practices: At Grey Duck Garlic we give a duck about the environment! Learn about how we take care to live and grow in ways that improve the land. Find out how to weed like a pro! Teach your cow to eat weeds, learn about ways to attract wildlife to your yard and find out why we don't use chemicals when we grow garlic.
Garlic follies: Follow our garlic on a photo shoot, learn about the art of Grey Duck Garlic, see if you have what it takes to be a garlic dog or read our tales of Women vs. Weeds.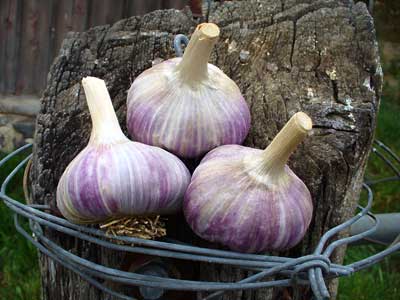 Picture: Beautiful and bold tasting Bogatyr garlic bulbs surrounded by barbwire.
Fun garlic research: Find out how to alleviate garlic breath, read about the rise of garlic smugglers, learn how garlic is combating toxic waste and check out a new species of garlic.
Garlic information: Attend a fun garlic festival, find out whether you should feed your pets garlic, read about the history of garlic, find out the difference between a hardneck and a softneck garlic, or study the ten garlic families.
Depression: I'll be adding some information about improving mental health to the website. Check out the page listing depression symptoms (did you know losing your sense of smell could signal that you are depressed?) I also review a great book on overcoming and living with depression,500 Tidbits of Insight by D. Delaughter.
Gardening: Check out our seed planting guide or learn about kitchen gardens, square foot gardens or container gardens.
Garlic Varieties: Read about garlic varieties in general and get up close with a personal expose of some of our favorites garlic celebrities: Georgian Crystal, Siberian, Romanian Red, Parvin, Lorz Italian, German Red, Red Rezan, Thermadrone, Tzan, Asian Tempest, Chesnok Red and Bogatyr.
Confused by all the garlicky goodness? We have a site map written for humans for you to read at your leisure. If you need something to put you to sleep this might be the dream document you are searching for.
Love Greek yogurt, ice cream and cream? I have another website discussing the health benefits of dairy at MooScience.
This website is created and designed by Susan Fluegel. My goal is to develop a useful resource for garlic growers and cooks that is also entertaining. It is a work in progress and I am continually trying to improve it. If you have any ideas, questions or comments about our website please contact me at: . I appreciate the comments several readers have made (as well as the alerts to mistakes). Any mistakes made on this website are all mine (remember: without mistakes one cannot learn)!
All content on this website is original and written by Susan Fluegel, Edna Hastain or Jane Fluegel. We do not copy or use material from other sources. Photos are taken by Susan Fluegel, Patty Fluegel, or Jane Fluegel. Pictures, art and cartoons are by Susan Fluegel or Jane Fluegel. You are welcome to pin Grey Duck Garlic photos and pictures on your favorite sharing sites if you include credit (don't worry we won't sue you for thousands of dollars!)
We like to spread the garlic gospel! If you wish to use or post written articles from Grey Duck Garlic please contact us by e-mail. We normally are happy to give permission as long as we are given credit.
Contact Jane or Susan at: