Organic Garlic Farmers: About Us
For those too busy planting crops to read our long overly flowery descriptions we present Grey Duck Garlic Cliff Notes below: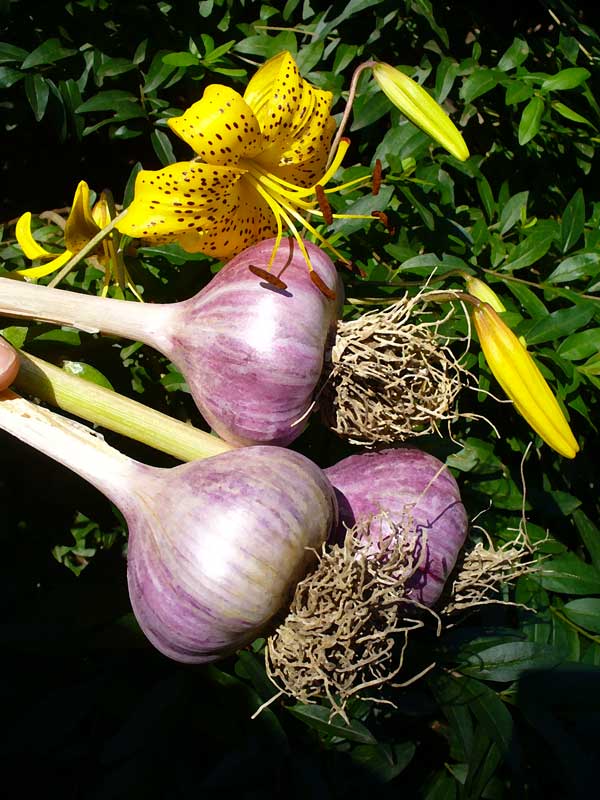 Jane: Crusty cattle rancher and garlic farmer who cheerfully dispenses pithy bits of wisdom (which may or may not have to do with growing garlic depending on her mood). Please ask her about the importance of pollinator habitat!
Susan: Overeducated and eccentric garlic grower responsible for website development, research, garlic farming and any dubious humor or writing found on the website.
Steve: Enthusiastic farmer who enjoys berry growing and researching both "new"and traditional farming methods. Check out his new Plow Maker Farms site.
Farm: Isolated between wheat fields in the lovely Palouse region of Washington; a region which gained fame for being the original Window's screensaver.
Official Grey Duck Garlic Descriptions
Grey Duck Garlic, LLC is a small family run farm committed to growing high quality organic garlic in a sustainable and fun fashion. We have a passion for organic gourmet garlic and having fun!
Grey Duck Garlic is located on a certified organic farm (#1883) owned by Jane Fluegel in the Palouse region of Washington.  The farm is nestled between the beautiful rolling hills of the Palouse.  Half the acreage is on a hillside dotted with natural springs and dedicated to natural woods and native plants.  The other acreage is flat pasture bordering a creek.   
---
Jane Fluegel: Cowgirl, Landscaper and Building Designer, Sustainable Farmer, Artist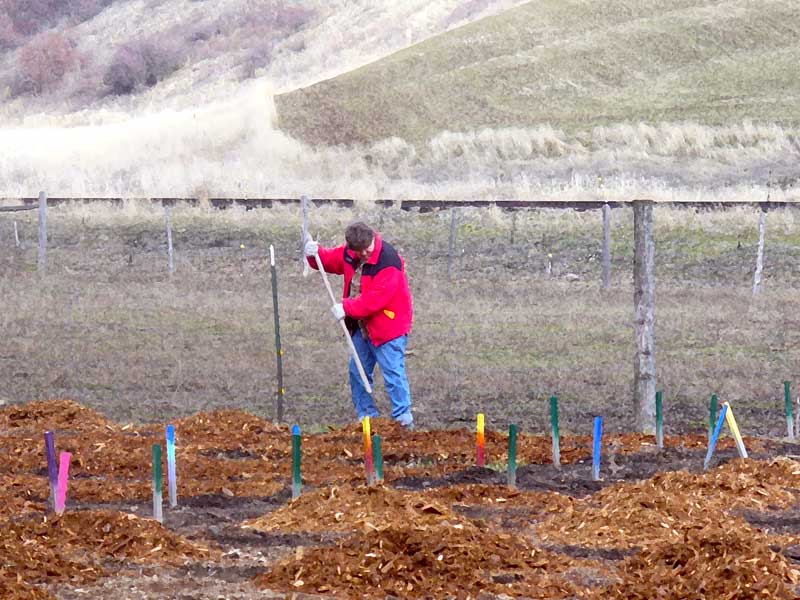 Jane enjoys researching new ideas, discussing sustainable growing and caring for grandchildren, cows and chickens (not necessarily in that order). Her new passion is mob grazing to increase grasslands and prevent desertification and growing exotic herbs (hopefully not at the same time). She has a flair for building design and is currently looking into solar options for her barn. 
Jane has fed her children and grandchildren from her sustainable organic gardens for over thirty years. In her spare time, she designs beautiful low input xeriscape and native plant landscape plans.  Known for her honesty and quirky sense of humor, Jane's unique and open style make her fun to be around.  She has taught her children and grandchildren honesty and an appreciation for the land.  Jane's artistic abilities can be seen on our garlic labels and throughout the website.

---
Susan Fluegel, PhD: Researcher, Webmaster, Nutritional Biochemist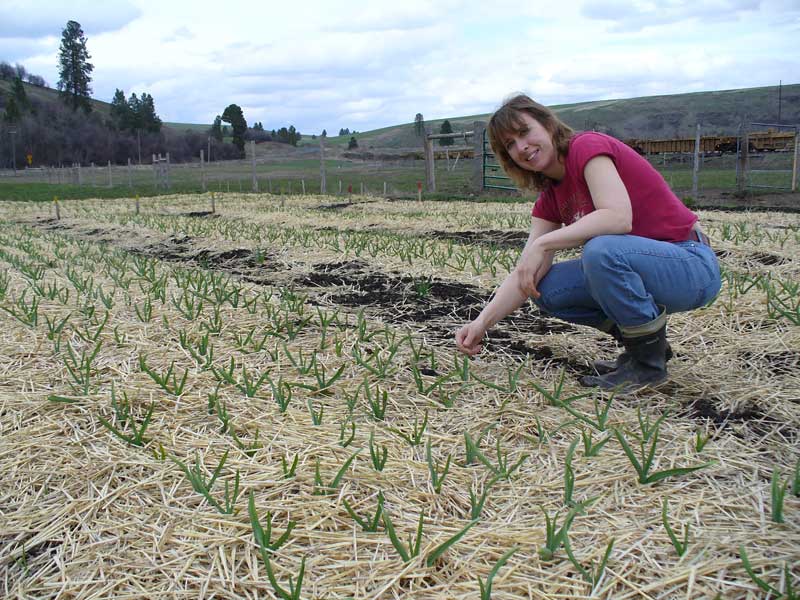 Susan has a passion for garlic, mitochondria, epigenetics, and nutritional biochemistry. Other interests include sustainable agriculture, using diet and lifestyle to prevent disease and increase cognitive abilities, and giving unprompted nutritional lectures to unsuspecting acquaintances. Susan inherited her scientific curiosity, healing touch and ability to make anything grow from her mother, Jane. She inherited her writing ability from her dad and her questionable sense of humor from both parents!
Unlike many nutritional professionals who push broccoli, brown rice, and low fat Susan makes herself welcome at dining occasions by cheerfully espousing the virtues of cream and chocolate. She enjoys giving lectures on how foods can change your mood, the health benefits of chocolate and living life with gusto! If you have an hour or two to spare, ask her about the evils of soy. Susan has a passion for art and, along with Jane, designed and drew many of the illustrations for the garlic website including the header. In her spare time she writes about the benefits of dairy at MooScience.com.
---
Steve Fluegel: Innovative Organic Farmer, Digger Extraordinary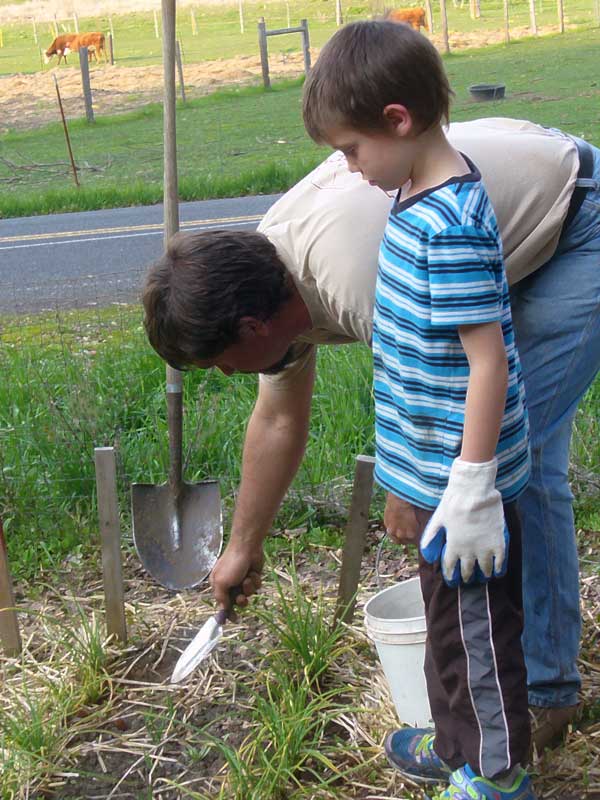 Steve likes to research and test out both traditional and new organic farming methods. He never takes anything for granted and always wants to know the reason that a method or technique is successful. He also encourages us to try out new and unusual crops!
Steve is known far and wide for his extraordinary skill with a shovel. Often we would have to have two people picking up garlic behind Steve when he was harvesting garlic at warp 10 speed.
Steve has his own farm business, Plow Maker Farms. He currently grows great tasting heirloom tomatoes and plans to try his hand at raising other vegetables like melons. He and his brother, John, are also talking about growing exotic green crops.
Lately Steve has been working at expanding our berry patches. We have a row of raspberries that has faithfully bore fruit through every type of weather. Steve has started numerous new raspberry rows and hopefully we will have a surplus of the delicious red berries next year. Not only do berries taste great but they also encourage pollinators and bees to visit your garden.
Steve is a single dad with two young budding farmers, Annie and Ollie. Ollie is a chicken whisperer with a small flock of happy hens laying big brown eggs. Annie has been planting vegetable seeds to grow with her grandma and dad. Both are a big help to their grandma Jane, aunt Susan and dad Steve.
---
'Retired' Garlic Farmers (Garlic Farmers Never Really Retire; They Just Sprout Somewhere Else):
Edna Hastain: Writer and Researcher, Garlic Cook, Knitter, Bionic Women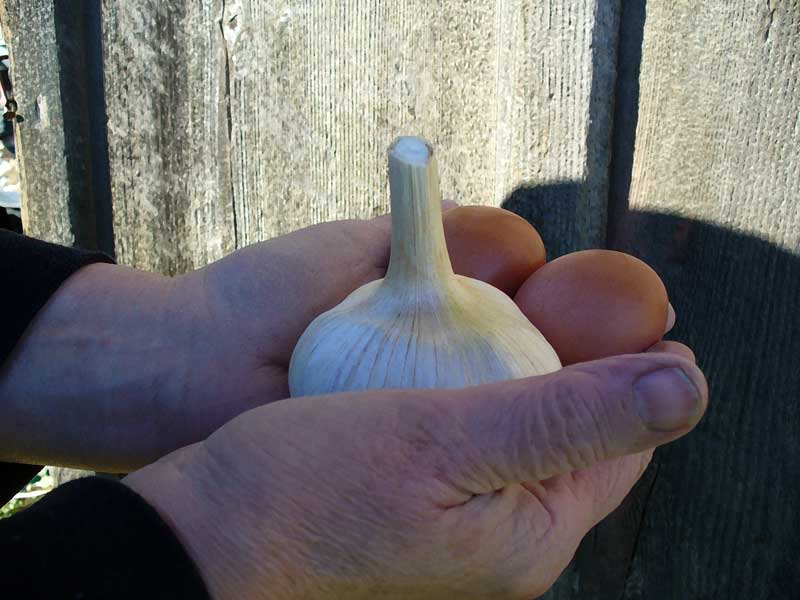 Edna bought a new travel trailer and is making plans to tour the country. We will miss her weeding skills and interesting conversation in the garlic field but are happy that she can satisfy her desire to travel!

Edna loves to cook with garlic. She is a former natural foods cook who enjoys experiments with exotic foods. Edna researched and wrote some of our garlic cooking and garlic health pages. She says Grey Duck Garlic is the best garlic she has ever tasted.   
Edna leaves no weeds behind and was our most efficient weeder. Last year, Edna started making ecofriendly woven bags out of recycled plastic bags. She uses different colored grocery bags to make fresh and original designs. Edna also knits colorful wool socks and hats for lucky relatives and friends. So far none have been shaped like a garlic. 
---
Patty Fluegel: Photographer, Assistant Researcher, Goat Herder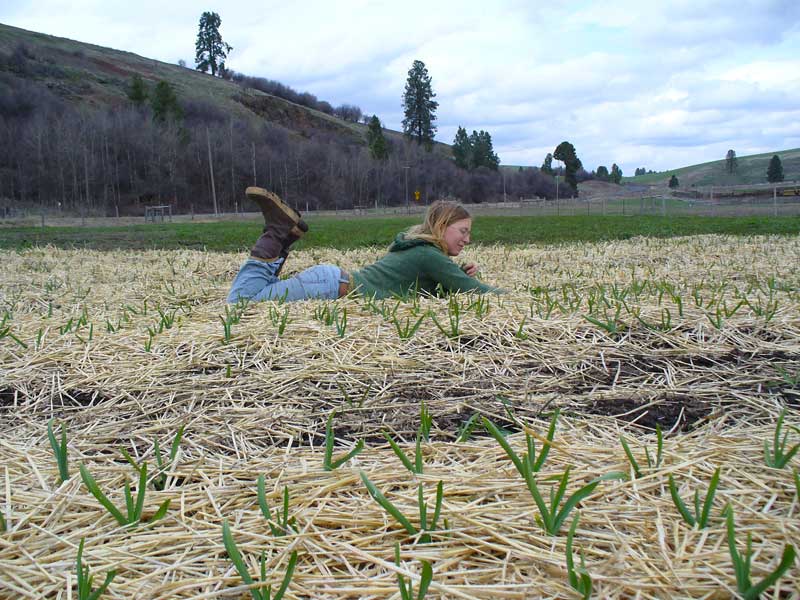 Patty has graduated from college and we are all very proud of her. Her degree is in contemplative psych with a somatic concentration and a music minor. Patty's future plans include a master's degree in psych with an emphasis on the science of learning through movement.
Patty was responsible for some of the more artistic photos you see in Grey Duck Garlic's website and the beautiful labels on our 2009 and 2010 garlic bags.  She was a tireless worker and earned her garlic researcher's badge by helping Susan weigh and measure over 5,000 heads of garlic. 
Patty has had numerous adventures, including living in southeast Alaska, traveling the world, managing a sled dog camp for tourists, managed a large natural health food store, raising Nubian goats and living in a wall tent in the Canadian wilderness for the winter.  Her new adventure is going back to school and we wish her the best of luck.