Chesnok Red: Sweet Baker
Great storing garlic with sweet tasting and photogenic bulbs.
Culinary Qualities: Chesnok Red regularly wins acclaim and awards as one of the best tasting baking garlics. It is very sweet and tasty when cooked. This garlic is a good garlic for basic cooking. Chesnok Red adds a sweet garlic flavor without heat to dishes. It has an distinct smell, more like a roasting sweet onion than a garlic.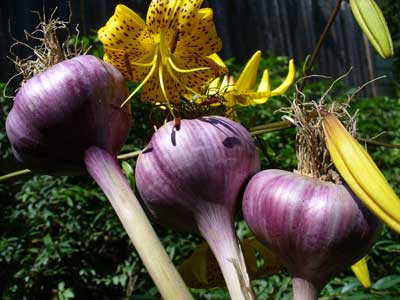 Special Attributes: Skinny bright pinkish red cloves make this garlic very eye catching. When we first received this garlic each bulb had many skinny cloves. This year we noticed that the bulbs contained fewer but fatter cloves. I am curious about how it will look this fall.
Picture: A trio of tasty Chesnok Red garlic bulbs rest under the yellow lily blooms.
Chesnok Red is a good storing garlic. We still have some good Chesnok Red bulbs in storage in May (we harvest in August). I've been very happy with the size and quality of the Chesnok Red bulbs so far. They are a deep purple and simply gorgeous!

Growing Considerations: Chesnok Red is an easy to grow garlic. The plant leaves are vigorous and upright and it can handle a little neglect without whining. It is growing great this year. This garlic is a great multiplier and grows large bulbs from even medium cloves.
Cloves: Approximately 8-20 cloves per bulb. Colorful cloves are much skinnier and lighter in weight than most garlics. Long storing garlic.
Type: Chesnok Red is a hardneck garlic in the Purple Stripe family.