Jane's German Red: Heirloom Charmer
This garlic has a cult following due to its unique taste. Susan is currently 'overhauling' our heirloom garlic to select for less double cloves and wrapper-less cloves. Since this is Jane's favorite garlic Susan had to assure her that we were saving enough to plant.
Update on our garlic overhaul: by ruthlessly culling our German Red we have increased the storage length and firmness of the German Red bulbs. Normally a short storing bulb, this last group of German Red is still good in April. German Red is still prone to double cloves and I don't know if I will be able to root out this tendency. However, it makes up for it with its very distinct taste and flavor.
Culinary Qualities: An old world variety with a full flavored velvety taste. This golden garlic adds a deep aromatic flavor to stews, winter vegetables, roasts and wild game. German Red has a complex and unique flavor that stands out in a dish without overwhelming other flavors.  Try roasting this garlic and you will not be disappointed.  Check out our garlic recipes for German Red.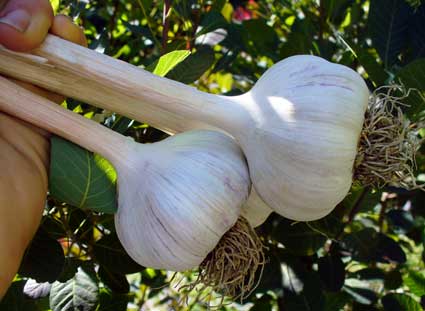 Left: German Red garlic bulbs from fall 2013. All our German Red garlic bulbs were a lot lighter in color than in previous years (it even surprised us seasoned garlic farmers). Garlic bulb color can vary widely depending on weather or growing conditions. It still tasted just as good though!
Special Attributes: A true connoisseur's garlic, this heirloom variety was obtained from an old Idaho homestead where it had been grown for over 100 years.  Jane has been carefully cultivating it for the last few years and it is her favorite garlic. Cloves have a hard loose wrapper that makes them super easy to peel. The peel often comes loose from the clove. German Red tends to have more double cloves than other garlics. Since double cloves are great to eat, but poor to plant, we are trying to select for more single cloves in a bulb.

Growing Considerations: German Red has smaller cloves with a very distinct look that marks them as special.  The bulbs can grow very large if given optimal growing conditions.  German Red loves well drained soil enriched with organic matter and manure; the more you add the bigger your yield.
This is our fussiest garlic about waterlogged soil. It requires very well drained soil or the cloves will rot and/or the garlic bulbs will not keep well after curing.
German Red prefers cold winters. We do not recommend this garlic (or any other garlics in the Rocambole family) for Southern climates. Other garlic growers have had difficulty growing Rocamboles in the South.

Cloves: 40-45 large cloves/lb. or 45-55 medium cloves/lb.  Clove wrappers have a tendency to split. The bulbs contain 10-12 golden brown cloves.  These numbers are approximate and will vary slightly.
Type: This hardneck garlic is in the Rocambole family.