Grey Duck Garlic
Parvin: Pearly Heat
Availability: Cloves and bulbs.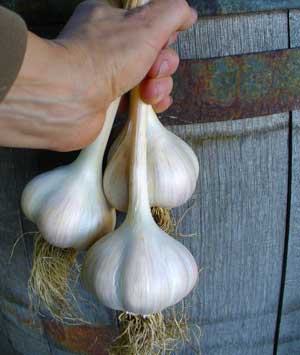 Culinary Qualities: A hot but flavorful garlic. This aromatic garlic has staying power and adds a fiery touch to barbeques, Thai cooking or Mexican dishes. Parvin is very hot raw; cooked it has a smooth strong garlic flavor with a touch of green sharpness. Excellent paired with strong meats such as pork or bolder vegetables.

Special Attributes: Beautiful shimmery cloves add a white hot heat to dishes. Great garlic smell!

Growing Considerations:  Large attractive bulbs are normally pearly white with hints of pink. A very robust grower that needs little care and can tolerate a little neglect. 

Cloves: 25-30 large cloves/lb. or 30-40 medium cloves/lb.  Symetrical plump bulbs usually contain 4-6 plump cloves.  These numbers are approximate and will vary slightly.    
Get your ducks in a row with Grey Duck Garlic!