Parvin: Pearly Heat
A robustly growing hot garlic with huge white pearly bulbs. Parvin has been growing extremely well for us.
Culinary Qualities: A hot but flavorful garlic. This aromatic garlic has staying power and adds a fiery touch to barbecues, Thai cooking or Mexican dishes. Parvin is very hot raw; cooked it has a smooth strong garlic flavor with a touch of green sharpness. Excellent paired with strong meats such as pork or bolder vegetables.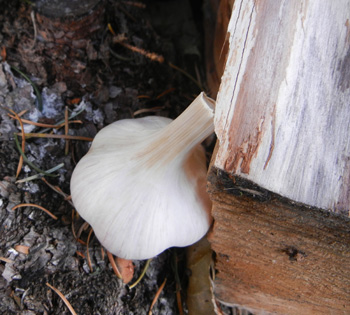 Right: A perfectly shaped Parvin garlic bulb leans on some firewood.

Special Attributes: Beautiful shimmery cloves add a white hot heat to dishes. Great garlic smell! This garlic has gorgeous bulbs and very large symmetrical cloves.
The pearly white cloves are very beautiful. One grower told us that the sight of these large 'perfect' cloves almost moved him to tears. He was moved to find a special planting spot for these gems.

Growing Considerations:  Large attractive bulbs are normally pearly white with hints of pink. A very robust grower that needs little care and can tolerate a little neglect or wet. Parvin is looking great this year. We have been very impressed, the plants may be bigger than our Georgian Crystal. Parvin bulbs are very large as well. If you want a hot garlic that is easy to grow I strongly recommend Parvin.

Cloves: 25-30 large cloves/lb. or 30-40 medium cloves/lb.  Symmetrical plump bulbs usually contain 4-6 plump cloves.  These numbers are approximate and will vary slightly.   
Type: Parvin is a hardneck garlic in the Porcelain family.