Charitable and Community Projects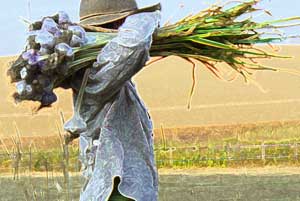 Charitable Donations

We believe that everyone should be able to provide their families with healthy fresh food.
In 2011-2014 we sent seeds and/or seed garlic to several schools who needed planting supplies; including schools for special needs children. Grey Duck Garlic sent a large box of seeds to a prison chaplain who helped run a prison farm. Food from the farm was used to feed the prisoners and supply food to senior citizens and local food banks. Prison farms not only help give prisoners a useful occupation but they can help provide fresh food to community members in need. As we at Grey Duck Garlic know, there is a sense of peacefulness and purpose in providing wholesome food for others.
As we clove and sort our garlic for customers or planting, we collect the rejected cloves (good to eat but ugly: normally small, odd shaped or double cloves) and bulbs. Most of this garlic is given away in our community to those who appreciate great garlic.
To help those who can't afford to feed their families, Grey Duck Garlic donated Victory Seed Packs, garlic scapes and garlic bulbs to local food banks and the Back Yard Harvest http://www.backyardharvest.org the last several years. The Backyard Harvest is a great nonprofit organization that donates fresh garden produce and fruit to food banks and meal programs. We also donate seed garlic to schools, nonprofit organizations and others. To ask about garlic donations please contact Jane. We usually have garlic available in the late summer/fall for donations.

Community Projects

Grey Duck Garlic helped landscape the Moscow's War World I and II Memorial, the "Doughboy Statue".  The project was funded by the local American Legion and Veterans of Foreign Wars.  Susan designed the patriotic landscape, helped prepared the soil and planted flowers along with local veterans.

The "Doughboy Statue" landscaping has a patriotic theme.  Four 10' by 10' gardens are located on each corner of the statue.  Paths between gardens allows easy access for those wanting to read the names of fallen soldiers inscribed on the statue's base.  On three of the corner gardens, large gold stars are placed in a field of purple.  The fourth corner contains an alternating red and white striped flag pattern.  The landscaping and colors were designed by Susan Fluegel to honor past and present veterans.  The red and white striped pattern symbolized our nation's flag; the purple reminds us of the Purple Heart award recipients; and the five pointed gold stars represent the Gold Star Mothers who have lost someone special.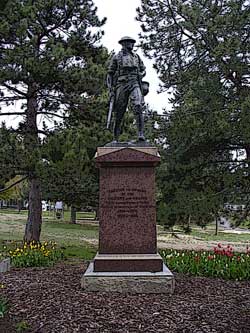 Picture: Planted bulbs bloom around the Doughboy Memorial in Eastside park.
2011 Update: In May 2011 we had a clean-up day and evaluated which perennials survived the winter.  Susan also weeded and mulched the flower beds. Afterwards it looked really nice. We have had a cold wet winter here so plants are emerging later than normal.   
2013/2014 Update: Due to the normal 'wear and tear' on park landscaping (translation: children and dogs; both of which we love but can be hard on perennials and bulb plantings), we are redoing some of the landscaping this summer at Eastside park. We had several cold winters and some of the plants were not as cold hardy as we anticipated. We have ordered more plants and I will post pictures when we complete the revision. We plan to stay true to the original vision while filling in the space with blooming plants.
Click here to read more about the Landscaping of the Moscow's War World I and II Memorial.