Contact Us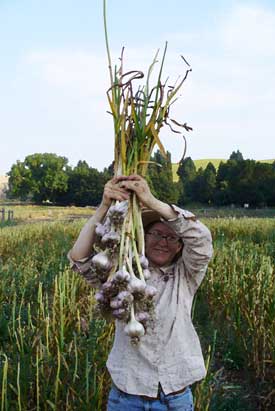 We would be happy to answer any concerns, questions or comments about our certified organic garlic or about growing garlic. Please check out our frequently asked questions about garlic (FAQ) page for answers to some of our most common questions.     
Picture: Patty shows off a bunch of Siberian garlic bulb at harvest time.
Please contact us at:
Jane or Susan at:
Grey Duck Garlic phone: We are currently experiencing difficulties obtaining a phone that works consistently at the 'no technology zone' that is Jane's farm. Last year some messages didn't get through (and we don't want to disappoint our customers and friends). I will update the phone number once we select a winner. You should see the hoops we have to jump through to get reliable internet! Coverage can be very unreliable in rural areas.
For those off the grid or in internet dead zones our address is:
Grey Duck Garlic
3151 Parvin Road
Colfax, WA 99111

Your questions are important to us but we are a small family farm and our lifestyle is important to us too. Sometimes Jane is busy working in the garlic field, in silent communication with her happy bovines, weeding her garden or watching her gaggle of grandchildren (five giggly grandchildren under 8 years old and one grandson on the verge of college!) and can't answer her phone.
If you leave a message or email and your name and phone number Jane will get back to you. She enjoys talking to people interested in garlic and will be able to answer your questions (about garlic, cows or life in general)! She always answers her messages, so if she hasn't gotten back to you within a couple of days please try again. She lives in a rural area and phone reception can be spotty sometimes. Once in a while messages are not received.
Note: We sell garlic both as bulbs and as cloves. Although we carefully inspect each bulb and clove before we ship it to you, garlic is an agricultural product. Occasionally, there may be spoilage. If this occurs please contact us and we will happily replace the garlic or refund the purchase price. We want you to be happy with the garlic.