Grey Duck Garlic
Buy Farmer's Market Organic Garlic Packs
Farmer's Market garlic packs are designed for those who want to sell gourmet garlic at the Farmer's Market or provide their CSA customers with fresh garlic.
Contact us for garlic orders over 25 pounds (over 25 lbs are free shipping!) See below for individual garlic varieties. Bulbs ship beginning in late August to early September. Cloves ship after September 15th. Due to high demand, we are out of garlic bulbs but still have plump ready to grow garlic cloves available. We sell most of our garlic as presorted cloves. Cloves are preferred by our customers since they are uniform and easy to plant! We only send out large beautiful hand-sorted garlic cloves ready to grow.
Please leave message when you order to let us know when you need your garlic shipped.
For orders over 25 pounds, you can pay either by check or by using PayPal with our special order button below (you can input order amount in the check out page):
Farmer's Market Organic Garlic Packs: Free Shipping! Sorry we are out of garlic for 2012.

Garlic Varieties
The garlic varieties below are available in large amounts (see buy garlic for descriptions). These are our tried and true production varieties that have proven themselves excellent growers and great tasting under a variety of growing conditions. Our prices are $20/lb for large bulbs and $18/lb for medium bulbs. We are out of 2012 bulbs but still have beautiful plump cloves for planting ($22/lb large cloves and $20/lb medium cloves). Most of our commercial customers prefer the convenience of garlic cloves and they are available in larger quantities. Shipping is free for orders over 25 lbs.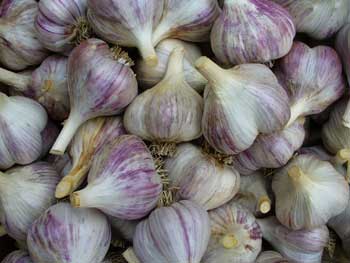 Georgian Crystal
Romanian Red
Siberian
Thermadrone
Parvin
Red Rezan
Right: A box of medium Siberian that we sent out to a commercial customer last year. Grey Duck Garlic only ships out beautiful, high quality, cleaned garlic.
Don't know how much or what kind of garlic to buy? See our pages on how much garlic you need and the differences between garlic varieties. Southern growers may want to check out our Southern Garlic Growers' Guide.
Why buying Grey Duck premium seed garlic makes economic sense:

1) Saving garlic to plant means less premium garlic to sell:
Here's an example of how to calculate how much garlic to save for seed. We need 50 pounds of garlic cloves to plant:
To obtain 50 pounds of large seed garlic cloves, we clove between 100-150 pounds of garlic bulbs. This amount varies depending on variety, size of garlic, and how picky you are about the size of your planting cloves. Susan is very picky about clove size and only plants the largest. Typically, there is between 5-7% bulb waste.
If we sold that 100-150 lbs hardneck garlic bulbs to a restaurant for $10/pound we would make $1,000-$1,500.
Buying 50 lbs of Grey Duck Garlic presorted medium seed cloves would cost $1,000 or presorted large cloves would cost $1,100.
2) Growing organic garlic takes land, fertilizer and labor:
It takes us 600 square ft to plant 50 pounds of Georgian Crystal garlic* (we plant in 4 x 50 ft beds of approximately 600 cloves so this is 3 large beds). To raise that 600 square ft of garlic from planting to harvest it takes us**:
Rototilling: 10 minutes with tractor, 1.5-2 hours hand tiller
Popping bulbs and sorting cloves: 6-10 hours
Planting: 2-4 hours
Mulching: 1 hour
Weeding: 10-15 hours
Harvest: 4-7 hours
Cleaning and curing labor: 3-4 hours

Cost of labor: 26-43 hours labor @ $15/hour $390-$645

This does not include:
Cost of land (rent or taxes)
Cost of mulch
Cost of fertilizer or manure
Cost of storage space
Loss of profit for alternative crops in that space
Loss of time you may want to spend elsewhere

Do your own math to calculate your costs. You may end up spending more in time, energy and money growing your own seed cloves than you would spend buying seed cloves.
*Plan on a 400-600% increase of your planting stock (i.e., if you plant 10 lbs of garlic you will usually get a 40-60 lbs of garlic bulbs at harvest. Your yield will depend on growing conditions, garlic variety, the greenness of your thumb, and weather. On average, to grow 200 extra pounds of garlic (to sort for 100 pounds of large seed cloves) you will need to plant an extra 50 lbs of garlic. See our page on how to determine how much garlic you need to plant for more information.
**All times are rough estimations for one person using Grey Duck Garlic past records; you may need more or less time depending on your enthusiasm, weed load and energy level.
See our Marketing Page and our Grow Big Garlic Page for more hints on growing and selling the biggest and best garlic.
Get your ducks in a row with Grey Duck Garlic!