German Red Gourmet Garlic Recipes
GERMAN RED has a complex strong and richly aromatic flavor. When it is cooked, it adds a nice velvety garlic tone to stews and to game: the garlic flavor is definitely present, but not overwhelming. It is not a hot garlic when cooked but it is a very flavorful garlic. Rocambole garlic is considered one of the best tasting gourmet garlics.
Both Jane and Susan like this garlic in roasted meats and gravies. It is Jane's favorite garlic and one of the reasons we initially started growing garlic.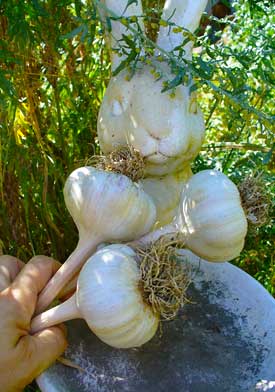 Picture: The latest crop of German Reds were very light in color. The bulbs were much firmer and stored much longer thanks to our German Red selection program. but the taste is just the same!
This garlic is a cult favorite with some of our customers. It definitely has a distinct flavor and smell which sets it apart from other hardneck garlics.
Mock Turtle Soup
Falling Apart Beef Roast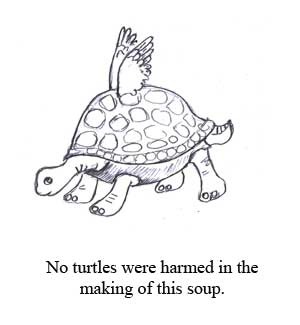 Mock Turtle Soup
Edna: I have never had real turtle soup, but I have read that turtle meat is dark and meaty in flavor and oxtails are often used to substitute.  This is a great rich soup with traditional turtle soup spices, and I am eager to see how Jane might draw a mock turtle!
1 large onion, chopped fine
1 T butter
2 T olive oil
2 lbs meaty oxtails
1 mashed German Red garlic clove
3 whole cloves
¼ t thyme
1 bay leaf
¼ t allspice
1 T flour
3 cups hot water
3 cups chicken stock
1 cup chopped peeled tomatoes
S and p
½ thin skinned lemon, chopped with rind
1 T parsley
2 hard boiled eggs
Sherry
Brown onion in the butter and oil in large soup pan.  Add the oxtails and brown on both sides.  Add the spices and the herbs, and let them cook a few minutes.  Stir in the flour until it bubbles.  Pour in the hot water and the stock and bring it to a boil.  Add remaining ingredients except the egg and sherry and simmer for two hours or until the oxtails are falling apart.  Remove the oxtails, discard the bones and add the meat and marrow back into the soup.
To serve, chop the eggs coarsely, and stir into the soup.  Ladle the soup into bowls and stir a teaspoon of sherry into each bowl.
Falling Apart Beef Roast
Preheat oven at its lowest temperature (usually 175-185 F).
Put any beef roast in a baking pan (chuck roasts are especially tasty). Add 3-5 cloves German Red garlic (depending on size of roast and your love of garlic). Splash meat with a dash of olive oil and lightly sprinkle with salt. Cover pan with lid or aluminum foil and place in oven. Leave to cook for 24-48 hours. Meat will be extremely tender and swimming in its own juice.
Warning: this temperature is too low to cook potatoes or onions. The starch in root vegetables needs to reach a higher temperature to soften. If you cook potatoes at 175 F they will remain hard and not edible.
Gravy: Use meat drippings and cooked garlic cloves for tasty gravy. Pour meat drippings and mashed garlic cloves into a saucepan (I just mash the cloves in the pan) and heat under medium heat. Add salt and pepper to taste (or you can add 1/2-1 teaspoon any type of beef bouillon). To thicken, either add potato starch (mix 1-2 teaspoons potato starch with 1 tablespoon cold water and add this mixture to hot beef drippings) or flour. As potato starch heats up it will thicken the gravy. Add more starch if needed.
Susan's note: Always add potato starch or cornstarch to a small amount of cold water before adding to hot liquids. Otherwise the starch will form nasty lumps. Potato starch is superior to corn starch in that potato starch does not 'weep' or release water like cornstarch does after it sits or is refrigerated.
Potato starch is tastier in gravies than either flour or cornstarch! Even if you are not gluten intolerant like me, I highly recommend it. You can find potato starch in specialty flour areas.
You can also use a crock pot at a low setting for this recipe.