Grey Duck Garlic
German Red Gourmet Garlic Recipes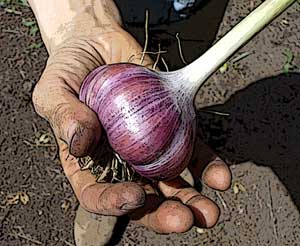 GERMAN RED has a complex strong and richly aromatic flavor.  When it is cooked, it adds a nice velvety garlic tone to stews and to game: the garlic flavor is definitely present, but not overwhelming. Susan likes this garlic in roasted meats and gravies.
Mock turtle soup
Above: Susan holds a tasty German Red bulb fresh from the field.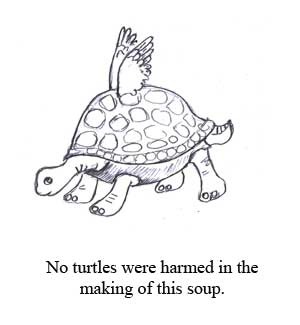 Mock Turtle Soup
I have never had real turtle soup, but I have read that turtle meat is dark and meaty in flavor and oxtails are often used to substitute.  This is a great rich soup with traditional turtle soup spices, and I am eager to see how Jane might draw a mock turtle!
1 large onion, chopped fine
1 T butter
2 T olive oil
2 lbs meaty oxtails
1 mashed German Red garlic clove
3 whole cloves
¼ t thyme
1 bay leaf
¼ t allspice
1 T flour
3 cups hot water
3 cups chicken stock
1 cup chopped peeled tomatoes
S and p
½ thin skinned lemon, chopped with rind
1 T parsley
2 hard boiled eggs
Sherry
Brown onion in the butter and oil in large soup pan.  Add the oxtails and brown on both sides.  Add the spices and the herbs, and let them cook a few minutes.  Stir in the flour until it bubbles.  Pour in the hot water and the stock and bring it to a boil.  Add remaining ingredients except the egg and sherry and simmer for two hours or until the oxtails are falling apart.  Remove the oxtails, discard the bones and add the meat and marrow back into the soup.
To serve, chop the eggs coarsely, and stir into the soup.  Ladle the soup into bowls and stir a teaspoon of sherry into each bowl.
For recipes see Garlic Flavor Profiles or click on links below.
Georgian Crystal Garlic Recipes
Get your ducks in a row with Grey Duck Garlic!