Romanian Red Gourmet Garlic Recipes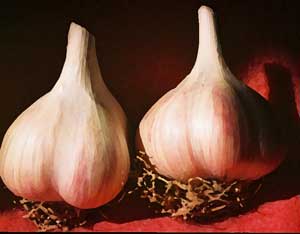 ROMANIAN RED has hot spicy complex bite and it retains this heat when cooked. This garlic releases aromatic aromas when cooked and a distinct spicy garlic smell. 
The flavor is well-balanced, not just searing heat. Romanian Red garlic is a favorite of garlic lovers.
Patty, who has a real fondness for garlic with a bit of bite, has declared Romanian Red to be her all time favorite garlic. We sent her a large care package stuffed full of Romanian Red each fall when she was at college. She has graduated now but still loves hot spicy garlic.
Warning: Don't try this at home unless you know your college student would love a box full of the pungent bulbs! I recommend sending cookies or a chocolate care package to your scholar instead.

Slow Roasted Tomato Pasta
Chimichurri
Charred Chili Sauce
Pasta all'arrabiata
Greek Marinate for Lamb Kabobs

Slow Roasted Tomato Pasta
3 pounds Roma tomatoes, halved (core if desired)
Olive oil
Salt
Pepper 

6 whole peeled Romanian Red garlic cloves
¼ t crushed red pepper
12 oz. fettuccine
3 oz. Parmigiano Reggiano cheese 
3 T fresh basil
Sprinkle tomatoes with salt, pepper and olive oil and roast at 225ºF for three to four hours
Sauté garlic cloves in olive oil in saucepan under low heat for ~ 10 minutes,  until soft (be careful not to burn garlic).

Chop garlic and return to pan along with tomatoes and red pepper.

Cook fettuccine and drain, reserving ¾ cup cooking liquid. 

Add reserved pasta liquid to tomato mixture, stir and cook until mixed.
Add pasta and cook one more minute

Sprinkle with cheese and basil and serve to appreciative guests and family.
Chimichurri from Argentina
This is an explosive mixture and using Romanian Red will compliment the spicy hot taste.
¼ c chopped parsley
3 tablespoons red wine vinegar
2 ½ tablespoons minced Romanian Red garlic
2 tablespoons oregano
2 teaspoons crushed red pepper
Salt and pepper
½ cup olive oil
Mix all ingredients in food processor except olive oil. 
Remove from processor, place in container and pour olive oil over the mixture.  Refrigerate.  Good when prepared a day ahead!

Chimichurri is used to flavor and/or marinate meat and fish and can also be used as a sauce on many other dishes.
Charred Chili Sauce
2 large plum tomatoes
1 yellow onion, cleaned and cut into chucks
1 chili - how spicy do you want it?  Habanera?  Scotch Bonnet?
2 cloves Romanian Red garlic, peeled
1-2 tablespoons olive oil
¼ cup fresh cilantro
1 tablespoon fresh thyme
2 tablespoons fresh mint
2 tablespoons soy sauce
1/3 cup sesame oil
Preheat oven to 450ºF
Toss the vegetables with the olive oil, place on rimmed baking sheet and bake until charred, about 30 minutes.  Shake the pan periodically to expose all surfaces of the vegetables
In food processor, puree vegetables and fresh herbs until coarsely ground then drizzle in sesame oil and soy sauce.
This sauce can be used to marinate shrimp or meat for grilling.
Pasta All'arrabiata from Italy
The name of this pasta sauce means 'angry woman', and it is a fierce combination of hot chile, tomatoes and garlic. The following recipe makes about 3 hearty servings.
Pasta: grooved macaroni is good, but any hearty pasta would be appropriate
1 anchovy fillet
Fresh hot pepper - for this recipe you can use the hottest chile you have available!  Quantity depends upon your taste for hot pepper
Marjoram, oregano to taste
1 small onion
2 cloves Romanian Red garlic
½ cup red wine
Olive oil for sautéing
3-4 cups fresh tomatoes, peeled and chopped
Pecorino cheese - this is a hard Italian sheep's milk cheese with a buttery and nutty flavor.  You can use another cheese of your choice.
Peel and dice the onion and garlic.  Sauté, stirring to break up the anchovy and to combine, garlic, pepper, onion and anchovy fillet until soft and beginning to brown.
Deglaze with red wine.

Add the tomatoes and some marjoram and oregano and simmer for about 20 minutes, stirring frequently, crushing the tomatoes until you have a thick chunky sauce.

Meantime, cook the pasta in boiling water.

Add the pasta to the sauce and garnish with cheese and herbs as desired. Enjoy your delicious fiery pasta!
Greek Marinate for Lamb Kabobs
Marinate:
¼ cup Greek yogurt
1 T paprika
1 t cumin
½ t ground allspice
2 cloves minced Romanian Red garlic
1 T olive oil
Bite sized chunks of vegetables (onions, tomatoes, peppers)
Cubed lamb meat
Mix ingredients together. Add marinate to:
Cubed lamb meat (bite size chunks). Refrigerate.
Chopped chunky vegetables.

Marinate lamb cubes and vegetables for several hours or overnight before grilling on kabobs.
For even cooking it is best to grill meat separately from vegetables.