Siberian Gourmet Garlic Recipes
SIBERIAN has a hot bite when eaten raw soon after it is chopped, but it is our mildest garlic when cooked.  It is easy to peel and a great choice for baked garlic.

Roasted Garlic
Roasted Garlic and Wilted Spinach
Roasted Garlic Cream Sauce
Roasted Garlic Mashed Potatoes
Zingy Garlic Grill Sauce
Garlicky Greek Marinate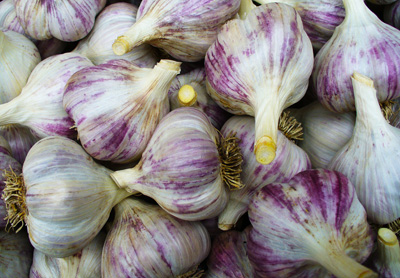 Picture: A pile of Siberian garlic bulbs. Siberian can range in color from pure white to white with purple stripes.
When we conducted roasted garlic taste tests Siberian came out on top. Another great roaster is Chesnok Red. It has a sweeter flavor than Siberian.
Remove outer layers of skins and chop off the top 1/3 of a bulb of Siberian garlic in order to expose the cloves. Drizzle with olive oil or a good quality chicken or duck fat. Place cut side down on a baking sheet or place in an ovenproof dish with lid or wrap with foil. Bake at 400ºF until completely soft and a little brownish in appearance. This will take 30-50 minutes depending on the size of the garlic bulb.

Squeeze the garlic from the cloves and use as is for a satisfying spread. I have frozen roasted Siberian in little blobs and used them throughout the winter to provide a subtle garlic flavor and underlying richness to winter stews and soups.
Roasted Garlic and Wilted Spinach
Sauté cleaned and chopped fresh spinach in butter until wilted, about two minutes. Add small dollops of roasted Siberian garlic and heat. Season with salt and pepper and serve. Spinach is a flavorful enough green to support the taste of the mild Siberian garlic.

Siberian garlic - one bulb roasted and removed from the cloves
1 cup heavy cream
Smash the garlic into a smooth paste and whisk in the cream. Place into heavy saucepan and heat just until simmering. Let this simmer until cream is reduced by ½ and sauce is at desired thickness.  Season with salt and white pepper. This may be used as is over pasta or as a sauce for chicken or meat. It may be modified in a variety of ways: add chopped dried tomato and/or anchovy paste or cheese and parsley.
Roasted Garlic Mashed Potatoes
In Idaho we know our potatoes! Just like garlic, different potatoes have different flavors and textures. For a truly buttery tasting potato use Yukon Gold. Purple potatoes are also fun to use for kids and those who feel like kids. I always leave the potato peels on for more nutrition.
2 pounds potatoes - Russet and Yukon Gold are often recommended for mashed potatoes because of their high starch content. These can be peeled for a creamy smooth texture or the peels can be left on (many people feel that the peels left on offer more flavor.)  Wash and cut the potatoes into large chucks.
2 tablespoons milk
2 tablespoons butter
Salt and pepper
Siberian garlic - one bulb roasted and removed from the skins.
Boil the potatoes gently until tender.  Drain, add the remaining ingredients and mash as you like them.

This is a no-cook grilling sauce with a nice bite, a little sweetness, and a citrus zing
¼ c lime juice
¼ cup maple syrup
2 T ketchup
2 T olive oil
2 T soy sauce
4 cloves finely chopped Siberian garlic
1 t red pepper flakes
½ t grated lime zest
salt
Mix ingredients. Marinate vegetables and meat in this sauce for 15 minutes before grilling. Especially good with beef!
2/3 cup Greek yogurt
1 T paprika
1 t cumin
1 t coriander
1 t turmeric
2 t peeled fresh minced ginger
½ t ground allspice
3 cloves minced Siberian garlic
1 T olive oil
Combine all ingredients and mix well.
Marinate lamb and/or turkey breast and vegetables cut into cubes (such as zucchini, bell pepper, okra or onion) for several hours before grilling on kabobs
Serve with cucumber