Thermadrone Gourmet Garlic Recipes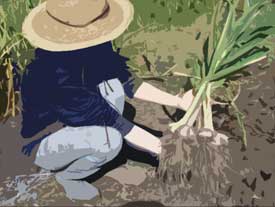 THERMADRONE adds a nice lasting authentic French flavor to dishes.  It is mild and creamy with a true garlic flavor. This garlic begs to be combined with butter in the Julia Child recipe of your choice.
Another nice aspect of Thermadrone is that it stores for a very long time (9-10 months) if cured properly. This way you can have cured garlic almost all year for cooking.

Aioli (simple French garlic mayonnaise)
French garlic soup
Chicken with 40 Cloves of Garlic
Some variations of aioli can be found in both French and Spanish cuisine; however, it is generally thought to have originated in Provence. 
12 cloves Thermadrone garlic
4 egg yolks
1 cup olive oil
Salt and pepper
Juice of one lemon (or to taste)
Crush garlic in blender and add egg yolks, salt and pepper and lemon juice.  Slowly pour in oil as you process.  It will thicken as it emulsifies. 
A dollop of aioli makes a savory addition to soups. Aioli serves as the center of a meal offering roasted vegetables such as carrots and potatoes. It is a versatile dish and can serve as a tasty sauce for meats and seafood, a dressing for salads, or a tasty sandwich filling.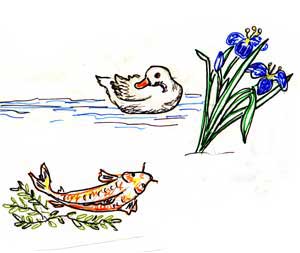 Thermadrone garlic's smooth true garlic flavor blends well into this rich and creamy soup. 
Themadrone garlic bulbs: approximately ½ bulb per person.
Chicken or duck fat if available - olive oil will also make a delicious soup
Flour to thicken
Chicken broth
Fresh herbs - thyme or sage are good
Salt and pepper
Thick slices of French bread - one for each bowl of soup
Bake the garlic bulbs by cutting them in half and drizzling the fat or oil on them, placing them cut side down on an oiled baking sheet (or wrap them in foil or use a covered ovenproof dish)  Bake until completely soft and slightly brown  - 30-50 minutes depending on the size of the garlic bulbs.  This can be done in advance and if you bake more garlic than you need for this recipe, there are many ways to use baked garlic and the oil used to bake it.
Using the oil from the garlic baking process, oil both sides of the French bread slices and set aside.
Squeeze the garlic from the garlic skins and place it and the remaining oil in a heavy saucepan.  Add flour.  (You will need flour to oil in a 1:1 ratio and 1- 2 tablespoons of each per cup of liquid.)  Add more fat or oil if necessary to create a nice creamy mixture of fat, garlic and flour.  Let this simmer for just a moment, then whisk in the chicken broth.  You should have a nicely thickened creamy soup.  Adjust flavor with salt and pepper.
Place the soup in ovenproof bowls and drop an oiled slice of bread on top of each bowl.   Put under broiler until the bread is slightly toasted and serve!
You can sprinkle Parmesan cheese on the bread before you toast it.  You can also add a splash of cream to the soup for extra richness.
Chicken with 40 Cloves of Garlic:
Chicken pieces of your choice (about 3 pounds of chicken breasts, legs or thighs)
2-3 tablespoons butter
Olive oil
30-40 cloves of Thermadrone garlic (3-4 heads)
zest of one lemon
1 large chopped onion
3-5 ribs chopped celery
2-3 bay leaves
A sprig of thyme
2/3 cup white wine
2-3 cups chicken stock
Salt and pepper
Optional: 1 pound sliced mushrooms
Heat olive oil and butter over medium heat in a large pot or dutch oven. Season chicken pieces with salt and pepper on each side. Add chicken to pot in batches and brown on all sides (about 3-5 minutes per side). Remove each batch of chicken when done and place to one side on plate.
When chicken is done browning, turn heat to low and add peeled garlic cloves, celery and onion chunks to pot. Saute garlic, onions and celery until it is evenly brown (about 5-10 minutes) turning often to prevent burning (which makes garlic bitter).
Add the lemon zest, bay leaves, thyme, and white wine and cook for a few minutes on medium heat. Add the chicken pieces and enough chicken stock to almost cover the chicken, cover pot tightly and bring to a boil. (Can add sliced mushrooms at this point).
Once it boils, turn the heat down to a gentle simmer and cook covered for 1 1/2 hours. Season with salt and pepper. Can serve with French bread or on a bed of rice.
This dish can also be covered and placed in a 300F oven to cook for 1-2 hours (depends on size of chicken pieces and how tender you like your chicken).