Asian Tempest Gourmet Garlic Recipes
ASIAN TEMPEST has an explosive lively bite eaten raw, but cooked it develops an intriguing sweet flavor akin to sweet pepper.  This addicting garlic is one of Edna's favorites.           

Thai Garlic and Pepper Chicken Lasagna Creamy Garlic Mushrooms    
Photo: Asian Tempest has very large bulblets in the scape (false flower stalk). Pickled scapes are considered a gourmet dish in some Asian countries. We have not tried to pickle the scapes yet.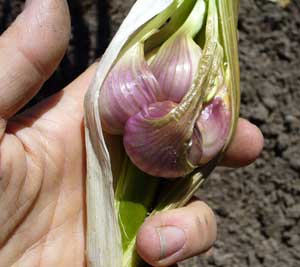 Thai Garlic and Pepper
Chicken - For each serving, you will need ½ to ¾ cup of chicken meat, raw and cut into bite-sized pieces (or use chicken thighs)
Butter or oil - just enough to brown garlic
Asian Tempest garlic - Use about ¼ cup freshly crushed garlic per serving
Sugar (palm sugar is good), fish sauce and pepper to taste - I like equal parts of sugar and fish sauce.  The pepper can be ground white pepper or a chopped hot red pepper of your choice.
Cilantro

Fry the garlic in the butter or oil until it is slightly browned, then add the chicken and cook until done.  Stir in the sugar and fish sauce and pepper.  Add a little water if you need to prevent sticking.  Simmer for a few moments to thicken the sauce.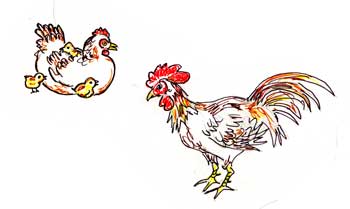 Serve over rice and garnish with fresh cilantro leaves.
Any protein can be used in combination with or instead of the chicken, including firm tofu.

The sauce will have a mild garlic taste and will be sweet, almost tangy.  White pepper gives a nice light peppery finish; the red pepper will be, of course, a bit more of a pepper hit.
Lasagna
Edna: Once again, the underlying sweet taste, almost like a sweet red pepper, makes Asian Tempest garlic a great one to use in various lasagna recipes.  There are endless ways to make lasagna. The garlic can be used as an ingredient cooked into the tomato sauce or freshly chopped garlic can be added as the ingredients are layered into the pan for more of a garlic bite.

Note: Edna does not pre-boil the lasagna noodles before adding them, and this seems to create a lasagna with a nice firm texture. Susan hasn't mastered the art of not cooking the noodles (they are always too hard when she tries it).
Susan's Meat and Cheese Lover's Lasagna
This lasagna is a favorite with men. It may be its cheesy goodness but I prefer to think that is is because this dish is rich in many nutrients required by guys. It contains red meat which is high in zinc and protein and tomatoes which contain lycopene.
Men need more zinc than women since zinc is used in making testosterone. Zinc deficiency decreases testosterone production and can cause people of both sexes to lose their ability to taste and smell food. If you notice that food has lost its flavor or you have to add more and more salt to foods you may want to see if you have a zinc deficiency. Zinc deficiency is common in senior citizens and vegetarians. Check out how eating garlic can increase absorption of zinc and iron!
Lycopene is an red antioxidant found in fruits such as tomatoes. It has been shown to protect against prostate cancer. Watermelons are also high in lycopene.
Men require more protein than women due to their higher muscle mass.
Cook Noodles: Start water boiling to cook lasagna noodles. Add noodles when water boils and cook according to instructions. Try to time noodles to be done at around the same time as meat mixture.
Note: If you are gluten intolerant like me you can use corn or rice lasagna noodles or even spinach leaves. I find the corn noodles stand up to the strong flavor and texture of this lasagna better than the rice noodles (which can become mushy). Since I am a carnivore, I normally only use 6 lasagna noodles per dish.
Cook Meat: Add to heated frying pan a splash of olive oil (I use cast iron which will increase the iron content of the dish) and add:
1-1.5 lb lean hamburger
1 small/medium onion chopped
1 bell pepper (any color) chopped
2 medium/large cloves garlic sliced or diced (Asian Tempest for sweet taste or Romanian Red for hot Italian flavor)
1 teaspoon beef Better than Bouillon, beef bouillon, or salt
2-3 teaspoons Italian spices
Fry up ingredients, chopping up hamburger, until beef is totally cooked. Add and cook until heated through:
1/4-1/2 cup picante sauce (optional but adds a fresh flavor)
1 24 oz jar/can of any kind tomato spaghetti sauce (other options: 2 12 oz cans chopped tomatoes and 1 teaspoon sugar, or 1 12 oz can chopped tomatoes, 1 8 oz can tomato paste and 1 teaspoon sugar, or 1-2 pounds fresh chopped tomatoes - Romas would be less juicy)
Optional: add 1 can black olives sliced and/or 1-2 cups sliced mushrooms
Add a little olive oil to bottom of 9X13X3 inch baking pan. Lay down 3 cooked noodles side by side. Dump half of the cooked meat mixture on top. Add any or all of the following:
1 1/2 -2 cups any kind grated cheese (I like to mix a mild softer cheese like mozzarella or Edam with cheddar, Romano, Parmesan or other cheese. Cheese is much better when you mix flavors).
1-2 cups ricotto cheese or cottage cheese (may mix in one egg to help solidify lasagna), can also add a dash of salt or Italian herb seasonings
1 cup plain yogurt or sour cream

Add 3 more noodles on top of cheese in pan. Pour on rest of meat mixture. Top with 1 1/2-3 cups grated cheese (your choice).

Put in 350F oven for approximately one hour. Cheese will be brown on top. Let set 10 minutes before cutting into dish. This is a meat and cheese lovers dish!
Immature Asian Tempest Recipes:
Edna: In the spring we pulled some Asian Tempest to check its maturity.  (This weakly bolting hardneck will be one of the first we harvest.)  We discovered the bulb to be nice and fat and just beginning to differentiate into cloves. 
Edna: I sliced the green Asian Tempest bulb (you can use mature cloves but the dish will have less of a sharp bite) and sautéed it slowly in butter with some edible wild mushrooms* and salt and white pepper until the mushrooms and garlic were just beginning to brown.  I added a splash of cream and it was yummy.  Once again I was pleased to discover what a strikingly sweet and mild flavor tone the cooked Asian Tempest provides to a dish!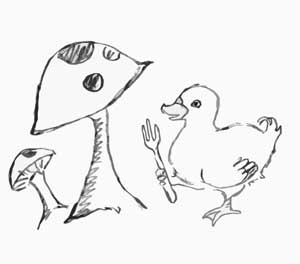 *Susan's note: Many wild 'mushrooms ' are poisonous! Only use wild mushrooms if you are an expert like Edna and know which ones are safe to eat. If, like me, you can't tell edible mushrooms from death or vision inducing 'magic' toadstools, be safe and rush to the grocery store to buy an assortment of friendly fungus to cook. I especially like oysters and moral mushrooms but common (and inexpensive) button and crimini mushrooms are also very tasty!
You may also want to take a class or field trip to learn how to identify wild mushrooms.
For more recipes see Garlic Cookbook.