Asian Tempest: Sweet Fireball
Asian Tempest is a delicious garlic but can be somewhat temperamental. It does not like wet feet.
This sweet garlic is a cook's favorite friend.
Culinary Qualities: This weakly bolting hardneck garlic has an explosive lively bite eaten raw, but cooked it develops an intriguing sweet and tangy flavor akin to sweet pepper.  Most people will not identify it as a 'garlic' flavor in a dish.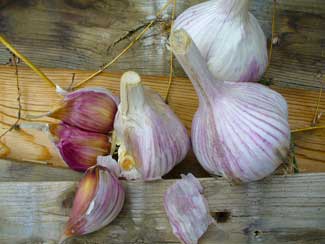 Picture: Colorful and tasty Asian Tempest garlic has truly sweet cloves.
Asian Tempest's wonderful sweet spicy flavor works well with chicken, pork or marinades. This garlic is also good in sweet and sour stir fries. One of Edna's favorite garlics. 
Special Attributes:  Asian Tempest grows a very long scape or seed head that can be eaten or pickled. This scape has a long 'beak' which extends from the bulbils and can reach over a foot and a half in length. It is quite the conversational piece and adds a wonderful touch to flower arrangements. Big attractive bulbs are usually streaked with white and purple giving them a striped appearance. 

Growing Considerations:  This garlic is a good choice for those who are impatient for fresh garlic in the summer. Asian Tempest is an easy to grow garlic on most years which is harvested several weeks sooner than most hardneck garlic. It also is one of the first garlics to come up in the spring. It has short light green droopy leaves. Bulb size is slightly smaller than the Porcelains but the sweet taste is worth it!
Like most garlic, it demands well drained soil. It thrives in cold winters and seems to grow well even during mild or wet winters. This garlic is quick to ripen and should be harvested not long after the bottom leaves brown.
Cloves: Usually between 5-7 nice sized plump cloves per bulb. Garlic cloves have relatively easy to remove semi-glossy wrappers. Cloves are a gorgeous deep purple streaked with gold.
Check out our Asian Tempest recipe page for yummy dishes made with this sweet treat of an allium.
Type: Asian Tempest is an Asiatic weakly bolting hardneck garlic originally from Korea.