Bogatyr: Authentic Flavor
A robust and easy grow garlic with true garlic flavor! Susan really likes this garlic. It taste great but is extremely easy to grow.
Culinary Qualities: Bogatyr has a rich garlic flavor that has no heat. The first time I tasted it I thought, "now here is a true garlic flavor". Add this garlic to any dish that needs a nice garlic boost. I would recommend it for Italian dishes. Great for the person who likes garlic but doesn't enjoy 'spicy' or 'hot' foods.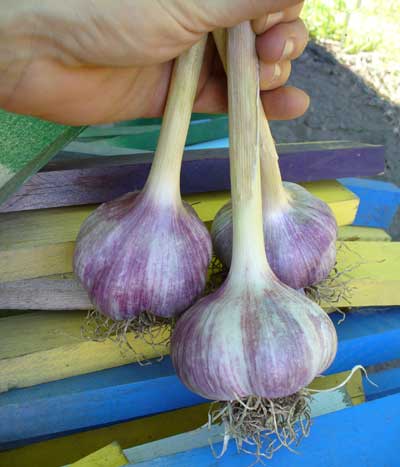 Picture: Three striped Bogatyr garlic bulbs after harvest rest by colorful planting stakes. We use color to tell our varieties apart in the field.
Special Attributes: Big fat cloves have a beautiful hard dark brown/purple wrapper. This garlic is in the same family as Siberian and has similar gorgeous perfectly smooth and hard cloves. the cloves tend to be a darker color than Siberian cloves. They are fun to run your fingers through.

Growing Considerations: Bogatyr is an easy to grow garlic. The plant leaves are vigorous and upright and it can handle some neglect. The plant is shorter than the Porcelain garlics and looks like Siberian. Under good growing conditions, this garlic is a top producer. It has nice sized bulbs which are a little more asymmetrical than bulbs of Siberian.
Cloves: Approximately 6-8 cloves per bulb. Big fat dark purple brown cloves have hard wrappers.
Type: This hardneck garlic is in the Marble Purple Stripe family.