Georgian Crystal: Stunning Supermodel
This is consistently our best growing garlic. We recommend Georgian Crystal for most of our growers. According to our customers, it even does very well in most areas of the South.
Culinary Qualities: Clean fresh tasting garlic with a vastly superior flavor. Georgian Crystal adds the perfect crisp taste to stir-fries, vegetables, chicken and fish.  The light flavors combines well with root vegetables, cabbage, chicken, seafood and fish. The mellow raw flavor is great in uncooked dips and salsa. This garlic has a very pure flavor with no earthiness. If I am not sure what garlic to use Georgian Crystal is always a good choice. Like most Porcelain garlics, this variety has great staying power in a dish. Check out our Georgian Crystal garlic recipes for some cooking ideas.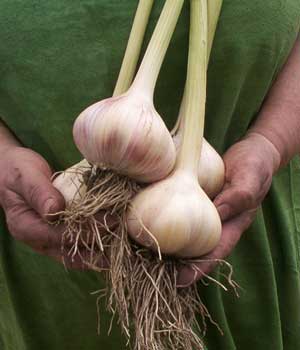 Picture: Edna holds four Georgian Crystal garlic bulbs fresh from the field.
Special Attributes: The Supermodel of garlic; big, bold, and beautiful!  This gorgeous garlic hails from the mountainous region of Cichisdzhvari in the Republic of Georgia, a small Eurasian country bordered by the Black sea, Russia and Turkey. After finding this out I was glad that our favorite garlic was named after the Republic of Georgia and not Cichisdzhvari (which doesn't really roll off my American tongue).
Georgian Crystal's huge beautiful cloves are frequently mistaken for Elephant 'garlic' (note: elephant garlic is a leek not a garlic). Bulbs can weigh up to one-third of a pound and have super sized cloves! Georgian Crystal's large gorgeous bulbs with an iridescent white shimmer beg to be featured in a still life. This sophisticated garlic with its mix of great taste, pure beauty and super big cloves is ideal for restaurants and chefs. 

Growing Considerations:  Georgian Crystal is very easy to grow but will respond eagerly to a bit of care. It is a gorgeous looking plant and we have joked that we should always plant this garlic closest to the road since it is one of the most eye catching varieties. 
This garlic is always our top hardneck performer for yield and size, no matter what the weather. Occasionally bulbs can reach over 6 ounces! It is somewhat forgiving of lax weeding and needs no coddling. It's size, beauty, taste and ease of care make it a great choice for selling at Farmer's Markets. For tips on growing those 1/3 pound bulbs see how to grow big garlic.

Cloves: 25-30 large cloves/lb. or 30-40 medium cloves/lb. Bulbs normally contain 4-6 huge fat porcelain white cloves.  These numbers are approximate and will vary slightly.   
Type: Georgian Crystal is a hardneck garlic and in the Porcelain family.