Buy Organic Garlic
Due to personal circumstances we will not be selling garlic in 2016. We apologize to all our wonderful consumers. We enjoyed our interactions with all of you and don't like to disappoint you.
We are sorry but we cannot ship garlic to Canada or Hawaii due to import regulations.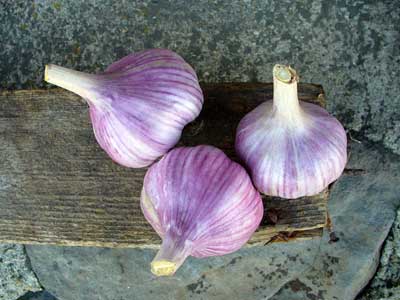 Right: Three beautiful and sweet tasting Chesnok Red organic garlic bulbs sit on a weathered board.
At Grey Duck Garlic we sell the finest gourmet seed garlic. All our garlic is organically grown and is suitable for seed garlic or for eating garlic. We only sell organic garlic that tastes great and grows well. Our garlic farm has tested negative for garlic bloat nematodes Ditylenchus dipsaci.
These garlic planting specials contain plump garlic cloves ready to grow into big tasty garlic bulbs. We sort our garlic carefully and only send out nice clean cloves that we would use ourselves for planting. Larger cloves produce larger bulbs. With garlic cloves you have no waste and can plant right away.
Garlic will ship in the fall. Please select your preferred shipping date when ordering garlic. To avoid worry please select the time period before you need to plant for shipping. That way your shipment will reach you in time.
---
---
---
Gift Certificates:
Gourmet garlic makes a great gift for a favorite foodie or garden chef! If you are not sure what selection to choose, let the other person pick their preferred garlic flavors. We offer gift certificates through Pay Pal.
---
Note on Shipping Date: Please select your desired shipping date based on the time period before your planting date. Studies show that planting later in the fall results in bigger bulbs. We clove garlic bulbs right before we ship garlic to you.
Warmer climates should plant garlic later in October. We plant in late October here in WA. If you are prone to worrying or if you have uncertain weather please have your order ship a few weeks before you need to plant.
Garlic Planting Chart

| Climate Zone | Earliest Planting Date | Latest Planting Date |
| --- | --- | --- |
| 0-3 | Late August to early September | Late September |
| 3-5 | Mid to late September | Early to mid October |
| 5-7 | Early to mid October | Late October |
| 7-9 | Late October | November |
| 9-10 | Late October | December |
For a USDA climate zone map and more planting information see our Garlic Planting Page.
---
Do You Want to Know More About Garlic?
Check out the rest of our website for loads of great garlicky goodness for the new and experienced allium grower!
New garlic growers should check out our First Time Garlic Grower's Guide, how to grow organic garlic, growing garlic in the South, or our frequently asked garlic questions.
Experienced gardeners may want to read our guide to growing really big garlic bulbs, how to market garlic, or why we grow organically. We also have pages on cooking with garlic, garlic combating food poisoning, cows eating weeds, women garlic farmers, health aspects of garlic and much more. The health section on garlic has been greatly expanded.
Note: Very rarely we may need to substitute garlic varieties (it has only happened a handful of times). We know that most consumers would rather receive a comparable variety than no garlic. If you absolutely do not want substitutions please let us know.
---
Some counties in Idaho and Washington prohibit importation of alliums including garlic, onions, leeks, shallots or chives. If you live in one of those counties you cannot buy garlic from outside sources. For a list of the counties and why they prohibit alliums see shipping.