Red Rezan: Royal Charmer
Lovely bulbs with stunning metallic cloves.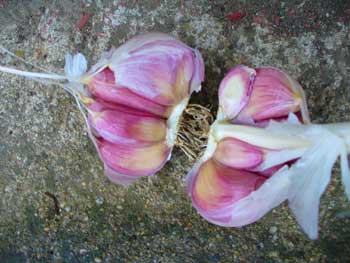 Picture: Red Rezan garlic has beautiful metallic cloves.
Culinary Qualities:  This hardneck garlic has medium heat, holds up well in cooking and it has little aftertaste.  Red Rezan has a complex flavor that works well with meat or strong flavored vegetables. Susan likes the flavor of this garlic. Check out our Red Rezan recipes for some dishes.
Special Attributes:  Red Rezan has some of the prettiest cloves I have ever seen. The beautiful purple cloves have a gold metallic sheen. Especially attractive when caught in the sun. This garlic has all the colors of royalty! The attractive garlic bulbs are white with pinkish or violet streaks and accented with ivory and rose. 

Growing Considerations:  Red Rezan is an easy to grow garlic which seems to be more tolerant of soggy soil than some of our other varieties.  The plant leaves are vigorous and upright. Smaller plants have surprisingly large bulbs for their size. This garlic multiples pretty rapidly since it contains more cloves per bulb.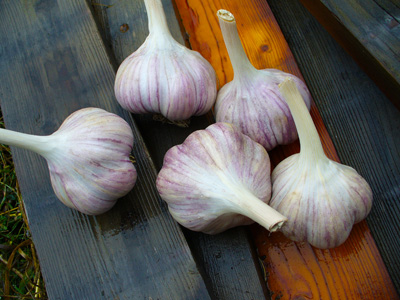 Picture: Red Rezan garlic bulbs on recycled lumber.
Cloves:40-45 large cloves/lb. or 50-65 medium cloves/lb. Approximately 8-15 cloves per bulb. These numbers are approximate and will vary slightly.  In general, Red Rezan has mostly medium-large, chunky cloves with a few smaller interior cloves to mix it up. Cloves are smaller and more variable in size than some of our other garlic varieties. We are working on increasing clove size.
Type: Red Rezan is a hardneck garlic in the Glazed Purple Stripe family.