Romanian Red: Deviously Spicy
Pungent bulb adds heat and flavor to dishes.
Culinary Qualities:  If you need to add a whole bulb of supermarket garlic to get the garlic flavor you want, Romanian Red is for you!  It adds a long lasting hot and spicy bite to any dish.  Although it is pungent, it also has an excellent flavor with a strong nutty after taste. We can tell Romanian Red apart from our other garlic varieties simple by the rich pungent small of the bulb.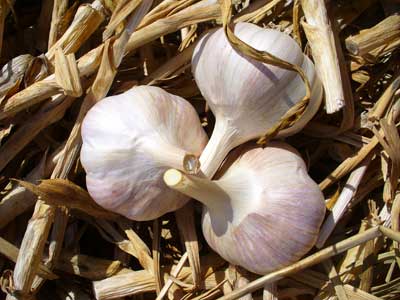 Picture: Savory Romanian Red garlic bulbs rest in a nest of stalks.
The heat and fiery flavor compliments Asian and Mexican dishes.  It is the perfect robust counterpart to ginger in hot Asian dishes and can hold its own with strong meats.  Use this garlic to make hot barbecue sauces, marinades, pickles and relishes. Edna's friends from Mexico love Romanian Red. 

Special Attributes:  This spicy gal gets a lot of fan letters from customers who love the flavor! It is a great garlic for chefs who like some sizzle in their dishes or someone who wants a 'secret' ingredient for their special barbecue sauce. Even if you tell them you added garlic, they will never be able to replicate the flavor without knowing it is Romanian Red.  Check out some of Edna's favorite recipe picks for this spicy garlic. This is my sister Patty's favorite garlic.      

Growing Considerations:  Attractive bulbs vary in color from all white to red streaked.  This garlic needs good care, rich soil and freedom from weeds.  If Romanian Red is treated well its bulbs almost reach Georgian Crystal in size.  If it is neglected, it will be much smaller. Our pampered Romanian Red can easily have 4-5 large bulbs per pound. You don't want to know the number of garlic per pound if it is not pampered! 
Romanian Red does not like wet roots. It prefers a well drained soil. If you plant it in poor draining soil it will be very unhappy and will let you know it with its small bulbs (usually with only 2 rather large cloves). It is more susceptible to root damage in wet soil too. If your soil is very wet or your weeding is sporadic and you want to grow a large hot garlic, I suggest you try a more tolerant garlic like Parvin instead.
Cloves: 30-35 large cloves/lb. or 40-50 medium cloves/lb.  Attractive large white bulbs that may have touches of pink usually contain 4-6 plump cloves.  These numbers are approximate and will vary slightly.  
Type: Romanian Red is a hardneck garlic and in the Porcelain family