Grey Duck Garlic
Siberian: Mild Mannered Beauty
Availability: Cloves and bulbs.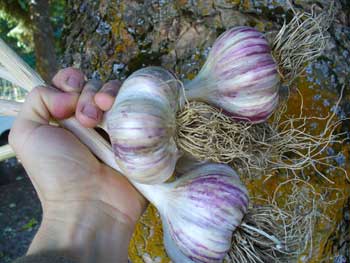 Culinary Qualities:  Great tasting roasting bulb. Delicate mild garlic flavor that compliments other flavors without overwhelming them.  Siberian is perfect in light stir-fries, dips or soups where only a hint of garlic flavor is desired.  Great variety for those who prefer a subtle approach to garlic flavor.
Special Attributes:  If you are concerned about illness, this is the garlic for you.  Siberian has one of the highest concentration of allicin when compared to other garlic varieties.  Allicin and is a biologically active component of garlic which is antimicrobial and may have health benefits.  In addition, all garlic contains organosulfur compounds that kill bacteria on contact. The amount of organosulfur compounds varies depending on garlic variety and growing conditions. Garlic grown in sulfur rich soil contains more organosulfur compounds. Manure is naturally high in sulfur; this makes organically grown garlic very healthy.
Siberian's mild flavor means that you can add more garlic to dishes and receive the maximal health benefits.  This beautiful garlic has large white bulbs which are usually streaked with pink to purple.  Beautiful by the bulb or the box!
Growing Considerations:  Like Georgian Crystal, Siberian is an easy to grow garlic.  The tall elegant plants produce large bulbs and beautiful purple flowers.  See our garlic growing page for suggestions on how to grow big healthy bulbs.     

Cloves: 25-35 large cloves/lb. or 35-45 medium cloves/lb.  The large bulbs usually contain 5-9 plump cloves.  These numbers are approximate and will vary slightly.
Get your ducks in a row with Grey Duck Garlic!