Cooking with Garlic Bulbils (also called Garlic Pearls)
Garlic bulbils can add a spicy hint of garlic to any dish. Add raw to enhance the flavor and texture of foods. Or cook with the dish for a more mellow taste. The bulbil skin is thin so you can use whole and unpeeled.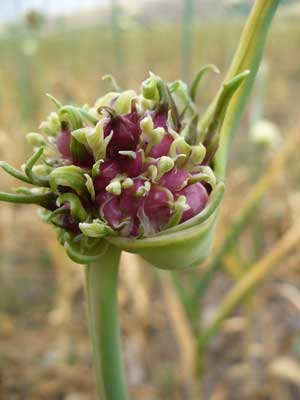 Tired of broccoli sprouts? Sprout garlic bulbils for a fresh burst of antioxidants. A recent study suggests that sprouting garlic has enhanced antioxidant activity (Zakarova et al. 2014) compared to unsprouted garlic. Sprout the small bulbils the same way you would sprout other seeds. Use on salads or in stir fries.
Sprinkle raw on your salad or cooked greens to add a wonderfully crunchy garnish
Picture: Bogatyr garlic bulbils in the field. Bulbils are in the garlic umbel (scape).
Add to stir fries for a pop of flavor.
Pickle in a vinegar brine with a touch of sugar (in the refrigerator) for an exotic topping.
Stir into a stew or soup to add savory bites.
Mix into dips for a surprising burst of garlic.
Flatten the bulbils by putting between two sheets of waxed paper and using a rolling pin. Dehydrate the small morsels for both flavor and crunchy texture.
References:
Zakarova A, Ji Yeon Seo, Hyang Yeon Kim, Jeong Hwan Kim, Jung-Hye Shin, Kye Man Cho, Choong Hwan Lee, Jong-Sang Kim. Garlic Sprouting Is Associated with Increased Antioxidant Activity and Concomitant Changes in the Metabolite Profile. Journal of Agricultural and Food Chemistry. 2014;62:1875-1880. doi: 10.1021/jf500603v. Full paper.