Frequently Asked Questions
If you are new to growing garlic (or want a refresher course) check out our First Time Garlic Grower's Guide for some great tips on how to plant garlic!
SECTIONS:
Picture: Delicious Bogatyr garlic bulbs by rock wall.
ORDERING GARLIC
What garlic or clove size should I order?
How much garlic should I order?
Why is gourmet garlic only available late summer to early winter?
What is the difference between hardneck and softneck garlic?
GROWING GARLIC
Picture: A handful of just harvested garlic bulbs. Do you want to grow big garlic bulbs like this? Read our page on growing huge garlic.
When should I plant hardneck or softneck garlic?
Does hardneck garlic need vernalization (exposed to cold)?
Why didn't my garlic cloves sprout?
Why do my garlic leaves have yellow tips?
Do I need to removes scapes (false seedheads) from garlic?
When should I harvest hardneck or softneck garlic?
STORING GARLIC
What is the best way to store garlic?
ODD GARLIC QUESTIONS
How can I neutralize garlic breath?
ORDERING
What garlic or clove size should I order?
There is a big size difference between the largest and smallest bulbs.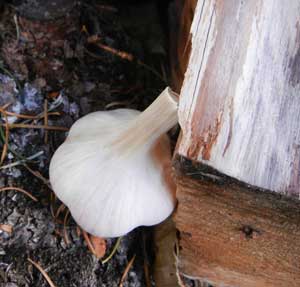 For premium seed garlic: the larger the clove you plant, the larger the garlic bulb you will harvest. Large or medium sizes should be used for planting in order to harvest the largest tastiest bulbs next summer. Large bulbs will normally produce humongous garlic. The small garlic has smaller cloves and will grow smaller bulbs.

For gourmet cooking garlic: people who love garlic and most gourmet restaurants prefer the ease and convenience of the premium large or medium garlic. These bulbs have huge cloves that are ideal for cooking or roasting and super easy to peel.

For great taste and lower price: those who want gourmet taste in a smaller more economical package find that medium bulbs taste just as good as the larger ones. In addition, some home cooks prefer the daintier clove size.

For green garlic: use the smallest cloves.  Green garlic tastes best when it is small and tender.  Green garlic is harvested in the spring before the bulbs develop. 
How much garlic should I order?
To calculate how much garlic you need see our page on how much garlic you need to plant. If you are new to garlic growing, you may want to start with a small amount of garlic to see how much you like growing garlic and try out a variety of flavors.
Why is gourmet garlic only available to ship in late summer to early winter?
Organic hardneck garlic is not harvested until late July or August. Like tree ripened fruit, we believe the best flavor comes from letting the garlic mature naturally in the field. After harvest, we cure our garlic in a large shady barn for an additional 4-6 weeks. Curing garlic is similar to aging cheese, it mellows the flavor and helps bring out rich variations in taste. This means our garlic normally ships starting in September or October.
What is the difference between hardneck and softneck garlic?
Hardneck garlic has a false seed stalk called a scape. This garlic comes in a huge variety of kinds, colors and flavors with easy to peel big cloves. Softneck garlic has a floppy stem which can be braided. It has a high yield, smaller cloves and grows well in the South.
GROWING GARLIC
When should I plant hardneck and softneck garlic?
For best results and biggest bulbs plant hardneck and softneck garlic in the fall after the first killing frost. To see a chart on when to plant check out our garlic planting chart. For more information see how to plant organic garlic or how to grow big garlic. If you live in the South see special instructions in our Southern Garlic Growing Guide.
Does hardneck garlic seed cloves need vernalization (cold exposure) to develop bulbs?
Hardneck garlic requires vernalization (exposed to cold) before or after planting. Cold temperatures will stimulate garlic cloves to sprout and develop a bulb (just like tulips). We find that our garlic all suddenly starts to develop small roots when it is exposed to cold followed by moisture (we live in a very dry area).
Research has shown that you will get bigger garlic bulbs in Southern areas after cold exposure. For best results, the garlic should be at 40-50ºF for 6-8 weeks during the winter to stimulate bulb formation. If you buy your garlic from a Northern garlic farm late in the fall the garlic will have received some cold exposure. For much more detailed information on this topic and different methods of cold exposure see Southern Garlic Growers Guide.
Why didn't my garlic cloves sprout?
If you treat your garlic right, it should have at least a 95% sprouting rate. We expect a higher growth rate in our fields (in fact, one of our biggest problems is weeding out volunteer garlic that seems to sprout under even the worst conditions; such as laying exposed to winter's chill, growing in a muddy spot and so forth). We only send out healthy plump garlic cloves that should sprout for you. However, there are some factors that can affect garlic clove germination.
First, give garlic time to grow. Our garlic doesn't come up well until very late winter or early spring (those who grow in the South will have garlic growing over the winter). During the fall and winter the clove grows roots.
If garlic doesn't come up in the spring dig up a clove to check on its progress:
Clove firm with roots: If the clove is firm with roots it will sprout eventually. Just be patient.
Clove rotten: If it is mushy, rotten or moldy the clove has died. To diagnose the problem first look at the soil. Is the soil is wet, clay, dense and/or non-draining? Garlic cloves will rot in wet soil; they require a well drained soil to grow. If soil is fine consider the weather. Garlic is pretty tough and very cold hardy but the weather has been awful in some places the last few years. It may not be able to withstand a hurricane (like some of our poor customer had last year) or really odd weather fluctuations (such as weird thaws and freezes with heavy rains). Second, the clove's center may have been eaten out killing the clove after which it rotted. See the next point.
Clove has a hole running through it and the sprout has been eaten out. This is most likely wireworms. Wireworms can destroy whole beds of healthy garlic quietly during the winter. They tend to eat down the row so you may see several missing rows in a bed. Wireworms are the larvae stage of click beetles and can live in the soil for 3-5 years. Often wireworms go unnoticed because people assume the cloves have rotted. If you have a wireworm problem you may want to try a harder shelled clove such as Bogatyr or Siberian. We have found that wireworms prefer softer cloves such as those found in any of the Porcelain and softneck garlic varieties.
Clove missing: If you cannot find a clove, it may have been eaten. Look around for signs of voles or moles. These animals will happily eat an entire bed of garlic.
Consider other factors such as herbicide residue or disease. There may be a garlic disease or rot in your soil that is attacking the cloves. Usually this is only the case if garlic or onions have been planted in the soil recently (although some garlic disease can remain in the soil for up to 30 years).
As garlic growers, we want you to have success growing our favorite crop.
Should I fertilize garlic?
Garlic likes a little dose of nitrogen in fall after planting and another dose in early spring. Don't fertilize too late in the summer or it will delay bulbing. If you have poor soil you will need to apply an all purpose fertilizer with balanced nitrogen, phosphorus and potassium. Adding organic matter can really improve soil. See growing organic garlic for more information on how to prepare soil for garlic.
Why do my garlic leaves have yellow tips?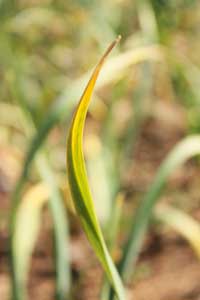 Yellow tips can be due to a nitrogen or sulfur deficiency BUT often they are due to heavy frost. Siberian tends to develop yellow tips even if other varieties appear green.
The pictures below left and to the right show our 2011 Siberian garlic with yellow tips due to a late heavy frost of 20ºF in May. Slight frosts of 28ºF had no effect. The yellow discoloration occurred right after the heavy frost.
Other garlic varieties did not develop the yellow tips and seem to be more resistant to the effects of cold on leaf color. We have not noticed any ill effects of yellow tips in garlic on bulb size or garlic growth.
If your garlic is yellow AND dying (and it is not late summer) you may have a more serious problem such as root rot. Root rot can occur in over watered garlic, garlic in poor draining soil or in places where a hurricane has unleashed its damage.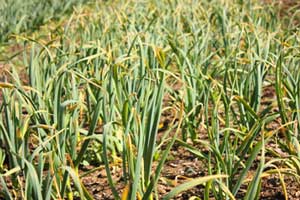 Picture: Siberian garlic develops yellow leaf tips after hard frost in May
Yellow leaves with severely deformed/oddly curly leaves, stunted growth and damage to the root plate can indicate harmful nematodes feeding on the roots. There are literally thousands of types of nematodes and most are beneficial. However, if you suspect damage due to nematodes you can have your garlic and soil tested for garlic bloat nematode Ditylenchus dipsaci (also called stem and bulb nematode).
We sometimes see yellow tips suddenly appear on garlic after temperatures dipped into the low twenties in the spring. Siberian is often most affected. Some hardy varieties show no yellowing at all.
Do I need to removes scapes (false seedheads) from garlic?
Removing the scape or false seedhead when it first emerges increases the size of the garlic bulb sometimes. The garlic uses energy to develop a scape and if conditions are adverse (not enough water, weed pressure, poor soil, etc) the garlic might not have enough energy to make a really big bulb. For more on this topic and pictures see our Garlic Grower's Guide.
When should I harvest hardneck or softneck garlic?
Harvest time depends on your climate and when you planted. Hardneck garlic should be harvested when 1/3 - 1/2 of the leaves are brown.  Garlic bulbs will continue to grow as the leaves die back.  However, at a certain point the bulb quality will diminish.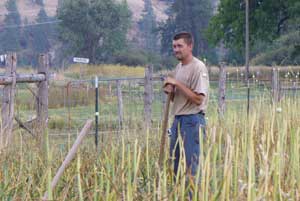 Picture: Steve harvests hardneck garlic. He is one of our fastest diggers and we are always happy when he helps with harvest!
Picture: Hardneck garlic almost ready for harvest. About 4 leaves are brown/yellow. Most growers would wait until an additional 1-2 leaves are brown. Depending on the weather this could take up to a week.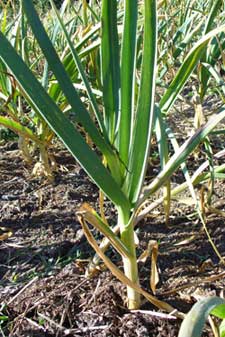 Leaves on the garlic bulb grow down and wrap around the bulb to form a nice wrapper.  As each leaf dies back the wrapper around the bulb loses a layer of skin.  For the best results, you want to leave enough green leaves at harvest to have a nice wrapper on the bulb (at least 3-4 green leaves). About half the leaves should be brown.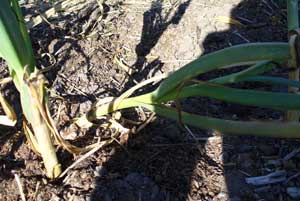 Picture: Softneck garlic ready for harvest. Note how one has fallen over already and 3 leaves are brown.
If you harvest too early the garlic cloves will not be formed and may have poor color and size.  If you harvest too late the bulb will be dried out and will fall apart (storage quality will be poor).  

Softneck garlic AND weakly bolting hardnecks (such as Asian Tempest) should be harvested when 1-3 leaves turn brown OR it falls over.  Softneck garlic will normally be harvested 3-4 weeks before hardneck garlic.
After you harvest brush off soil and/or mud from bulb. We usually leave roots and stalks on garlic for curing. Hang or place garlic in cool dark well ventilated area. Humid areas may need fans for ventilation. Cut off roots and stalks when they are fully dried. For more on curing see our First Time Garlic Grower's Guide.
GARLIC STORAGE
What is the best way to store garlic?
Store garlic in a cool, dry area in a breathable container. Garlic can be stored for between 3-9 months depending on the type of garlic, the storage conditions and other factors. To store your garlic for the longest time check out our page on how to store garlic.
Can I freeze garlic?
Only freeze garlic you plan to cook. Do not freeze garlic that you want to plant (garlic can withstand freezing temperatures only if it is plant and growing in the ground).
You can freeze either cooked or raw garlic to use later. Edna roasts garlic bulbs to use later. If you chop the raw garlic before freezing, the garlic will become more mellow tasting the longer it is frozen. This is because allicin, which develops when the garlic is chopped and gives it it intense heat, gradually loses it potency in the freezer.
One way to partially correct for this problem is to add more garlic to the recipe if you are using garlic that has been stored in the freezer for a while. The garlic taste will still be more mellow after freezing, though.
ODD GARLIC QUESTIONS
Allicin, which gives garlic some of its health benefits, also makes garlic taste hot and pungent. Allicin develops when garlic is chopped, cut or minced. It intensifies the garlic flavor. For the most intense flavor let the chopped garlic sit for a while before adding it to the dish. For more on how allicin can improve health by changing your genetics see our garlic and epigenetic page.
How can I neutralize garlic breath?
With milk! See our page on fighting garlic breath!