Garlic By-products Soak up Hazardous Waste
By Susan Fluegel, PHD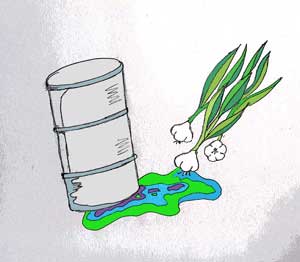 Garlic and onion waste can be used to filter toxic heavy metals from toxic waste. Heavy metals are hazardous to humans and as contaminates in the environment (Babel and Kurniawan 2004). Normal methods of removing heavy metal removal from inorganic effluent are chemical precipitation, ion exchange, and electrochemical removal. All of these methods have significant problems such as incomplete removal of toxins, high-energy use, and production of toxic sludge (Eccles 1999).
Lately there has been a search for inexpensive but effective alternatives for waste control such as absorbents and membrane filters (Barakat 2011). This is particularly important to help curve toxic waste contamination in third world countries who do not have the money or the technology to treat industrial sludge. Earlier studies found that agricultural waste could prove to be a low cost and effective replacement for activated carbon to treat waste water contaminated with heavy metals (Kurniawan et al. 2006).
Biotechnologists used Allium species (garlic and onion) waste to remove toxic heavy metals from contaminated materials and industrial waste. Negi et al. (2012) used garlic and onion processing waste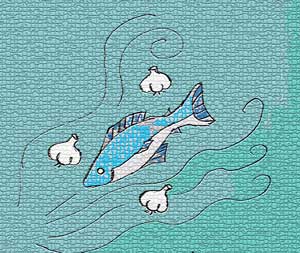 to make a biological heavy metal filter intended for industrial-scale toxic waste decontamination. Toxic heavy metals removed by the 'allium biofilter' included arsenic, cadmium, iron, lead, mercury and tin.
Lead is particularly hard to remove from industrial waste. The biological filter was able to extract lead, a toxic environmental pollutant, from simulated hazardous runoff. It extracted more than 10 milligrams of lead per gram of Allium waste material from a test solution containing 5 grams per liter of mixed metal ion solution. Negi et al. (2012) reported that the filter recovered 71% of the heavy metal ions within 30 minutes. Once collected, the absorbed toxic metals were released into a collecting vessel using nitric acid and the biomass from the allium biofilter reused.
The allium biofilter was effective both in synthetic wastewater and in actual industrial runoff from an electric motor factory. This filter proved to be an inexpensive, low maintenance and reusable way to clean up hazardous waste.
Garlic and Corn Waste Cleanup Olive-Mill Wastewater with Mushrooms
Extracting olive oil generates approximately 2.5 liters of waste water for each liter of olive oil (Fountoulakis et al., 2002). This wastewater is hard to depose of due to its high concentration of organic matter and phenols (Borja et al., 1992). The phenols found in olive waste water are difficult to biodegrade. Mushrooms can be used to lower concentrations of phenolic compounds and other toxins in the wastewater through a process called bioremediation (similar to phytoremediation). Mushrooms and other fungi contain an enzyme called laccase which is able to degrade lignin (Sanjust et al. 1991).
Garlic and maize (corn) waste was used as a substrate or growing medium for mushrooms (Pleurotus ostreatus). The growing medium was moistened with olive-mill wastewater. Both corn and garlic were found to be suitable mediums for growing mushrooms watered with olive-mill wastewater (Lechner et al. 2011).
Plants Combat Toxins in Phytoremediation.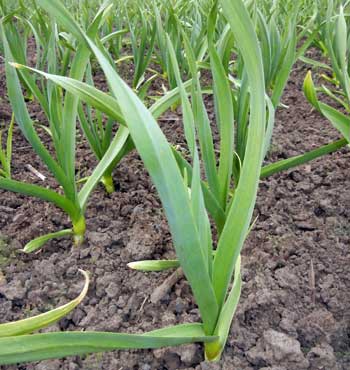 Picture: Bogatyr garlic plants in late spring before scapes form.
Phytoremediation means using plants to contain, degrade, or eliminate environmental pollutants. It comes from the greek word phyto (plant) combined with the Latin word remedium (restoring balance).
Usually phytomediation is used to describe a situation where plants are grown in an area of contaminated soil and either accumulate or degrade the pollutants. Plants that bioaccumulate toxins can be harvested and the toxins removed. This gradually decontaminates the soil and sometimes the pollutants can be reused.
By Susan Fluegel, PHD
References: