Garlic Follies
At Grey Duck Garlic we like to have fun with our food! For your amusement we have compiled a set of odd, fun and weird pages that are somewhat related to gourmet garlic. You can check out our garlic on a photo shoot, see our garlic art, read about Susan and Sammy, or see if you could work as a garlic dog.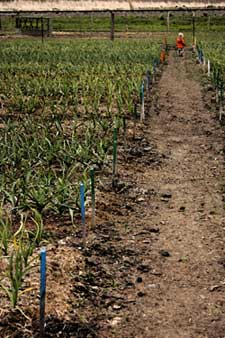 Picture: A growing field of garlic offers many opportunities for exploration. Let your imagination run wild!
For more weird garlic information see our other section on fun garlic facts where we combine interesting garlic research and political news. You can find out how to stop garlic breath, read about garlic smugglers or find out how to use garlic waste to combat toxic waste. It is amusing how often garlic makes the news!
When you are out in the garlic field the quiet peacefulness encourages wild fancies. We like to explore some of these ideas on the Grey Duck Garlic website. Of course, it is only peaceful and quiet if there is only one of us in the field weeding, harvesting or planting. Otherwise it can get quite loud since we enjoy discussing philosophy, human nature, food, the latest scientific studies, and nutritional biochemistry as we weed, plant and harvest. Okay, the biochemistry is mainly Susan but she does get encouragement from her fellow workers (or they may be just being polite)! Jane likes to mix it up with the latest environmental outrage or sustainable practices (see the plight of the bees) but we try to keep it fun.