Garlic Kills Dangerous Contaminants in Baby Formula
It only takes a small trace amount of two compounds found in garlic to significantly reduce the risk of a dangerous foodborne pathogen, Cronobacter sakazakii (the bacteria previously known as Enterobacter sakazakii), contaminating dry infant formulas. Diallyl sulfide and ajoene are two antipathogen compounds found in garlic. Adding diallyl sulfide and ajoene to the baby formula dramatically reduces C. sakazakii contamination (Feng et al. 2013). In addition, washing manufacturing equipment with the garlic compounds may hinder or prevent bacteria growth.
C. sakazakii can survive in dehydrated infant formulas for up to two years (Caubilla-Barron and Forsythe 2007) so it is important to prevent contamination. Dehydrated infant formula is not a sterile food product and an older study found that 14% of 141 powdered infant formulas contained the bacteria (Muytjens et al. 1988).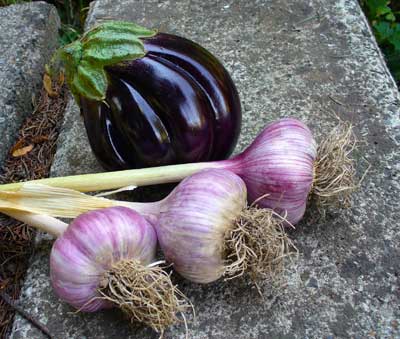 Picture: Chesnok Red garlic with eggplant. The garlic is cured and ready to be cut off its stalk.
Infection by C. saikazakii in babies is rare; 1 case per 100,000 babies and 9.4 cases per premature infants (WHO 2004). Symptoms include poor feeding, jaundice, unstable body temperature and grunting while breathing. As the infection progresses, necrotizing enterocolitis, sepsis, and meningitis can develop (Hunter et al. 2008). If you suspect a C. saikazakii infection get treatment immediately; 40-80% of infections are fatal (CDC 2002, Bowen and Braden 2006). The bacteria poisons the infant's bloodstream which can lead to dangerous and possibly deadly cases of meningitis. Outbreaks of C. sakazakii have occurred through out the world. Treatment is with antibiotics.
Interesting Fact: C. sakazakii is another bacteria species that develops a biofilm on surfaces. Bacteria with biofilms are hard to kill since the biofilm acts like armor plating. Sulfur based garlic compounds can burn through biofilms and attack the soft bacteria underneath. Garlic kills biofilm bacteria 100 times quicker than antibiotics and with much more gusto.
References:
Bowen AB, Braden CR. Invasive Enterobacter sakazakii disease in infants. Emerging Infect Dis 2006;12:1185–9. Pubmed. doi: 10.3201/eid1208.051509
Caubilla-Barron J, Forsythe S. Dry stress and survival time of Enterobacter sakazakii and other Enterobacteriaceae in dehydrated infant formula. Journal Food Protection 2007;13:467–472.
Centers for Disease Control and Prevention (CDC). Enterobacter sakazakii infections associated with the use of powdered infant formula--Tennessee, 2001. MMWR Morb Mortal Wkly. 2002;Rep 51: 297–300. Pubmed.

 

Full paper.
Feng S, Eucker TP, Holly MK, Konkel ME, Lu X, Wang S. Investigating Cronobacter sakazakii responses to garlic-derived organosulfur compounds: a systematic study of pathogenic bacteria injury using high-throughput whole transcriptome sequencing and confocal micro-Raman spectroscopy. Applied and Environmental Microbiology, 2013; doi: 10.1128/AEM.03460-13
Hunter CJ, Petrosyan M, Ford HR, Prasadarao NV. Enterobacter sakazakii: An Emerging Pathogen in Infants and Neonates. Surg Infect (Larchmt). 2008 October; 9(5): 533–539. Pubmed. doi: 10.1089/sur.2008.006
Muytjens HL, Roelofs-Willemse H, Jaspar GH. Quality of powdered substitutes for breast milk with regard to members of the family Enterobacteriaceae. J Clin Microbiol. 1988 Apr; 26(4):743-6. PubMed.
WHO [World Health Organization]. Enterobacter sakazakii and other microorganisms in powdered infant formula. MRA Series 6, 2004. Find here.