Garlic Protects Firefighter's Hearts
Garlic Protects Firefighters From Cardiovascular Disease Risks
Stress is associated with both the presence and progression of atherosclerosis (hardening of arteries). Fire fighting is a stressful job and occupational stressors such as plunging into burning buildings are independent risk factors for coronary artery disease and major cardiac adverse events like myocardial infarction (Rosengren et al. 2004). Currently, sudden cardiac death is responsible for 45% of duty deaths in firefighters (Kales et al. 2007). That is a scary figure considering that normally sudden cardiac death occurs in people who have already had a heart attack.
Firefighters (n=65) in a double-blind placebo based trial took either aged garlic extract (1200 mg) plus coenzyme Q10 (30 mg) or a placebo for 1 year. Firefighters taking the garlic plus coenzyme Q10 showed significant beneficial effects on vascular elasticity and endothelial function (Larijani et al. 2013). The improvement in endothelial function is important since endothelial dysfunctions in people with existing cardiovascular problems are an independent predictor of future cardiovascular events like heart attacks (Sitia et al. 2010).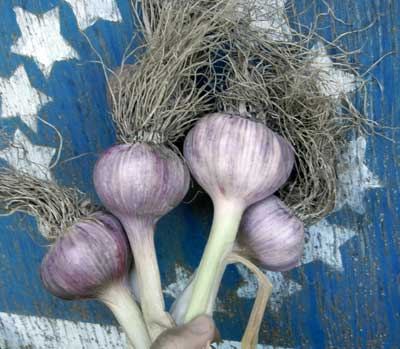 Picture: Freshly harvested Shantung Purple garlic bulbs in a ring of stars.
Garlic and coenzyme Co10 are a good combination for cardiovascular health. Aged garlic extract has significantly decreased atherosclerotic plaque progression and prompted endothelial function improvement. Coenzyme Q10 (CoQ10) has also shown significant beneficial effects on endothelial function. 
Take home message: Garlic helps protect the heart. Bring your local firefighters some garlicky treats today!
Garlic has Cardioprotective Effects:
Garlic research indicates that garlic and its active compounds reduce cardiovascular and metabolic risk by normalizing high blood pressure, normalizing abnormal plasma lipids, reducing oxidized low density lipoproteins (LDL), decreasing abnormal platelet aggregation, reducing excessive inflammation and preventing cardiac injury (Lau 2006, Ginter and Simko et al. 2010, Khstua et al. 2013). Many natural compounds such as garlic act to normalize or balance biological systems.
Chiang et al. (2013) reported that garlic extracts, including diallyl disulfide (DADS) and diallyl trisulfide (DATS), enhanced neovasculogenesis (new blood vessel formation). Both DADS and DATS dose-dependently enhance the neovasculogenesis of human endothelial progenitor cells in vitro. Endothelial cells line the blood vessels. In mice, DATS consumption stimulated new blood vessels formation at a treatment dosage of 10 mg/kg of body weight/day. Since garlic consumption enhances neovasculogenesis in human blood endothelial cells it may help prevent ischemic heart injuries.
Mechanisms of Garlic's Heart Protection Include:
Garlic grows blood vessels: Chiang et al. (2013) found that DADS and DATS increased new blood vessel formation by prompting up-regulation of the c-kit protein, and activation (through phosphorylation) of the Akt and ERK 1/2 signaling molecules in human endothelial progenitor cells. The ability to grow new blood vessels may protect the heart against injuries.
Garlic enhances generation of signaling molecules and antioxidants: Garlic prompts generation of hydrogen sulfide and nitric oxide in cardiomyocytes and endothelial cells which protects the heart against traumas like arrhythmia, hypertrophy, myocardial infarction, doxorubicin-induced cardiotoxicity, and ischemia-reperfusion injury (Ginter and Simko et al. 2010, Khatua et al. 2012, Khatua et al. 2013). This healthy herb stimulates cardiac endogenous antioxidants and reduces lipid peroxidation.
Decreases Hypertension: Garlic reduces blood pressure in people with hypertension. Taking garlic reduced systolic and diastolic blood pressure by an average of 10-11 mmHg and 6-9 mmHg compared to a placebo (Auer et al. 1990, Stabler et al. 2012).
Other mechanisms: Garlic may be heart healthy due to its ability to regulate ion channels, modulate Akt signaling pathways, inhibit histone deacetylase and inhibit cytochrome P450 (Khatua et al. 2013). Some research also indicates garlic may have the ability to inhibit coronary calcification which causes artery blockages (Ginter and Simko et al. 2010).
Take home message: Garlic may help prevent cardiovascular disease through several different mechanisms. Long term human studies need to be done to explore its role in heart health further.
Check out this new free firefighter's workout, 555 fitness, designed by actual firefighters to help reduce deaths caused by cardiovascular events!
Garlic Protects Rat Hearts
Obese, insulin resistant rats on a weight gaining diet were treated with either a placebo or two concentrations of garlic extract (250 or 500 mg/kg/d). Compared to normal rats, the obese rats had increased body weight, elevated total cholesterol, higher visceral fat, increased plasma insulin levels, elevated oxidative stress levels, depressed HRV, and cardiac mitochondrial dysfunction. Rats given garlic extract at both concentrations had significantly decreased plasma insulin, total cholesterol, homeostasis model assessment index, and oxidative stress levels when compared to the placebo treated rats. Garlic treatment also restored HRV, cardiac function, and cardiac mitochondrial function to normal (Supakul et al. 2013).
By Susan Fluegel PHD
References: