Georgian Crystal Gourmet Garlic Recipes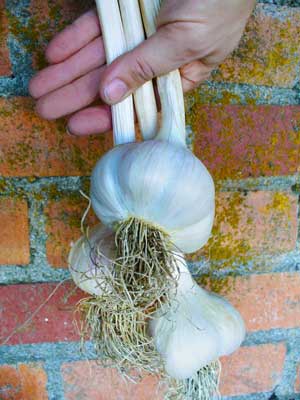 GEORGIAN CRYSTAL has a clean taste with a medium bite.  It does not have a lingering aftertaste. This garlic is mellow enough to be used raw in dips and is a perfect complement to stir fries. Susan loves this garlic with shrimp and in crab dip!
Need a lot of garlic for a dish? No problem; the big fat cloves are easy to peel, easy to use and easy to eat!
Georgian Crystal consistently ranks as a top favorite in our informal tastings. It is a good garlic to use if you are not sure what garlic flavor you want in a dish.

Salmorejo
Simple Garlic Fish
Fast and Simple Grilled Shrimp with Garlic
Susan's Crab Dip

Salmorejo
Edna: This is a pureed thick soup served cold originating in Spain. This summer soup showcases the flavors of fresh tomatoes and garlic. It would be the perfect touch for a festive garden party with friends.
2-3 pounds of fresh tomatoes
Day-old white bread - about 3 cups, cubed, with crusts removed
¾ cup of olive oil
2 cloves Georgian Crystal garlic
2 tablespoons vinegar
Salt
Boiled egg and thin strips of cured ham to garnish.  Chunks of vegetables may also be used as garnish, such as cucumber.
Peel tomatoes by plunging them in boiling water until skins are loose and easily removed.  Seed tomatoes if you desire an elegant smooth soup, leave the seeds and pulp for a more rustic result.
Blend together the tomatoes, garlic, vinegar and bread and then slowly add the olive oil.  Mixture will be thick.  Refrigerate 4-12 hours; it is best served very cold!

To serve, thin with ice-water if necessary, place in bowls and garnish with ham, boiled egg and cucumbers.
Simple Garlic Fish
Edna: If you like fish, or like to fish, here is a fast way to add a nice garlic flavor to your catch without heavy sauces. Both Susan and I are fans of fresh fish served simply.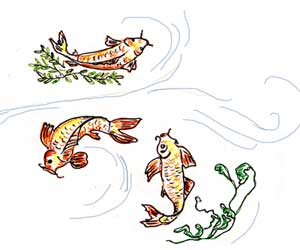 1.5 pounds of any white fish, filleted
½ cup flour (Susan's note: gluten-intolerant? Substitute fine corn flour or millet flour for a slightly hardier taste - but still yummy!)
Olive oil to coat pan
Garlic 1-2 cloves, minced (use Georgian Crystal for a nice garlic flavor or Siberian for a milder touch of garlic)
Salt and pepper to taste
Chopped cilantro
Lime wedge
Splash of white wine
Wash fish and pat dry
Mix flour with salt and pepper and lightly dust fish on both sides

Fry fish on one side in olive oil, then turn and brush top with minced garlic
After a moment, turn and brush with remaining garlic, turn once again to lightly brown the garlic
Deglaze the pan with a splash of white wine

Place fish on serving dish, add the wine from the pan and sprinkle with cilantro.
Serve with lime wedge
Fast and Simple Grilled Shrimp with Garlic
Butterfly large shrimp in the shell.  Place on the grill, cut side down just until marked by the grill.  Turn them over, brush with a combination of freshly crushed Georgian Crystal garlic, lemon juice and salt and let them finish cooking.  Do not overcook.
Susan's Garlic Crab Dip
Susan: I used an immature bulb of Georgian Crystal to make some of my Garlic Crab Dip. Immature green garlic bulbs have a much sharper flavor than cured ripe garlic (before it bulbs the garlic is much milder). Adding green garlic to this uncooked dip gave it an intense garlic flavor without the mellowness associated with a cured clove.
I especially enjoyed the contrast between the raw green bite of the garlic and the aged cheese. It is important to use a quality cheese in this recipe to really get the full flavor. This recipe is also excellent using cured Georgian Crystal garlic cloves.
8 oz softened cream cheese
1/2 cup sour cream
1-2 teaspoons mustard (I recommend stone ground mustard)
1 teaspoon white pepper
2-3 teaspoons grated Georgian Crystal green garlic bulb (can use cured cloves too!)
dash cayenne pepper
3 6-oz cans of chopped crab meat (white or red) (or one 12 oz refrigerated canned crab/claw meat or 12 oz of fresh crab meat for you lucky folk who live near an ocean)
3 chopped green onions
3 oz any good quality aged grated cheese (I used aged English cheddar)
chopped parsley to taste

Combine all ingredients and mix gently. For the best flavor let dip set in refrigerator overnight. Serve with any cracker or chip (I am gluten intolerant so I use Nut Thins or corn chips). This strong dip can hold its own with more flavorful crackers and breads.