Grey Duck Garlic
How to Grow Big Gourmet Garlic!

We won't whitewash it; growing gourmet organic garlic can be work! Let's face it, if it were easy it wouldn't be worth $12-$24 a pound. With a little effort and some preparation, however, you can grow huge gourmet garlic for top chefs, high end restaurants, CSA's, Farmer's Markets or yourself.
Careful marketing can offer you the best prices for your crop. See our grow organic garlic page for some basic techniques and look over these tips to grow superior garlic.

Top Ten Tips for Growing the Biggest and Best Tasting Garlic
1) Use good quality large seed garlic:
Below: Romanian Red bulbs typically contain 2-6 extra large cloves.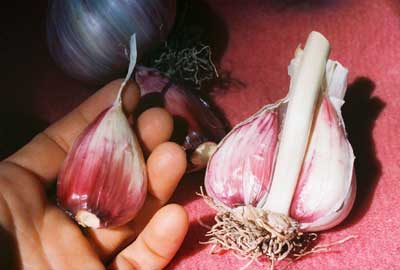 Start with good quality seed garlic free from disease. Watch out for grocery store garlic; most of it has been treated to inhibit sprouting.

Start with BIG cloves. The larger the clove, the larger the garlic bulbs it produces. We plant our largest cloves each year and are rewarded with huge garlic plants and bulbs. Susan can walk down each row and tell what size clove was planted by the size of the garlic stems (and resulting bulbs).
We have noted that larger cloves are more resistant to adverse conditions and frost. The larger clove has more reserves and can outlast bad weather and poor soil drainage.

2) Prepare soil well:

Soil should be loose, loamy and easy to dig. Garlic needs well drained soil or it will rot.

Add manure or compost before fall planting. Our garlic grows the largest in the soil that has been amended to 13% organic matter (using a mix of horse manure in sawdust and cow manure). German Red especially likes rich soil. The rest of our fields are around 6% organic matter.

Take a soil test to check for major and minor nutrients. Garlic normally needs extra nitrogen (blood meal is a good organic source of nitrogen). Supplement with nitrogen after planting and several times during the growing season. Stop nitrogen supplementation before garlic scapes in late spring or early summer. Too much nitrogen at this time can cause excess leaf growth at the expense of bulb growth.

3) Space garlic cloves: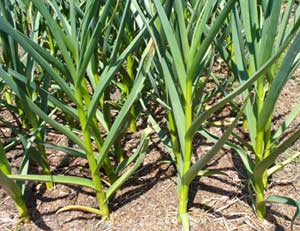 Left: uniform, well spaced Georgian Crystal garlic plants are easier to weed and grow bigger bulbs.
For the biggest garlic, space cloves about 6 inches to 8 inches apart. We space our rows 8 inches apart and space the garlic 6 inches apart within each row. This gives the garlic room to grow.
4) Mulch gourmet garlic well: Mulching protects from winter weather, help prevent weeds, conserve moisture and keep the soil cool longer. Garlic likes cool soil.  You can use straw (make sure it is free of weeds), wood chips or compost.  Thicker mulches prevent weed growth.

5) Take precautions based on your climate:

See our Southern Garlic Grower's Guide for a guide on growing garlic in the South.   

Tips for Northern Growers:
Hardneck garlic does best in the North but needs to be protected against temperature extremes. Make sure to plant deep (6 inch deep hole) and mulch well with fluffy straw or wood chips. Fluff up straw to make sure it does make dense mats on the ground which can prevent garlic from emerging. Plant several weeks after the first killing frost (we plant near the end of October).

You can grow all the hardneck varieties if they are protected during the winter. Thermadrone and other softnecks are the most 'iffy' in really cold climates. These varieties may have some cloves that don't survive the winter.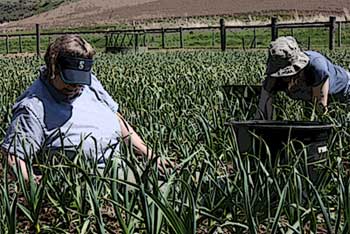 6) Don't forget to weed:
Right: Edna and Susan show off the fashionable head gear they use to shade their eyes while weeding.

Garlic yield can be reduced by over half due to weeds! When we first started raising garlic a small portion of the field got away from us and resulted in a weed tangle. Those were the smallest bulbs I have ever seen. I still keep a handful of those bulbs to remind myself that weeding pays. Mulching can help prevent weeds, too.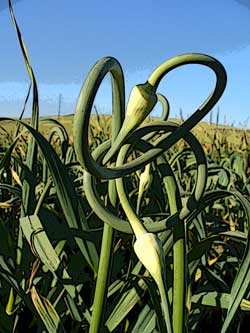 7) Remove scapes or garlic false seedheads:

Left: Hardneck garlic produces false seedheads called scapes. Scapes contain bulblets but not true seeds. You can plant the small bulblets but they will take 2-3 years to become full sized.
Garlic produces a false seedhead called a scape on a long flower stalk. Scapes will develop into small bulblets. Cut off scapes when they first appear and curl. Scapes can be sold at Farmer's Markets and to chefs. They are considered a culinary delicacy. Removing the scapes may result in bigger bulbs.

8) Harvest at the right time: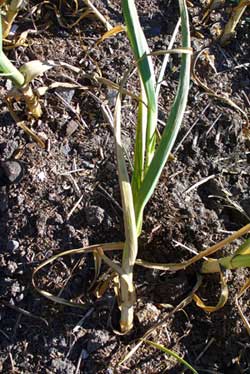 Right: Hardneck garlic ready to harvest. Typically, smaller bulbs need to be harvested sooner than larger bulbs. Note that about half the leaves are dried.
Hardneck garlic should be harvested when approximately one third to one half the leaves are brown. Softneck garlic should be harvested when the bottom leaves begin turning brown or the garlic falls over (usually when the bottom 3 leaves are brown). Harvest too early and the garlic will not have formed wrappers around the cloves yet. Harvest too late and the wrappers on the outside of the bulb will degenerate and bulb quality and keeping ability will be poor. For more pictures of garlic ready to harvest see common garlic questions.

9) Protect garlic from the sun.

Hardneck garlic can get sunburned so place it in a shady area as you harvest. Make sure to cure garlic in a shady area.

10) Cure garlic for the best taste and keeping qualities.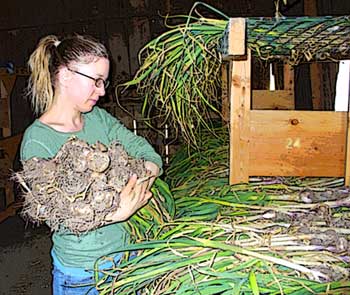 Left: Patty arranges hardneck garlic on homemade wood racks for drying. Many growers hang their garlic but we have always used racks. It may be because some of us are too prone to hitting our heads on low hanging objects.

Cure garlic in a dry, cool area out of direct sunlight for 4-6 weeks. The garlic will become lighter as it dries and its flavors will mellow and develop. Garlic straight from the field has a green flavor. After curing, store garlic at 50 F, with 55-65% humidity.
Get your ducks in a row with Grey Duck Garlic!
Copyright © 2007-2013 Grey Duck Garlic, llc.