How to Grow Garlic From Bulbils
Why should you try growing garlic bulbils?
1) Some growers believe that growing your own garlic from garlic 'seeds' (which are actually small bulbs) can help the garlic adapt to your climate. Growing from bulbils may produce more robust garlic.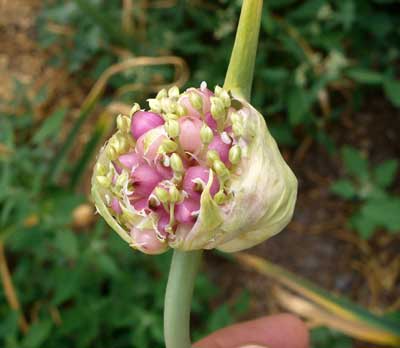 Picture: Mature Bogatyr garlic scape. The round purple 'seeds' emerging from the scape or umbel are really small bulbs!
2) Growing from bulbils can also be an economical way to propagate garlic. A garlic scape can contain from 5-200 small bulbs depending on the variety of garlic. Bulbs and garlic 'seedheads' are similar in price (normally $3.50 - $4.00 per 'seedhead' or garlic bulb). However, bulbils multiple faster:
| Start With: | 1st year | 2nd year | 3rd year | 4th year |
| --- | --- | --- | --- | --- |
| Bulb (5 cloves) | 5 bulbs | 25 bulbs | 125 bulbs | 625 bulbs (125 lbs) |
| Small Bulbils (100) | 100 rounds | 100 small bulbs | 500 mixed size bulbs | 2500 bulbs (500 lbs) |
| Large Bulbils (40) | 40 large rounds and/or small bulbs | 40-100 small-medium bulbs | 200-500 larger bulbs | 1000-2500 bulbs (200-500 lbs) |
3) Garlic bulbils likely do not carry soilborne diseases so they are ideal for those worried about introducing disease problems.
4) When they begin to grow you may want to use the small garlic bulbils in gourmet cooking. Small garlic bulbils look like a miniature onion greens or chives as they grow and have a delicate garlic taste. They are wonderful in salads and as toppings for baked potatoes.
Who should grow garlic bulbils?
Only those with the patience to grow a garlic up from a tiny chive like stalk or those who want to eat the garlic chives. There is definitely delayed gratification with this method of growing garlic! It is not for those who open their birthday presents early.
Year 1:
Prepare a well drained, compost enriched seedbed. Raised beds work well for the small bulbils or you can plant them directly in the soil. Make sure you will be able to tell where you planted in the spring. The new garlic will look like chives (try not to plant where you will have to distinguish it from grass in the spring).
Separate out the bulbils from the umbel (false seedhead). It normally falls apart easily when cured.
Picture: Romanian Red, a Porcelain garlic, has numerous small bulbils the size of rice grains. The bulbils are enclosed by the light green umbel.
You can plant bulbils in spring or fall. I have tried both and gotten good results. Some people recommend planting in very early spring (as soon as the soil can be worked) to avoid winter kill. I have noticed that some bulbil varieties seem to be susceptible to winterkill. Other people prefer planting in the fall.
Make rows 6" apart in your bed. Form a shallow tench 1-2 inches deep.
Sprinkle the garlic bulbils in the trench. At this size it doesn't matter if they are upside down. If you have very small garlic bulbils that look like rice grains (such as from a Porcelain garlic 'seedhead') plant about 1/2 inch apart. Medium bulbils (such as from Marble Purple Stripes) need to be around 1 inch across. The largest garlic bulbils that resemble marbles (such as those from Rocambole or Asiatic garlic) should be planted about 2-4 inches apart. Gently cover the small bulbs with 1-2 inches of soil and water well.
Water and weed garlic. It will look like chive shoots when it comes up. Keep well weeded; small garlic doesn't compete well with weeds.
You can also thin and eat the garlic at this stage!
Harvest when garlic is mostly brown and starting to dry. Most of the garlic will grow a single small bulb called a round. Other garlic may grow a very small bulb. Cure the small bulbs or rounds in a well ventilated area with no direct sunlight. Replant garlic that same fall. Space the rounds 3-4 inches apart and care for them like you would any other garlic.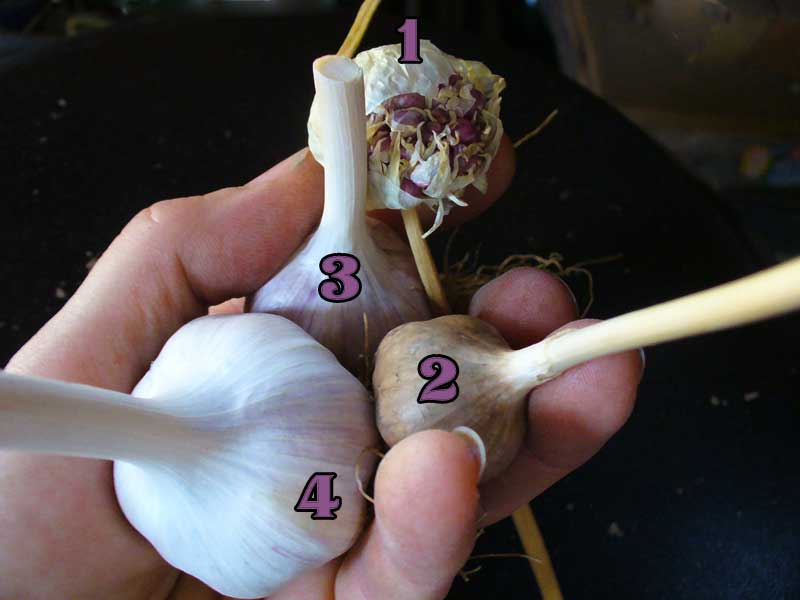 Picture: 1) Bulbils in garlic 'seedhead' or umbel. 2) Tiny brown first year bulb grown from a bulbil. Bulbils can also grow rounds. 3) In the second year, small cloves produce small bulbs. 4) In the third year, medium bulbs are produced.
Year 2:
The rounds will usually form small bulbs and/or larger rounds by the second year. WARNING: if you do not take care of these little garlics they will not increase much in bulb size. Good care is essential to get larger garlic. Many plants also form scapes. The garlic bulbs are normally smaller than bulbs grown from cloves.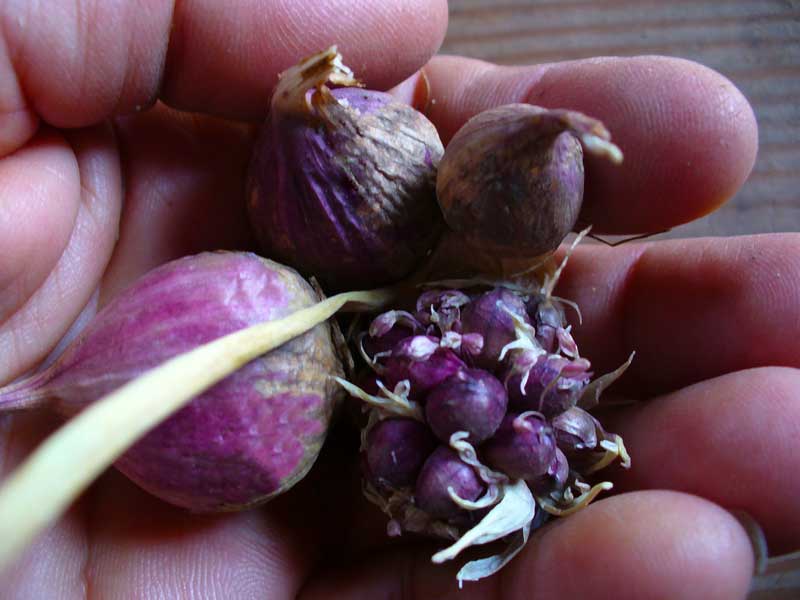 Picture: Three garlic rounds and an umbel. Phillips bulbils from the umbel or seedhead produce garlic rounds the first year. Rounds can be in a range of sizes and can look wrinkly or textured.
Harvest this small garlic, cure and plant cloves that fall.
Year 3:
Most garlic varieties will produce a small or medium normal bulb by the 3rd year. Depending on your care and the weather some varieties may need an extra year.
Estimation of number of bulbils in a umbel/scape:
Porcelain: 50-200 bulbils the size of a grain of rice; 3-5 years to maturity
Rocambole: 10-35 large pea sized bulbils: 2 years to maturity
Glazed Purple Stripe: 50-150 small bulbils; 3-5 years to maturity
Purple Stripe: 50-150 small bulbils; 3-5 years to maturity
Marbled Purple Stripe: 25-60 medium sized bulbils; 2-3 years to maturity
Asiatic: 5-30 large pea to blueberry sized bulbils; 1-2 years to maturity
Turban: 30-60 medium bulbils; 2-4 years to maturity
Creole: 50-100 small bulbils; 3-4 years to maturity
Artichoke: if this garlic develops a scape it normally has between 5-15 large pea to marble sized bulbils; 1-2 years to maturity