Grey Duck Garlic
How to Grow Organic Garlic
Below right: Patty plants German Red garlic cloves on a chilly October morning.
Garlic is easy to grow!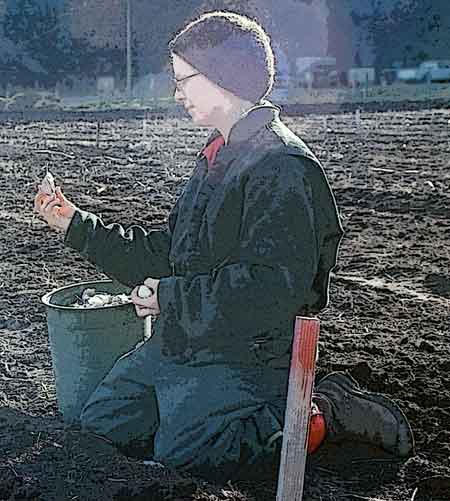 For best results plant your garlic in the fall. We plant our garlic in October and November in Washington state. You should try to plant before the ground freezes in the winter.

Prepare soil to plant garlic: Garlic lovesa rich fertile soil. It is a heavy feeder which means it likes lots of rich organic matter and nitrogen. For the biggest best tasting garlic add lots of organic matter like compost or manure when you prepare your soil. Garlic is a root crop so soil should be soft and fluffy on the top 12-18 inches.
Prepare garlic bulbs: Carefully separate each garlic bulb into individual cloves. Each clove will grow a new bulb of garlic. Be careful not to bruise the garlic with rough handling. Cuts and bruises could provide entry points for rot during the winter.
Plant garlic cloves: Plant the garlic clove 4-6 inches deep. In areas with colder winters you should plant the garlic at least 5-6 inches deep and 4-8 inches apart. We space garlic 6 inches apart in rows, with rows 8 inches apart. You can make individual holes using a blunt handle (such as the end of a rake or shovel) or a bulb planter. You can also dig a trench 4-6 inches deep; lay in the garlic cloves and cover.
VERY IMPORTANT Garlic planting tip: make sure to plant the garlic right side up. The pointed end is the top side. This should be planted up. Garlic planted the wrong way will not grow as big or nice of a bulb. This is why all our garlic at Grey Duck Garlic is hand planted.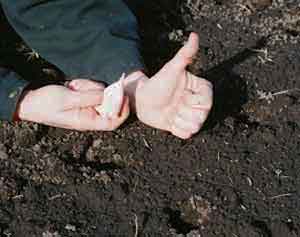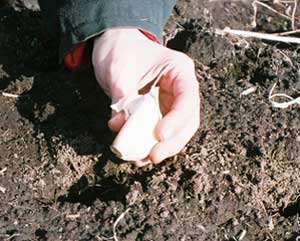 Pictures above: the correct way to plant a garlic clove. Tip should be facing up. Garlic is placed in a 3-6 inch planting hole.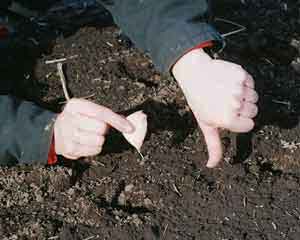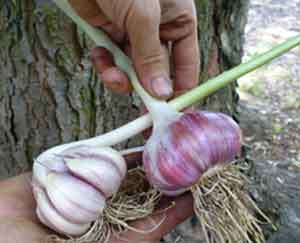 Above left: the wrong way to plant a garlic clove. Above right: If a clove is planted upside down the resulting garlic bulb will be deformed like the white bulb. The red German Red bulb was planted the correct way.
Mulch the garlic bed: Mulch the garlic bed with compost or hay. Make sure that the hay is nice and fluffy or chopped up so that it lets some air through. You don't want your garlic bed getting too wet or your garlic could rot.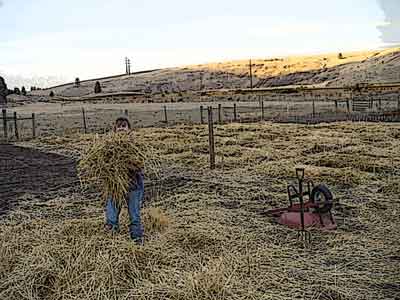 Right: Susan mulches garlic beds with straw.

Watch out for weeds: In late winter or early spring you will see your garlic sprouts emerging. Keep the plot well weeded; it is hard for garlic to compete with weeds. Hardneck garlic is ideally suited for dry climates; most garlic will do fine on 12-14 inches of rain during the growing season. Grey Duck Garlic grows dryland garlic but you may want to water in the spring or early summer if it is really dry.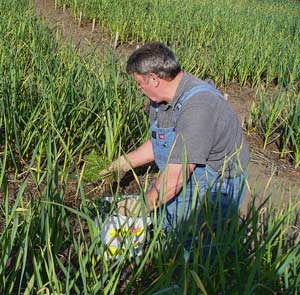 Right: Max weeds hardneck garlic plants.
Garlic scapes: Hardneck garlic forms scapes or "seedheads" in early summer. Scapes are composed of small bulblets which can grow more garlic. Scapes can be harvested to eat, left on the plant to mature or removed. Some people believe that removing the scapes makes the bulbs grow bigger.
Harvest garlic: Ideally the garlic should start drying out in early summer. The bottom leaves will start to dry out and turn brown. Garlic is ready to harvest when only the top 4-5 green leaves are left. You don't want to leave it in the soil too long or the quality will start to deteriorate. Dig or gently pull your garlic (if the soil is soft it will be easier to pull up the bulbs). Do not remove the stems yet.
Garlic varieties normally mature in the following order (list is from earliest to latest maturing): Tuban, Asiatic, Artichoke, Rocambole, Creole, Glazed Purple Stripe, Purple Stripe, Marbled Purple Stripe, Porcelain, and Silverskin. However, smaller plants will normally mature earlier than larger plants.  There may be 3-4 weeks or greater between the earliest and latest varieties.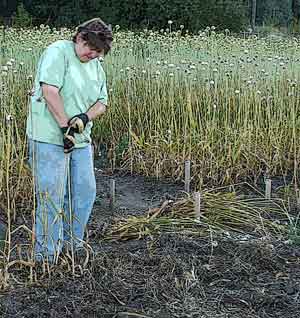 Left: Jane harvests hardneck garlic.
If the soil is soft garlic can be pulled by hand. Warning: when the soil is harder, digging is required or the garlic may break off in the soil. Dig far enough away from the plant to avoid cutting your garlic bulbs. We know from sad experience that it is always the biggest bulbs that get nicked by the shovel (and nobody wants to see a garlic grower cry)!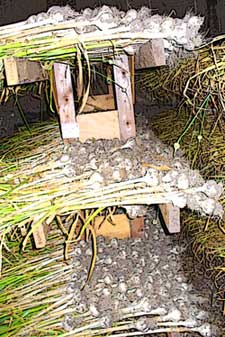 Right: A sea of hardneck garlic dries on racks.
Curing garlic bulbs: Hardneck garlic cannot be braided to store; the stems are hard. Cure the garlic bulbs by storing in a cool dry area with good air movement for 4-6 weeks. Some people hang garlic, we dry it on racks. Bulbs can be eaten 'raw' but will have a more mellow flavor and will store longer after curing (the bulbs you receive from Grey Duck Garlic are already cured). Once the stems are dry you can clip off the bulb and store in a dry airy place. We enjoy using both the raw and the cured bulbs in cooking.
Storage of garlic: Storage lenght of garlic depends on your storage conditions. For the longest storage time, place garlic in a cool (50-65ºF) dry area such as an unheated room. Do not store garlic in plastic or air tight containers or garlic will mold, rot or try to grow. Garlic will sprout if exposed to prolonged temperatures below 45ºF.
Garlic cloves can also be chopped and frozen for later use. See garlic cooking tips.
Get your ducks in a row with Grey Duck Garlic!
Copyright © 2007-2013 Grey Duck Garlic, llc.