Grey Duck Garlic
How to Market Garlic
See our Grow Big Garlic Guide for more great tips!
Garlic Marketing: Types of Garlic

Garlic consumption has soared in the United States. People are eager to try gourmet garlic varieties.
Left: a colorful bunch of freshly harvested Siberian garlic bulbs.

There is more to garlic than bulbs. Gourmet garlic can be sold throughout the season in Farmer's Markets and to upscale restaurants and chefs. You may want to sell garlic as garlic greens, green garlic, scapes or bulbs.

Garlic greens: young tender garlic leaves which can be sold in late winter and early spring. Plants are planted 4 inches apart, harvested at ground level when leaves are 8-10 inch high, bunched (2" across at base), banded, and rinsed. Selected leaves should be tender. The plants will regrow new leaves up to two additional times.

Green scallions or green garlic: young immature garlic plants with no bulb,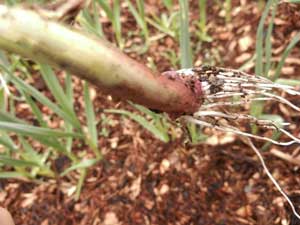 very popular in Asian dishes and with chefs. This is a good way to use smaller cloves. Small cloves are planted 2-4 inches apart in either fall or spring. An easy way to plant is to dig a 4-6 inch deep trench, place garlic cloves right side up 2-4 inches apart in the trench and carefully cover with soil. We recommend fall planting for the healthiest plants.
Green scallion garlic should be harvested when the plant is around 10-15 inches high above ground. The entire plant should be dug or pulled, an outer leaf or two peeled down and off, and the plant rinsed clean. Roots should be rinsed free of dirt and trimmed to ¼-½ inch. Often scallions are sold in a banded bunch of 6-12 plants, similar to green onions. A scallion should have no bulbing at the base, since this makes the plant tough. For more information see our page on green garlic.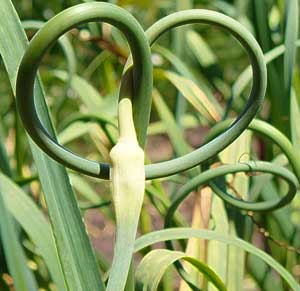 Scapes: the false seedhead, cut off when it begins to curl. Great for stir fries and Italian dishes. This is a cult classic in many Farmer's Markets. Some people really love garlic scapes and wait all year for them.
Left: hardneck garlic scapes should be harvested when they are still tender and curly. As they mature the stalk straightens and becomes tougher. Older large scapes can get pretty chewy!
Scapes should be cut from the plant when tender and curled. Gourmet garlic has a wide variety of scapes and the size of the scape will depend on the plant variety. Harvest soon after scapes emerge and curl. You don't want old tough scapes that are straight and flowering. Once cut, scapes should be rinsed, drained, bagged, and refrigerated.
Bulbs: the traditional way to sell garlic. Once people taste the difference gourmet garlic makes they will be asking for more. At Grey Duck Garlic we have a strong following of people who get hooked on the delicious taste of gourmet garlic.

A good marketing strategy is to offer garlic samples (greens, scallions, scapes and bulbs) to restaurants and chefs. We have found that the wonderful flavor of this garlic pretty well sells itself. The key to satisfied consumers is to always supply people with the best quality garlic and to treat them with courtesy and respect. 
Marketing Tips:
Strive for Perfection: To get the best prices grow the best garlic.  Study garlic growing tips to grow gorgeous garlic.  Top quality bulbs will command top prices.

Offer Free samples: Give away garlic samples (greens, scallions, scapes and bulbs) to restaurants and chefs. We have found that the wonderful flavor of this garlic pretty well sells itself.  We give away a lot of garlic and we always have people coming back to buy more.  Only use attractive top quality garlic for this; you want people to have a positive impression of your product. 
When giving away samples, approach the person who will be using your garlic if possible.  The store purchaser may not see why they should spend extra on local fresh garlic, but the chef will once they taste your product.
Donate Garlic: Give away attractive gourmet gift baskets to charities looking for local goods to auction off.  You will be doing something positive for your community and gaining a reputation as a garlic grower.
Appearance is Important for Top Prices: Only present and sell your top quality, clean, disease free garlic.  Clean and cure garlic well before bringing to market.  Don't sell uncured, ugly or dirty garlic in a public venue.  It looks bad and gives off a negative impression.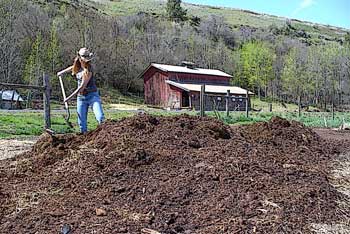 Left: Katie shovels manure. Garlic growing can be dirty work.
Your personal appearance and dress can be an important factor in selling.  People like to buy from reliable looking venders.
How you should dress depends on your location.  In some parts of the country it is an asset for local growers to look 'eccentric or earthy,' in other areas it is better to go for 'clean-cut and conservative'. Gardening is dirty, sweaty work; but being clean and fresh smelling on market day is important.  Take note of what seems to work best in your area by observing local growers mode of dress and customers' reactions to your own appearance.
Grow Only Good Tasting Garlic:  If the garlic tastes bad it doesn't matter how gorgeous it appears.  Make sure you and your customers like the taste of the garlic.  A good technique is to try several varieties of garlic and keep the ones you or your customers like the best.  Remember, it is a good idea to offer a variety of flavors for different consumer needs.    
The Ugly or Small Garlic Dilemma: Ugly but edible garlic can be used for home use, drying garlic, canning, or giving to friends and family.  We donate some of our smaller garlic bulbs to local food banks.  Food donations not only help feed hungry people but also will give you a tax break.
One possible market for the less pretty garlic is small scale canning or food processing operations looking for local and/or organic garlic.

Your reputation depends on your product so don't offer your customers diseased or unattractive bulbs.
Get your ducks in a row with Grey Duck Garlic!
Copyright © 2007-2013 Grey Duck Garlic, llc.