What is a raised bed?

A raised bed garden is basically a garden built above the ground. Normally some sort of frame is placed around the soil to keep it in. You can use your native soil or import soil for your raised beds. This frame can be wood, brick or concrete cinder blocks. 
Raised beds can conserve space, improve production and save time.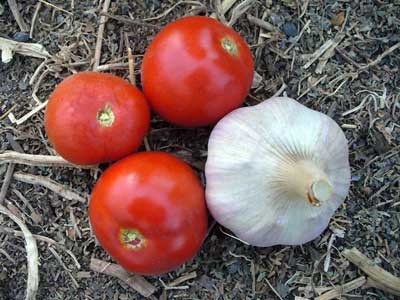 Picture: A lone Romanian Red garlic bulb huddles with three tomatoes trying to look tough. Without safe raised beds to come home to, fruits and herbs are forced to spend their time in deserted vacant lots where they can become prey to urban crabgrass and dandelions.
Eight Advantages of Raised Beds!

You can plant anything in a raised bed! Vegetable gardens and herbs produce especially well. Here are some advantages of a raised bed:
1) Raised beds give you better vegetable production. 
Some research suggests that raised beds may double vegetable production compared to conventional garden beds. This may be due to several factors: less soil compaction, closer spaced plants and no room wasted in paths. Soil in the bed is loose and deep which encourages good root growth.
2) Raised beds are accessible for those who have mobility issues or have difficulty bending or stooping. 
Raised beds can be built up to a level that makes gardening a joy, not a pain in the neck (or back). You can sit to tend your plants leisurely. Some people even incorporate benches on each side of the raised bed! People in wheelchairs can also access raised beds.
3) Raised beds are a great work around for poor soil. 
Raised beds are great for areas with poor soil. Instead of constantly battling clay soil, sandy soil or very acid or alkaline soil, you can add good fertile soil to your raised bed and ignore the crappy soil underneath. This is also a good option if your ground soil has herbicide contamination.
4) Raised beds conserve water. 
Raised beds use less water and you can direct the water to the plants that need it. You water only the plants, not the paths. This saves money on your water bill!
5) Raised beds can replace soil with poor drainage. 
By adding well draining soil to your raised bed you have the freedom to grow a wider variety of plants. In addition, the soil in a raised bed doesn't get compacted since it is above ground and not stepped on.
6) Raised beds allow you to garden year round. 
Raised beds will dry out earlier in the spring so you can work the soil sooner.  In addition, beds will warm up quicker in the spring allowing for faster plant growth.  Add a plastic cover over your bed and you have a cold frame to garden year round in the South, or the perfect spot to start plants a month or two early in the North.
7) Raised beds have less weeds. 
You can add good weed free soil to your raised beds.  This will cut sown considerably on the time you have to spend weeding.  Plus weeding is easier in loose well drained soil. Those dandelions pull right up!
8) Raised beds can be built to discourage garden pests! 
Metal mesh can be placed under raised beds to keep out borrowing rodents, and a net over beds will discourage birds and deer.
How to Make a Raised Bed
1) Find a good site for your garden. Keep in mind that most vegetables like either full or partial sun.  Gardens don't grow well in full shade or under dense shade trees.
2) Plan out the size and shape of the raised bed. How large a garden do you want? Remember that you will need to reach across your raised bed to tend to your plants. This means that your bed should be at the most 4 foot wide (so you can reach the center of the bed from either side). If you are going to be sitting and reaching, or if you have mobility issues and use a cart or wheelchair, you may want to make your beds slightly less wide (around 3 foot). For best results measure how far you can comfortably reach and multiple it by 2 to figure out maximal bed width.
3) Decide how deep you want your raised bed. Raised beds should be at least 10-12 inches deep. If you want to be able to sit and garden your raised bed should be at least 2 foot tall.


4) Don't forget to plan for paths! You want to have enough room for a small wheelbarrow. Remember that plants will spill over sides of raised beds and crowd paths during the growing season.
5) Build your raised bed. An inexpensive raised bed can be made from 2X6's, 2X12's or recycled lumber.  Don't use cresol treated wood like old railroad ties. The chemicals can contaminate your garden soil. 
Other materials, such as landscaping fabric, straw bales or concrete blocks, can be used to build a raised bed. Basically, you are making a bottomless box. 
Important tip: when building a raised bed make sure to reinforce the corners to keep your bed square. You can use an L shaped metal strap to securely attach the corner boards to each other.  There are corner anchor and stacking joints that you can purchase to make raised beds. Some people put in 4"x4" square posts at each corner of the bed. The wood sides can be attached to the posts to build a sturdy square bed. If you have a problem with gophers or moles make sure to cover the bed's bottom with a hardware mesh.
6) Fill your bed with soil. If you don't want to use your old soil; use a mix of peat moss and compost.
7) You can add hoops made from PVC to your bed for a mini greenhouse or pest screen. Bend and connect PVC pipe in an arch over the bed. Put one arch every 3-6 feet. Add plastic to the hoop for a inexpensive greenhouse or cold frame; or put a fine cloth mesh (called a floating row cover) over the hoops to keep out pests.