Grey Duck Garlic
Southern Garlic Grower's Guide (Texas, California and the Deep South)
By Susan Fluegel, PHD
This is a guide to how to grow garlic in the South. We used to garden and live in Houston, Texas so we personally know the challenges you can face in the South! We would like to hear about your experiences with garlic growing so that we can give the best advice to our Southern growers. Thank you to all of our customers who have let us know what varieties worked for them!
Why is garlic growing a challenge in the South?
Does hardneck garlic need vernalization (exposed to cold)?
What garlic varieties should I try in the South?
Below: Patty holds a garlic scape.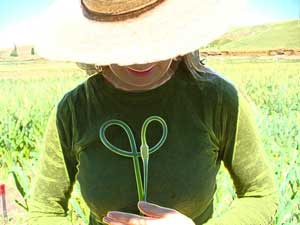 Why is garlic growing a challenge in the South?
Garlic forms bulbs due to a combination of daylenght, temperature, and vernalization (winter cold exposure). When these are out of synch (what the garlic considers ideal) garlic bulbs do not develop very well. For example, if the weather gets too hot too soon in the spring, garlic will mature too quickly and have small bulbs. Selecting varieties that are more adaptable to the South help ensure growing success.
Does hardneck garlic need vernalization (exposed to cold)?

Garlic requires vernalization (exposed to cold) before or after planting. Cold temperatures stimulate garlic to sprout and develop a bulb. Research has shown that you will get bigger garlic bulbs in Southern areas after cold exposure. For best results, the garlic should be at 40-50ºF for 6-8 weeks during the winter to stimulate bulb formation.

When you buy bulbs from a Northern grower, often the bulbs have received some cold treatment already (it gets pretty chilly in the garlic barn at night). If you live in a really warm region where winter temperatures stay above 40-45ºF you should inquire how much cold treatment your seed garlic has received. If needed, supplement it with a little time in the refrigerator. Ideally, serious commercial growers would want to store the seed garlic in a cold room at 50ºF and 55-65% humidity.
For home growers several extension sites recommended refrigerating cloves for 2- 6 weeks before planting. Only try this if you live someplace where winter temperatures won't get at or below 40-45ºF for 6-8 weeks. To check out your average winter temperatures go to an internet weather service like msn weather and click on averages. There will be a chart showing the average highs and lows for a year in your area. Remember that soil temperatures will likely be a bit lower than air temperatures. You can also ask your local extension agent about your average winter temperatures and soil temperatures.
CAUTION: Garlic can rot or mold if it is kept too moist so make sure to keep your cloves or bulbs dry in the refrigerator (check on them often and never store in plastic or airtight containers). Don't freeze the garlic; put it in the warmer part of the refrigerator. We have never used this technique but some Southern extension services and growers recommend it. We would love to hear about your experiences with vernalization via refrigerator.
What garlic varieties should I try in the South?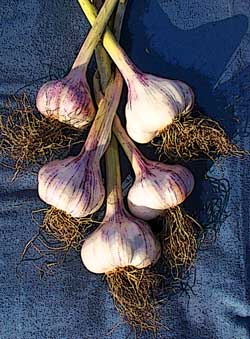 Right: Thermadrone bulbs grow well in warmer climates.

Garlic growing is a little more unpredictable in warm climates. Some varieties require more vernalization than others. Softnecks, like Thermadrone, don't need much at all which is why they are preferred in Southern climates. It is worthwhile trying a garlic variety more than one year.
Garlic varieties that have grown well for Southern growers:
*Thermadrone
*Siberian
*Georgian Crystal (most years)
Romanian Red (only in years when winters are cooler)
*Many of our Southern customers have reported success with these varieties. However, if you are in the deep South or a really hot microclimate you may want to go with a softneck such as Thermadrone as your main garlic and experiment with the hardnecks. In years when the summer is extremely hot very early in the spring hardnecks will not do well. Please take your climate into account.
Other varieties reported to do well in the South: Turbans such as Tzan and Shantung Purple. Bogatyr is related to Siberian and may also do well.
See our Southern Planting Special for an assortment of easy to grow varieties.

Take your microclimate into account:
If you have cold nights and hotter days (desert, mountains and hills) hardneck garlic grows better. Cold nighttime temperatures keep the soil cooler and promote longer growth.

Those with mild nights and hot days (coastal areas) will have a harder time growing hardneck garlic and may need a softneck. Make sure to plant your hardneck garlic just before the coldest part of your year to receive the most benefits.

For those in planting zone 9-10 your safest bet is Thermadrone (although it is fun to experiment with other varieties such as Siberian). We are currently expanding our selection of garlic varieties for the South and should have more choices within the next several years including Creoles and other artichoke softnecks.

General Southern Growing Tips:

Planting:
Lucky Southern growers can plant up until December. Most commercial garlic growers try to get their garlic in by October or November since the longer winter results in bigger bulbs. The garlic will come up and grow during the winter. Southerners will be able to harvest their garlic a month or more before Northern growers!

Plant cloves 4-6 inches deep and make sure to place the top upward. The top of the clove is the pointed end, and if it is not facing up the bulbs will be deformed. For pictures of proper planting technique see our how to grow organic garlic page. Some Southern garlic sites recommend planting only 2 inches deep but in our experience deeper planting results in much larger bulbs. The soil will be much cooler further down in the ground. Cooler soil helps prevent bulbs from maturing too soon. Garlic cloves should be spaced 4-8 inches apart. We space ours 6 inches apart in the row; with rows 8 inches apart.
Soil:
If your soil is that special Southern variety known as 'gumbo' (basically clay/concrete), you may want to plant garlic in raised beds with more arable soil. Garlic needs loose well drained soil with lots of organic matter. It can rot in poorly drained heavy soil.

Mulching:
Unless your soils are very wet, mulch with straw or compost to keep the ground cold longer. Hot soil forces the garlic to mature faster and results in smaller bulbs. If your soils are soggy or underwater most of the year, garlic will do much better in raised beds.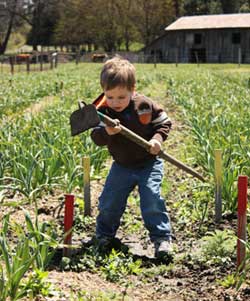 Left: Nate attacks a weed in the garlic field. He is an enthusiastic worker and likes to help!
Weeding:
Garlic competes poorly with weeds. Too many weeds = very small garlic. Weeds can be a challenge when growing without herbicides. See here for tips on how to control weeds naturally. Mulching helps control weeds. Training your children to weed when they are young can also reduce the weed problem! Just make sure they can tell garlic plants from weeds before you turn them loose with the hoe.
Below right: Our short tailed cat, Hissy, takes a break from her busy day of controlling voles and sunning herself to lick a paw. Hissy's mom was a good mouser too.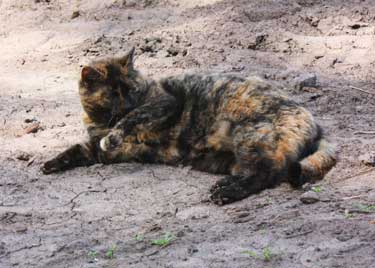 Other Pests (Voles, Gophers and Mice):
Voles, gophers and mice will eat garlic under the ground! This can result in ragged stands of garlic in the spring or even no garlic coming up at all. If you have a large vole, gopher or mouse population you may need to control it. This can be done using traps or a few motivated cats. Our cats, Baby and Hissy, work hard to keep our garlic field clear of any vermin.
Update: Sadly Hissy, our best gopher catcher, passed away last year and she is greatly missed. Baby keeps the field clear of voles and mice but is too impatient to wait for gophers. In lieu of Hissy, Susan has to catch gophers herself.
Scaping:
Garlic produces false seedheads or scapes before it starts to bulb. Scapes can be left on or removed. Removing scapes may result in bigger garlic bulbs since the plant then devotes all its energy to the bulb. Many people consider scapes a delicacy and they can be eaten. Scapes have a mild garlic flavor.

Harvest:
Harvest hardneck garlic when about half the leaves have turned brown. For us in Idaho, this is around August. For Southern growers it will likely be in June or July. Garlic will stop growing and mature when the soil temperature reaches 90 F. If you have a really hot, early summer the garlic will be ready to harvest sooner (and will have smaller bulbs). Harvest softneck garlic when the lower few leaves are starting to turn brown.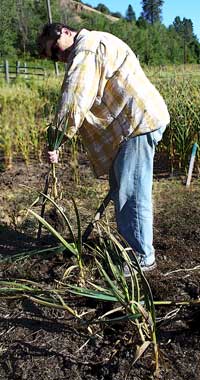 To left: Jane harvests a softneck garlic variety, Thermadrone. Note that only the bottom 2-3 leaves are brown and that some plants are starting to fall over. For more pictures of garlic ready to harvest see Garlic Questions.
When harvesting, carefully dig plants. Garlic plants can even be pulled if the soil is loose enough. Usually we shovel near the plant to loosen the dirt and than carefully pull. Remove loose soil from bulbs and roots but leave the stalks on. If you live in a high humidity area, trim off the dirty roots leaving about ¼ inch roots on the bulb. Excess wet roots can prevent drying or cause rot. Removing the excess root and dirt will help prevent mold or rot on the garlic bulb. Handle bulbs carefully to avoid bruising your crop. Garlic is delicate.
IMPORTANT: Garlic can sunburn. When harvesting garlic bulbs make sure to take them out of the sunlight and put in a shaded area.

Curing:
Curing garlic will take 4-6 weeks. Bulbs and stalks can be hung or placed on racks in a shady cooler area. Spread bulbs out so that they can dry. Make sure there is air movement around the bulbs. Use fans if needed to move moisture. This is especially necessary in hot humid climates to prevent the garlic from rotting. Try to dry the garlic fairly quickly. Big bulbs need extra care and Thermadrone and other softnecks can be picky about curing! You may need to cut off the roots from big juicy softneck bulbs (roots absorb moisture from the air). Several times we have had to cut off the stalks from Thermadrone because it was not curing fast enough.
Curing removes the green garlic taste and adds a more complex flavor to the bulb. When garlic is dried it can be removed from the stalk, roots trimmed to about ¼ inch and the bulb cleaned carefully by removing the dirt on the outer wrapper.
Get your ducks in a row with Grey Duck Garlic!
Copyright © 2007-2013 Grey Duck Garlic, llc.