The Story of Grey Duck Garlic
Our Organic Garlic Farm is Named to Honor Our Father/Grandfather Lee
"Let me think, said Grey Duck," Lee would reply when confronted with a question from one of his seven children.  As a child in the early 1900's he had a school primer with tales of Grey Duck's adventures.  "Let me think" was Grey Duck's signature line.  Later Grey Duck would appear to help answer inquiries from his children.  His offspring carried on the tradition with their own children. 
Grey Duck Garlic is named in honor of our late Father and Grandfather Lee.  He was a strong but gentle man who always stood up for what was right.  At the end of his life Lee, an engineer, told his daughter Jane that he regretted nothing.  "I have gone from plowing wheat fields with a team of horses to designing parts for the space shuttle," he said, "I have had a full life and have seen and done more than I could have imagined."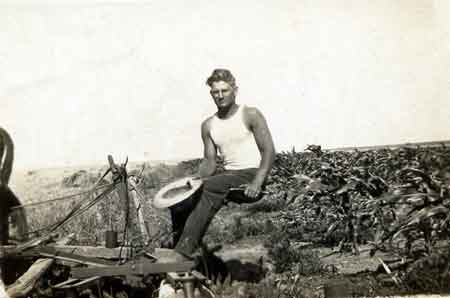 Picture: Father and Grandpa Lee in 1927 plowing behind his team of horses.
Lee was a wonderful man who steadfastly refused to plant a garden after he left the farm as a young man.  He said he had grown enough food for his lifetime.  Much to Jane's distress as a child, Lee refused to even have a token tomato in his suburban lawn.  He was very intelligent and would appreciate the irony of his daughters and granddaughters returning to their roots and naming their farm after him!
Lee had a stubborn streak that has passed through the generations.  On his first day of high school he was walking to school when a local farmer picked him up in his wagon.  He asked Lee how many miles he had to walk to school.  "Five each way," Lee responded.  "You'll never make it the whole four years," the farmer replied.  Lee said nothing but that one chance remark fueled his resolve to make it through high school.  Rain, snow or heat he walked that five miles to and from school.  Later Lee attended college to receive his Engineering degree.  He paid for college by stroking the coal steam broilers used to heat campus.  He had a small room next to the boiler so he could replenish the coal in the middle of the night. 
Although he was normally a practical man, Lee had an occasional flashy streak.  After high school he made money by working with the 18 horse teams used for custom combining wheat across the country.  With his summer's pay he purchased a flashy new fangled automobile.  Returning home he made a big splash by racing the train into town, cutting in front of it at the intersection, and hopping out of his canary yellow car in his matching suit in the middle of town.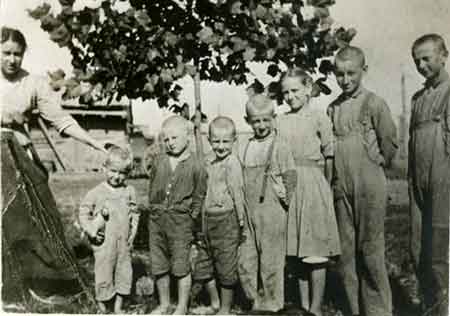 Lee (2nd child from right above) and his mother and siblings (lined up in order of age).  
Lee is already taller than his older brother and would eventually outgrow all his brothers.   Their father was absent most of the year so Lee's older brother Steve quit school and took over the farm at 12 years old.  Steve went on to be a very successful farmer. 
In spite of his size and strength, Lee had a soft heart and refused to participate in butchering animals so he was responsible for plowing, harvesting and anything that required muscle on the farm.  
We only regret that Lee isn't here so we can show him one of our 6 ounce garlic. The showman in him would have appreciate it!