Grey Duck Garlic
What Variety of Garlic Should I Plant: The Garlic Family Tree Has Tasty Roots
Garlic Classification
Garlic (Allium Sativum L) comes in a wide variety of forms, flavors and colors.  There are two subspecies of garlic, the hardnecks, (Allium sativum var. ophioscorodon) and the softnecks, (Allium sativum var. sativum).  These two subspecies look and grow differently.  Hardneck garlic gets its common name from the tall hard woody flower stalk known as a scape which emerges in early summer.  This stalk is topped by an umbel or 'false seedhead' which encloses small aerial bulbs.  The aerial bulbs, known as bulbils, are genetic copies of the parent plant not seeds.  The supple scape can develop artistic loops and whorls as it emerges giving it the nickname 'serpent garlic'.  Eventually the long scape straightens out and becomes hard as the bulbils form.  Hardneck garlic delights the tongue and is often referred to as gourmet garlic. The flavor range is extremely wide; from hot to mild and from savory to sweet.  Normally the bulbs contain a few large uniform cloves in an orderly arrangement.  Softneck garlic has a floppier stem, usually has no scape and can be braided.  The bulbs are large with a more random distribution of variable sized cloves.  It also comes in a cornucopia of flavors.  Almost all supermarket garlic is softneck garlic; the most common varieties are California Late and California Early.

Hardneck garlic originated from wild type garlic, most likely Allium longicuspis, Allium tuncelianum and/or Allium macrochaetum.  Although there is some debate of the birthplace of this pungent herb, garlic most likely originated in the mountainous regions of Central Asia (centered in Kyrgyzstan, Tajikistan, Turkmenistan, and Uzbekistan).  This climate is hot, acrid, and has low rainfall.  Wild garlic can still be found growing in this region.  Originally garlic may have grown wild in a larger area including China, India, Egypt and the Ukraine. The softneck garlic varieties were developed from the hardnecks.

Garlic classification can be confusing since garlic color, size and taste can be influenced by environmental factors.  Garlic seems to be extremely susceptible to epigenetic variation.  One of the best ways to determine garlic differences is through genetic testing.  In 2003, garlic genetic testing by Dr. Gail Volk (USDA in Colorado) and Dr. Joachim Keller (Institute of Plant Biology in Gaterslaben, Germany) independently identified ten different 'families' or sub-varietal groups of garlic.  These ten types are Porcelain, Purple Stripe, Marbled Purple Stripe, Glazed Purple Stripe, Rocambole, Creole, Asiatic, Turban, Artichoke, and Silverskin. Garlic varieties are different in taste, color, shape, number of cloves per bulb, pungency, storage time and growing requirements.

There are five hardnecks: Porcelain, Purple Stripe, Marbled Purple Stripe, Glazed Purple Stripe, and Rocambole.  Hardnecks developed near the Black and Caspian Seas.

There are three weakly bolting hardnecks: Creole, Asiatic, and Turban.  Asiatic and Turbans developed in the East.  Creoles developed in Spain and southern France and grow extremely well in the extreme South.

There are two softnecks: Artichoke and Silverskin.  These developed in Italy and Europe.  Softnecks are very prolific and grow well in the North and South.

Right now I am growing nine of the ten families (sub-varietal groups).  I enjoy being able to compare their growing habits and taste side by side. I've included the varieties we are growing in each category. 

A word on taste: Taste is subjective; some people even have more or different taste buds than other people!  We have several people taste and compare experiences but our opinions on flavor may not match yours.  With garlic, growing conditions can really influence taste.  For tastier garlic make sure your soil is high in sulfur containing amendments, such as manure. 

Storage times are for ideal conditions.  Poorly cured garlic or garlic stored in less than ideal conditions will not last as long.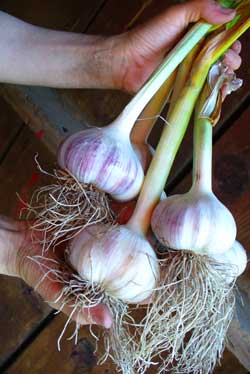 Porcelains have a medium to strong taste that holds up well in cooking.  They have a great garlicky flavor and are excellent in many dishes.  These queenly garlics have huge beautiful bulbs that just invite inclusion in a still life.  Some are almost too perfect to break open. Their paper covered cloves are large, uniform, shimmery, and have been known to bring tears to the eyes of a seasoned garlic grower.  Normally bulbs contain 2-8 cloves.  Stately plants have narrow upright leaves and are 4-6 feet from base to scape.  Porcelains are long storing garlic (7-9 months). 

Purple Stripe – Chesnok Red, Belarus
Purple stripes are known as great baking garlics with a sweet cooked flavor.  Chesnok Red is so sweet when baked that it is used as the special ingredient in garlic ice cream!  Plants are upright, with straight leaves and 3-5 feet in height.  White bulbs have purple streaks and contain 8-16 skinny brownish cloves.  Cloves have a unique crescent moon shape. Bulbs store for 6-7 months.

Glazed Purple Stripe – Red Rezan
This is a girl next door bulb with a secret.  Uncover the lovely wrapping and discover truly beautiful cloves.  Red Rezan cloves sparkle in the sun like small iridescent jewels.  Their beauty inspires the desire to make lovely vampire repelling necklaces.  These garlics are not all flash, however; their taste is also desirable.  It adds a lovely undertone to any dish.  Plants are 3-5 feet tall with upright leaves. Bulbs contain 6-12 cloves and store 5-7 months.
Marbled Purple Stripe – Bogatyr, Siberian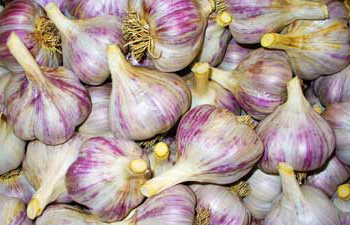 Marble Purple Stripes are beautiful in form and taste.  As suggested by the name, bulbs usually are splattered with purple.  Upright plants are 3-5 feet tall.  Often the plant's slender elegant stalks hide surprisingly large bulbs.  Cloves are exceptionally lovely, extremely smooth, and range in color from deep purple to white.  Their elegant smooth form makes you want to run them through your hands or use them as edible art.  Bulbs contain 4-8 cloves and will store for 6-7 months.

Right: A box of purple and white striped Siberian garlic bulbs.
Rocambole – German Red, Phillips, Amish Rocambole, German Mountain
These deceptively plain garlics have loose clove wrappers which make them easy to peel.  Cloves are an attractive brown to red with a hard shell. Normally bulbs contain 8-12 cloves.  Rocamboles have an extremely rich deep flavor which is addictive.  Some people consider Rocamboles to be the best tasting garlic.  These are Northern garlic and crave cold winters.  The plant grows 2-3 feet high and typically has wider leaves than the Porcelain garlics.  They can be a challenge to grow and do not do well in the South or in poorly drained soil. Rocamboles are short storing garlics (5-6 month storage).

Creole – Burgundy, Cuban Purple, Labera Purple
These garlics have an exceptional flavor with a delightful nutty quality.  They are the current rage in gourmet cooking. Creoles have small but colorful cloves which are a surprisingly deep purple and/or red.  There are 8-12 cloves per bulb.  Right now I am working on increasing the size of these lovely little gems. Creoles grow great in the Southern states (even the deep South) and love heat.  They do not like extremely cold winters and do not grow well in the extreme North.  They are long storing (9-10 months).

Asiatic garlic has wide floppy leaves and a long beak or scape with a few large bulblets. This 3-3.5 foot garlic matures early.  Bulbs are medium in size and well formed.  They contain 4-8 deeply colored cloves (Asian Tempest has gorgeous dark purple cloves).  The taste can range from fiery hot to wonderfully sweet. Asiatic garlics add that special zing to dishes. Many garlic sites believe that Asiatic garlics have a storage time of 5-6 months.  We have found that Asian Tempest stores longer.

Turban – Red Janice, Tzan, Shangtang Purple
Some garlics have a garlic flavor while others just add a magical flavor to a dish.  The Turbans are delightful garlics that do not taste at all garlicky. Flavors can range from hot to very mild with a unique vegetable undertone.  Tzan is Susan's favorite garlic when sliced and sautéed with a bit of butter.  Turbans mature early.  Short plants have wider, floppier leaves. Purple striped bulbs contain 7-12 lovely brown cloves.

Artichoke – Inchelium, Thermadrone, Lorez Italian
These large softnecks are great growers and multiple quickly.  Their chalky feeling, irregularly sized and shaped cloves (12-25) are arranged in a somewhat random pattern with 2-5 clove layers.  What they lack in symmetry they make up in size.  You may not rave over their beauty but you will love how easy they are to grow!  These are perfect for Northern and Southern growers. Taste can range from mild to hot.  Artichokes mature earlier than most hardnecks and are extremely long storing (9-10 months).

Silverskin – This is the only garlic we are not currently growing.
Like the Artichoke garlics, the Silverskin garlics are not top contenders in beauty contests.  These late maturing prolific garlics have 2-5 layers of irregularly sized cloves.  They may have 8-40 cloves with can be hard to peel.  These softneck garlics are large and very long storing (9-12 months).
Get your ducks in a row with Grey Duck Garlic!