What Variety of Garlic Should I Plant?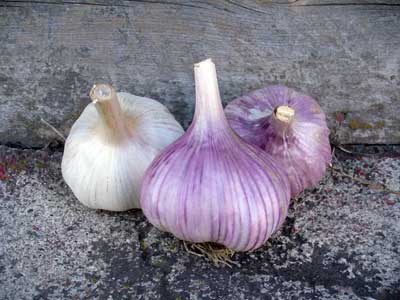 Picture: Purple Chesnok Red garlic bulbs, a sweet garlic, with a lone savory German Red garlic bulb.
Selecting the right variety of garlic should be fun not painful. Remember you are choosing a root crop not a soul mate. To pick the perfect allium ask yourself these six questions.
1) What is my garlic growing experience?
2) Where is my garden space?
3) What is my climate?
4) What size bulb do I want?
5) What garlic taste do I like?
6) Do I want braidable garlic?
If you are concerned about garlic yield check out our information on how much garlic to buy.
What is my garlic growing experience?
Growing garlic is not as hard as growing exotic orchids or reformatting your hard drive. However, some garlic varieties are easier to grow than others. If you are a person with a room full of dead houseplants or you haven't grown garlic before you may want to start with the easiest to grow garlics. This list is compiled from our consumers' feedback and my own garlic growing experience. Beginners may also want to check out our first time garlic growers guide.
Very easy grow garlic: Siberian, Georgian Crystal and Bogatyr (also Lorz Italian in warmer climates)
Easy to moderate care garlic: most Porcelain and Marbled Purple Stripe varieties, Parvin, Chesnok Red, Phillips, Thermadrone, Lorz Italian, Red Rezan, Shantung Purple
Fussier garlic: German Red, most Rocambole garlic (except Phillips), Creole garlic, Romanian Red, Asian Tempest, Tzan
Where is my garden space?
Sun Exposure: The best garden spot has full or almost full sun. Garlic needs a very sunny area to grow well. If you have to use a spot with shade try to ensure that garlic gets as much noonday sun as possible.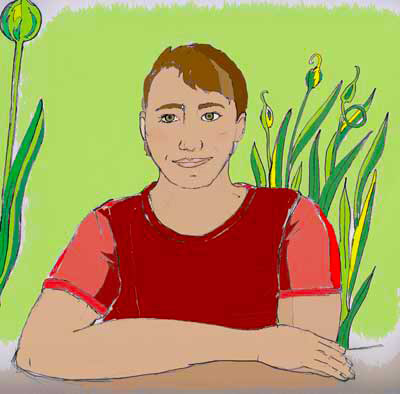 Type of soil: Soil is important. Garlic is a root crop so you need well draining and loose soil. If soil is too compact the garlic bulbs will be small.
Garlic that tolerates poor or clay soil includes Siberian, Georgian Crystal, Parvin, Bogatyr and Phillips.
Most Rocambole garlic, including German Red, will rot or do poorly in poor draining soil. Phillips is the one Rocambole garlic we have found so far that can handle heavy or poor soil. Romanian Red also hates wet roots and will get root rot and generally throw a hissy fit (Romanian Red can be quite the diva).
To improve clay or sandy soil add organic matter like compost. For more on amending poor soil see our page on growing organic garlic. Never add sand, sand plus clay = concrete. It's great for paving driveways, poor for growing plants. Some people decide that adding a raised bed is easier than amending bad soil.
What is my climate?
1) Cold climate: Hardneck garlic develops the biggest bulbs in the North. It needs cooler weather to vernalize or develop a bulb. Canadians grow tons of garlic and we have had customers in the coastal areas of Alaska grow garlic so it is hard to be too cold for this crop.
Warning: If you have permafrost you may not be able to grow garlic without a greenhouse. Garlic is tough but it is hard to grow overwinter root crops in frozen soil.
2) Hot climate: Try softneck garlics, like Inchelium or Lorz Italian. Creole garlic may do well (most of these garlic are very small though). Asiatic garlics, such as Asian Tempest, and Turbans, such as Tzan, are also recommended in the South.
However, one of our Southern customers, who has been kind enough to test grow some varieties for us, informed me that all the Tzan is doing extremely poorly in his zone 9-10 garden. Please use this variety with caution in the Deep South. Some of our Southern customers have had good luck with Georgian Crystal and Siberian. Check out our Southern Growing Guide for more information about southern challenges.
Warning: Those of you who live in really hot humid areas will have the toughest time with garlic. There will be some yearly variations in yields and results due to weather and you will need to experiment to see what works for you. You also need to be careful curing garlic in humid areas.
3) Wet climate: Make sure garlic is in very well drained soil. You may need a raised bed to ensure good drainage.
4) Dry climate: Garlic needs 9-12 inches of rain spread over its 9 month growing period. If your climate is very dry you may need to add supplemental water. This is particularly important during the spring and early summer. Irrigation should be discontinued a few weeks before harvest to allow garlic bulbs to mature and dry.
What bulb size do you want?
I want to grow huge garlic: Porcelain garlic (Georgian Crystal and Parvin) and softnecks(Thermadrone and Lorz Italian) have the potential to grow the biggest bulbs. So far, the largest garlic I have grown is Georgian Crystal (bulbs over 6 ounces). If you want to impress your neighbors and grow the biggest, most beautiful symmetric garlic (which also tastes great) try Georgian Crystal. German Red and Chesnok Red can grow huge under the right conditions too. I have been very impressed with the Chesnok Red this year.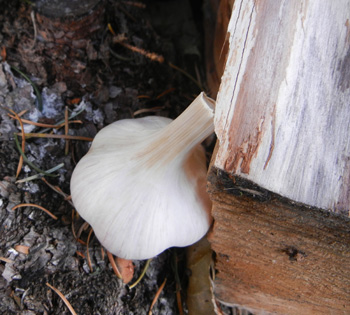 Picture: Parvin, a Porcelain garlic, shows off its beautiful 'clove' structure. Most Porcelains are very symmetrical with a lovely luminous sheen. This hot and tasty Parvin garlic likely contains six very large cloves.
I want to grow medium to large garlic bulbs: So far we have grown nice large bulbs from all the garlic varieties we have tried except the creoles.
As mentioned above, porcelains and softnecks are the biggest bulbs followed by Siberian, Bogatyr, Chesnok Red, Asian Tempest, German Red, Red Rezan, Phillips, and others. All of these varieties have the potential to produce 3-6 ounce bulbs (4-7 bulbs per pound). The key to big bulbs is using a nice sized clove when you plant.
I want to grow small bulbs: Plant small cloves or see our guide to tiny bulbs.
What garlic flavor do I prefer?
Mild: Siberian
Mild/medium: Thermadrone, Bogatyr
Medium: Georgian Crystal, German Red, Phillips, Lorz Italian (can run to medium hot)
Hot: Romanian Red, Parvin
Sweet: Asian Tempest, Chesnok Red
Savory: Tzan, Red Rezan, Bogatyr (very rich)
For a more detailed description of flavors see each garlic variety description or check out our cooking pages.
Do I want braidable garlic?
If you want garlic to braid you need a softneck garlic like Thermadrone or Lorz Italian. Hardneck garlic has a stiff stalk and is extremely hard/impossible to braid.