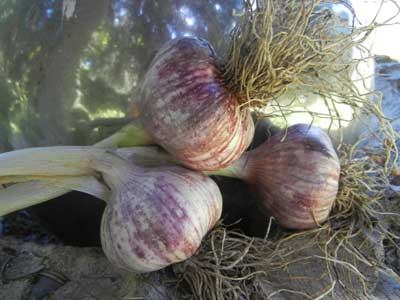 Picture: Tzan garlic bulbs admire their reflection in a mirrored ball.
Culinary Qualities:One word: yummy...this is a great tasting garlic without a garlicky flavor. Cooked it adds a complex savory flavor with a touch of sweetness. I couldn't stop eating it plain fried with a little butter. Great in stir fries or omelets. Raw it is searing hot with a sharp flavor and a very slight garlic aftertaste.
Special Attributes: Taste! It is a pretty purple striped bulb but even if it was paper bag ugly it would be worth growing for its sheer scrumptiousness. Easy to peel fat brown red cloves.

Growing Considerations: Harder to grow than some other garlic varieties. Very sensitive to water logged soils or excess rain. One of the earliest garlics to harvest. Unlike most garlics Tzan is ready to harvest at about the same time that the scapes emerge and begin to straighten out. Tzan is a weakly bolting hardneck; it usually flops over at the neck when it is ready to harvest.
Normally we harvest Tzan and other Turban garlic varieties 6-8 weeks earlier than our Porcelain or Purple Stripe varieties. We harvest Tzan a week or two before the softnecks. Some Southern growers do well with Turban garlic varieties since they mature before the late summer heat starts.
Cloves: Approximately 5-9 cloves per bulb.
Type: This tasty hardneck garlic is in the Turban family.