Garlic Lowers Fasting Blood Sugar, Total Cholesterol and Triglycerides
Eating raw garlic lowers fasting blood sugar, LDL cholesterol and triglycerides in hyperglycemic and/or hyperlipidemic people in two separate studies.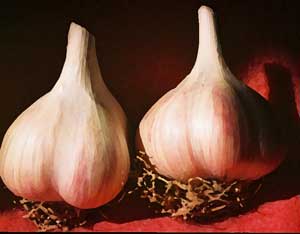 Picture: Two Romanian Red garlic bulbs rest on red cloth.
Garlic Lowers Fasting Blood Sugar in People with High Cholesterol
In the first study, Mahmoodi et al. (2011) looked at the effect of eating raw garlic on three groups of people. Volunteers ate 10 grams of garlic daily (one small/medium clove) for 42 days. 

Group 1: People who had high fasting blood sugar (over 126 mg/dl)


Group 2: People who had high blood cholesterol (over 245 ml/dl)


Group 3: People who had high blood cholesterol (over 245 ml/dl)and high fasting blood glucose levels (over 126 mg/dl)

Eating garlic had no effect on group 1; however, it had a significant effect on groups 2 and 3.

Group 2: had significant decreases in fasting blood sugar, triglycerides and total cholesterol.  At the same time good HDL cholesterol increased.

Group 3: had significant decreases in fasting blood sugar, glycated hemoglobin and total cholesterol.  Again good HDL cholesterol increased.
Garlic Increases Effectiveness of Metformin
In the second study, Ashraf et al. (2011) gave type 2 diabetic patients (n=60) with fasting blood sugar over 126 mg/dl either garlic (300 mg KWAI) + Metformin (500 mg) or a placebo + Metformin (500 mg) twice a day for 24 weeks. Metformin is a standard antidiabetic drug commonly prescribed to type 2 diabetic patients. The garlic plus Metformin group showed a significant reduction in fasting blood sugar at week 24 (-3.12%) (P = <0.005) as compared to group 2 (0.59%). At the end of week 24, the garlic + Metformin group also showed a considerable decrease in mean total cholesterol (6.2 mg/dl, -2.82%, P=<0.005), LDL-C (-3 mg/dl, 2.18% P=<0.005), triglycerides (-5.2 mg/dl, 3.12%, P<0.005) while good HDL cholesterol was significantly increased (2.36 mg/dl, 6.72%, P<0.005) when compared to the placebo + Metformin group.
This study showed that garlic supplementation may be synergistic with existing medication such as Metformin for type 2 diabetes.

Other studies support these findings.  Kannar et al. (2001) reported that people using a garlic supplement for 12 weeks decreased total cholesterol by 4.2% and and LDL-C by 6.6%. Dried garlic supplements (300-900 mg/day which equals about 1 fresh clove) with standardized alliin concentrations have consistently resulted in a 10-13% reduction in blood cholesterol and triglycerides in people (Srinivasan 2013).
Possible mechanisms:
In general, garlic inhibits inflammation while strengthening mitochondria. Mitochondria make energy and healthy mitochondria are linked to healthy (and long lived) humans.
Mechanism #1: Diallyl trisulfide (DAT) is a natural organosulfur compound in garlic. Rat studies show that DAT treatment decreases malondialdehyde (MDA) concentration as well as reactive oxygen species in obese diabetic rats. The garlic compound increased superoxide dismutase (SOD) and glutathione peroxidase (GSH-Px) activity in mitochondria. These two antioxidant compounds help inhibit inflammation. DAT-treatment also improved mitochondrial respiration function. In other words, DAT protects the vascular endothelium from high glucose or hyperglycemia induced-injury by reducing mitochondrial oxidative stress (Lui et al. 2014). This means that DAT has the potential to treat oxidative stress diseases such as atherosclerosis, diabetes, and neurodegenerative diseases.
Mechanism #2: The liver X receptor α (LXRα) regulates cholesterol, triglyceride and glucose homeostasis. Treatment with garlic extract reduced LXRα expression in mice liver and increased its expression in the intestine (Mohammadi and Oshaqhi 2014). These effects may play an important role in reducing serum triglyceride and cholesterol and regulating blood glucose. In general it is well documented that garlic suppresses cholesterol synthesis in liver, lowers serum cholesterol by reducing LDL-cholesterol, and lowers triglycerides.
Mechanism #3: Rats fed fructose have increased oxidative stress (Reddy et al. 2009). Oxidative stress and inflammation play a role in development of metabolic disorders such as type 2 diabetes and high blood cholesterol (Ribeiro et al. 2013). Diabetic rats being fed a 60% fructose diet had a significant increase in plasma fasting glucose, insulin, insulin resistance, tumour necrosis factor alpha and malondialdehyde level and decreased levels of total antioxidant status, reduced glutathione, catalase and glutathione peroxidase when compared to normal healthy rats. When the male diabetic rats on the 60% fructose were given a garlic extract all of these abnormal changes were reversed. The garlic extract improving the high fructose induced oxidative stress, inflammation and insulin resistance in rats (Sivaraman et al. 2013). This may relate to mechanism #1 though it is likely that garlic improves health via multiple factors.
Take home message: If you have elevated cholesterol, high triglycerides or type 2 diabetes eating a clove of garlic everyday may help.
By Susan Fluegel, PHD
References:
Ashraf R1, Khan RA, Ashraf I. Garlic (Allium sativum) supplementation with standard antidiabetic agent provides better diabetic control in type 2 diabetes patients. Pak J Pharm Sci. 2011 Oct;24(4):565-70. Pubmed.
Liu LL, Yan L, Chen YH, Zeng GH, Zhou Y, Chen HP, Peng WJ, He M, Huang QR. A role for diallyl trisulfide in mitochondrial antioxidative stress contributes to its protective effects against vascular endothelial impairment. Eur J Pharmacol. 2014;725:23-31. Pubmed. doi: 10.1016/j.ejphar.2014.01.010
Kannar D, Wattanapenpaiboon N, Savige GS, Wahlqvist ML. Hypocholesterolemic effect of an enteric-coated garlic supplement. Journal of the American College of Nutrition 2001;20:225-231.
Mohammadi A, Oshaghi EA. Effect of garlic on lipid profile and expression of LXR alpha in intestine and liver of hypercholesterolemic mice. J Diabetes Metab Disord. 2014;13:20. Pubmed. doi: 10.1186/2251-6581-13-20 (full text)
Mahmoodi, M., Zijoud, S., Hassanshahi, G., Toghroli, M., Khaksari, M., Hajizadeh, M. and Mirzajani, E. The effects of consumption of raw garlic on serum lipid level, blood sugar and a number of effective hormones on lipid and sugar metabolism in hyperglycemic and/or hyperlipidemic individuals ——Benefit of raw garlic consumption. Advances in Biological Chemistry 2011;1:29-33. Full text.
Reddy SS, Ramatholisamma P, Karuna R, Saralakumari D. Preventive effect of Tinosporacordifolia against high-fructose diet-induced insulin resistance and oxidative stress in male Wistar rats. Food ChemToxicol. 2009;47:2224–29. Pubmed.
Ribeiro MC, Avila DS, Schiar VP, Santos DB, Meinerz DF, Duarte MM, Monteiro R, Puntel R, de Bem AF, Hassan W, de Vargas Barbosa NB, Rocha JB. Diphenyldiselenide supplementation reduces biochemical alterations associated with oxidative stress in rats fed with fructose and hydrochlorothiazide. Chem. Biol. Interact. 2013;204:191–99. Pubmed. doi: 10.1016/j.cbi.2013.05.008
Srinivasan K. Dietary spices as beneficial modulators of lipid profile in conditions of metabolic disorders and diseases. Food Funct. 2013;4:503-21. Pubmed. doi: 10.1039/c2fo30249g
Sivaraman K, Senthilkumar GP, Sankar P, Bobby Z. Attenuation of oxidative stress, inflammation and insulin resistance by allium sativum in fructose-fed male rats. J Clin Diagn Res. 2013;7:1860-2. Pubmed. doi: 10.7860/JCDR/2013/6924.3334 (full text)