No Quack Guarantee
At Grey Duck Garlic we want you to be happy! If you are not satisfied with your organic garlic we will replace the garlic or refund your money. No hassles or squawking!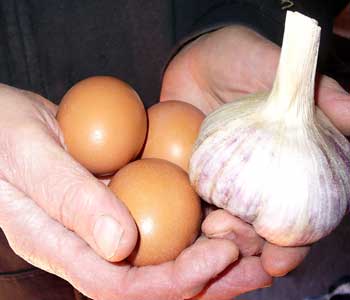 Picture: Edna gives a Bogatyr garlic bulb the egg test. Eggs provided by Ollie's sweet free roaming brown hens.
Our Garlic Quality Control
At Grey Duck Garlic we do our best to make sure you receive great garlic. Our garlic elves inspect each bulb carefully. We smell it, squeeze it, and check out the wrappings. We make sure it meets our standards for the garlic variety and is not atypical in shape, color, smell or appearance. All garlic must be plump, heavy and healthy.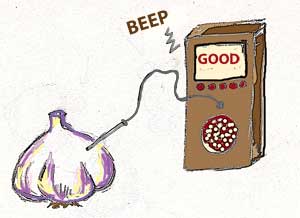 Occasionally Jane throws out a bulb that strikes her as 'weird' (the rest of us don't always sense the weirdness but we are afraid to argue with the garlic guru). Any garlic that doesn't meet inspection is rejected (don't worry someone still eats it!). In short, we do all we can to make sure the garlic you receive is high quality. We look at a lot of garlic so we have gotten pretty good at garlic inspection.
Sadly, we do not have x-ray vision so an occasional bad bulb may escape our eagle eyes and fingers. Sometimes it gets a little dark in the garlic barn and something may slip through. If you ever receive unacceptable garlic let us know and we will happily replace the garlic or refund your money. We want you to be happy with your garlic.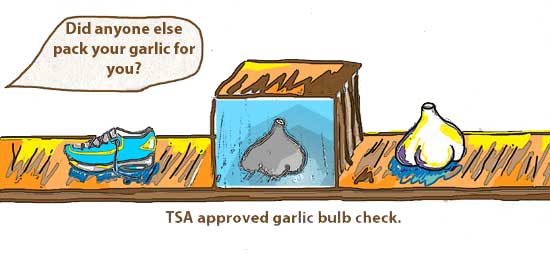 Since garlic is an agricultural crop we can't force it to grow well for you (we have found that garlic responds poorly to threats). We send out plump cloves or bulbs primed to root, but garlic growth depends on weather, soil, variety, weed pressure and your growing conditions. Poor weather or bad soil may negatively influence garlic yield.
For the best growing results read our pages for first time garlic growers, how to grow organic garlic and how to grow huge garlic bulbs. To ensure the best success try a variety of garlics. Those of you in the South will have to try harder than those in the North (but you can succeed, some of our best customers are southern growers).
If you are having problems read our frequently asked questions page or contact us and we will try to help you. We are happy to share all the garlic growing tricks and techniques we've learned over the years (sometimes the hard way)!