Testimonials
We want our customers to be happy with their garlic. If you are unhappy in anyway we will send you replacement garlic or refund your money. See our No Quack Guarantee for more!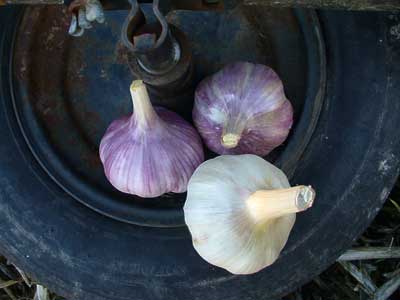 Picture: Two purple Chesnok Reds garlic bulbs push a white Romanian Red garlic bulb off the tire! Garlic can be playful too (at least we hope they are being playful)!
We love to hear from our customers and hear about your experiences but we respect your privacy and won't share any comments you make unless you give us your permission.
Here are some snippets of what our happy customers tell us:
Thank you for helping me with all my questions. Gary, Fargo, North Dakota
Your website is great! Loretta, Oklahoma
...Your garlic bulbs are actually pretty; that is rare. Joan, NY, New York
My order arrived today. I am very happy with the plump cloves. Thank you for the great service! Thomas, Butte, Montana
I ordered from several places this year and your garlic was the best. Compared to the other garlic your bulbs are beautiful. ...Will be ordering much more next year! CM, New Hampshire
Thank you for answering all my garlic growing questions! You guys are really nice and your garlic is nice too! I ended up giving away some of my yummy garlic to my foodie friends so next year I will have to order a bigger garlic special. Shawna
My friend thought my big hardneck garlic was 'elephant garlic' lol. I had to give her a bulb to eat to shut her up - don't worry I saved the biggest ones for myself. Thanks. Lindsey
Thank you for your wonderful customer service and the great garlic! I appreciate the website too. Sincerely, Ann
Love the garlic; you've spoiled me for the supermarket stuff from who knows where. I will be reordering next year. Joe
Thank you for the beautiful and delicious garlic cloves. I tried both the Georgian Crystal and Romanian Red and couldn't believe how much better Grey Duck garlic tastes compared to supermarket garlic! I always thought all garlic was the same but now I know better.    Don, Pullman, WA
The seed garlic looked great and survived South Dakota's blizzards and freezing winter just fine. With our cold weather I was skeptical of a fall planted crop, but every clove came up! I like to use garlic for home canning recipes and I was very pleased with the flavor. My husband really liked Siberian. Kathy, Sioux Falls, SD
We LOVE garlic and this is an amazing product. The huge cloves are so easy to peel. I have always been frustrated by the time it takes to mine enough garlic out of the tiny cloves available in the grocery store. Also, already peeled garlic in a jar spoils too quickly and loses most of the flavor.
The flavor of this garlic really lasts. Grocery store garlic must be added at the very end of the cooking process or the flavor vanishes. We tried Grey Duck's Romanian Red and German Red varieties. They can be added early in the preparation and the flavor is steeped throughout the food. Each bag of cloves will equal at least a dozen full heads of garlic from the grocery store. The packaging is attractive and environmentally conscious. All the years of hard work on the Grey Duck organic garden have really paid off. Sabrina and David Keckalo, Spokane, WA

Hi Jane, First off, I wanted to acknowledge Susan for promptly replying to my last email inquiry about my order. She was both courteous and helpful. I received my garlic a few days ago and I wanted to send a quick thanks to all at the farm for their hard work. I've been waiting nearly a year to plant heirloom/gourmet garlic after the first season in my community garden where I only planted the typical store bought fare. During that time I checked out a great garlic book at my library and have been waiting, and waiting, and waiting to plant new varieties; these cloves are huge! ...Your prices were the most reasonable, (your special packs with free shipping are an unbelievable value) and I liked the extra info and pics about your farming background, your father, etc.  As for the garlic I received, thank you for using all recyclable packaging. And I want you to know that the effort you take for labeling the bags is greatly appreciated. I think the labels are an artful touch and it speaks volumes about both the pride you take in your product and the value you invest in making customers happy. I will be putting your business card and a note on the bulletin board in my community garden as a recommendation for anybody who may be interested in growing garlic.
Thanks again. May your weather be favorable, your bulbs plump, and your business flourish. Sincerely, Peter

Hi,
I know this email address was provided if I had questions or concerns and I don't.  I did want to tell you tho that I am very pleased with the garlic.  It is beautiful and I was tempted to eat it rather than plant it.  However, it is nicely bedded down and I anticipate next harvest.  Thanks. Eddi

As picky foodies, we are always looking for the best organic ingredients.  Grey Duck Garlic delivers bright, true flavor with no bitterness.  From raw to oven-roasted, we couldn't be more satisfied.  Sarah and Dean Campbell, Salt Lake City
...We were delighted and amazed at how different garlic could taste. Who knew? Much thanks for the wonderful garlic gift and as soon as we settle again we'll buy some seed packets! Stoney and Colette
Stoney Compton, Author of Russian Amerika www.stoneycompton.com
I got seeds last year from two wonderful women at the Moscow Farmers Market. My family had never had an extraordinary garden, until last year.  I purchased the Victory Garden seeds and learned a lot from the conversation at the market.  When I told her that I was planting all the seeds at once, she said I must have a big area.  Now I know why.  My experience with garden packets is about 70% success rate on germination.  These wonderful seeds produced 100% germination!  We ended up ripping up more sod to accommodate the plants and had many, many good meals as a result.  I could not wait until the market to get started this year and have already ordered online.

I want to thank you so much for offering such an affordable and incredible service to us!    Sincerely,  Teresa, Moscow, Idaho