Grey Duck Garlic
Garlic Bulb and Clove Shipping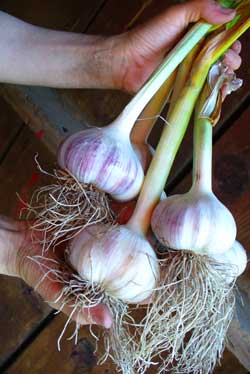 We are sure that you will be happy with our high quality organic garlic. If you are not satisfied with your order; we will cheerfully replace your order or refund the purchase price.
All orders are processed using a secure Pay Pal site for your protection. For those who prefer not to use credit or debit cards we will take checks, money orders or cashier checks by mail. Orders will be processed after the check is deposited in the bank. Click here for order form.
We sell garlic both as bulbs and as cloves.  Although we carefully inspect each bulb and clove before we ship it to you, garlic is an agricultural product.  Occasionally, there may be spoilage.  If this occurs please contact us and we will happily replace the garlic or refund the purchase price.  
We can fit more cloves into a box than bulbs so shipping for cloves is less.  We try to charge actual shipping for smaller orders (our shipping charges reflect a discount on shipping for larger amounts). We ship using USPS Priority Mail so your garlic gets to you quickly.
Shipping for Garlic Bulbs                               
0.50 - 4 lbs.............$11.35                              
4.25 - 8 lbs.............$15.45                            
8.25 - 12 lbs ..........$26.80                             
12.25 - 25 lbs.........$30.90                                              
Shipping for Garlic Cloves
up to 1 lb................ $5.35
1.25 - 8 lbs..............$11.35
8.25 - 16 lbs............$15.45
16.25 - 25 lbs..........$26.80

For orders over 25 pounds shipping is FREE. Please see our commercial grower's page for ordering instructions.  
Restrictions on shipment to some Idaho and Washington counties:
Due to Idaho Administrative Code IDAPA 02.06.07 we cannot ship to the following Idaho counties: Ada, Bingham, Blaine, Boise, Bonneville, Canyon, Cassia, Elmore, Gem, Gooding, Jefferson, Jerome, Lincoln, Madison, Minidoka, Owyhee, Payette, Power, Twin Falls and Washington Counties. In Washington state, we are unable to ship to Adams, Franklin or Grant Counties.
These counties do not allow importation of any allium species, including onions, garlic, shallots, leeks and chives. They are major producers of onions and are concerned about accidently introducing white rot disease of onion (sclerotium cepivorum) into their county. All alliums grown must be produced from seed or existing stock. Please contact your county extension agent for more information.
Get your ducks in a row with Grey Duck Garlic!