Garlic Bulb and Clove Ordering and Shipping
Due to personal circumstances we will not be selling garlic in 2016. We apologize to all our wonderful consumers. We enjoyed our interactions with all of you and don't like to disappoint you.
We ship garlic using USPS Priority Mail so your order will reach you quickly. Please see shipping rates below.
We are sorry, but we cannot ship to Canada or Hawaii due to import regulations on plant and plant material. We intend no slight to our Northern friends who also grow lots of great garlic!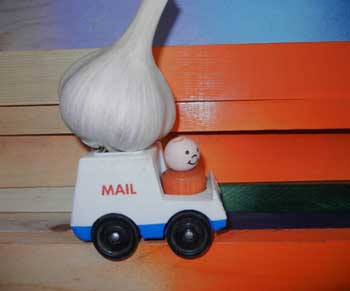 Picture: Postman Bob delivers a large Georgian Crystal garlic bulb to a happy customer. Although we appreciate Bob's drive and enthusiasm, his distribution range is somewhat limited.
Please let us know if you need your seed garlic order by a certain date. We will accommodate your request whenever possible.
Happy customers are important to us. If you are not satisfied with your order; let us know and we will cheerfully replace the garlic or refund the purchase price. We sell garlic both as bulbs and as cloves. 
Although we carefully inspect each bulb and clove before we ship it to you, garlic is an agricultural product.  Occasionally, there may be spoilage.  If this occurs please contact us and we will happily replace the garlic or refund the purchase price.  
All orders are processed using a secure Pay Pal site for your protection. For those who prefer not to use credit or debit cards we will take checks, money orders or cashier checks by mail. Orders will be processed after the check is deposited in the bank. Click here for order form.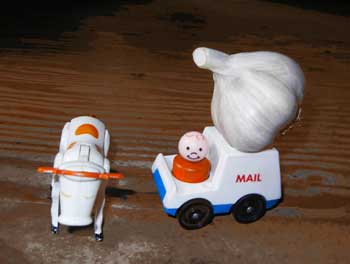 Picture: Postman Bob encounters a friendly bovine; one of the perils of rural mail delivery.
We can fit more cloves into a box than bulbs so shipping for cloves is less. We try to charge actual shipping for smaller orders (our shipping charges reflect a discount on shipping for larger amounts and anything over 25 pounds ships free). We ship using USPS Priority Mail so your garlic gets to you quickly.
Hate shipping but don't need 25 pounds of garlic? Order one of our garlic planting specials and get free shipping!
Shipping for Garlic Bulbs                               
0.50 - 4 lbs.............$12.35                             
4.25 - 8 lbs.............$16.85                            
8.25 - 12 lbs ..........$27.00                             
12.25 - 25 lbs........$31.00                                          
Shipping for Garlic Cloves
up to 1 lb................ $5.80
1.25 - 8 lbs..............$12.35
8.25 - 16 lbs............$16.85
16.25 - 25 lbs..........$27.00

For orders over 25 pounds shipping is FREE. We have a hard time convincing Pay Pal to give our commercial customers free shipping. If you order 25 pounds or more and get charged shipping we will promptly refund your shipping charges. Please see our commercial grower's page for ordering instructions.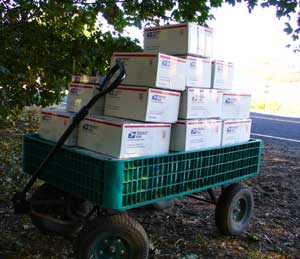 Picture: A cart full of priority mail boxes containing fresh seed garlic sits waiting for the mailperson to pick up. We package the garlic right before it is shipped.
Restrictions on shipment to some Idaho and Washington counties:
Due to Idaho Administrative Code IDAPA 02.06.07 we cannot ship to the following Idaho counties: Ada, Bingham, Blaine, Boise, Bonneville, Canyon, Cassia, Elmore, Gem, Gooding, Jefferson, Jerome, Lincoln, Madison, Minidoka, Owyhee, Payette, Power, Twin Falls and Washington Counties. In Washington state, we are unable to ship to Adams, Franklin or Grant Counties.
These counties do not allow importation of any allium species, including onions, garlic, shallots, leeks and chives. They are major onion producers and are concerned about accidently introducing white rot disease of onion (sclerotium cepivorum) into their county. All alliums grown must be produced from seed or existing stock. Please contact your county extension agent for more information.